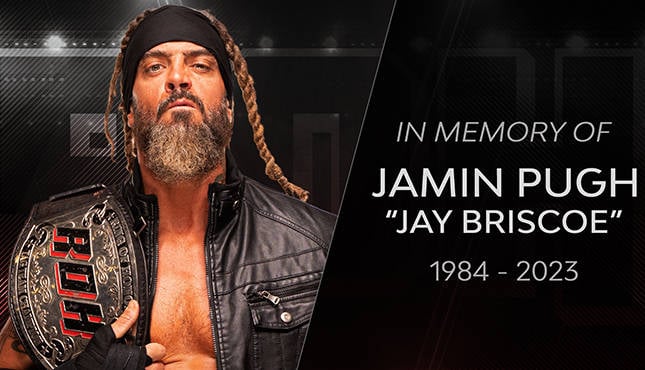 On January 17, 2023, beloved Ring of Honor legend Jay Briscoe tragically passed away in a car accident. The following week's episode of AEW Dynamite featured a tribute match between Jay's brother Mark and long-time rival Jay Lethal, taking place in the main event of the show.
This comes after the Briscoes reportedly being banned from AEW television by Warner Bros. Discovery, due to homophobic comments made by Jay in 2013. Jay, however, had been apologizing and making amends for this for years, with countless stars across the industry having nothing but kind things to say about the man the former ROH World Champion went on to become.
In a recent interview with the Mark Hoke show, Tony Khan went into detail about the difficulties he faced to make this match happen.
"The most important thing we could do was pay tribute to Jay Briscoe on his birthday. The way it came together, it was challenging to make it happen, but I really pushed for this and I felt strongly that we needed to celebrate the life and legacy of Jay Briscoe, and the perfect way to celebrate Jay Briscoe was a match between his best friend Jay Lethal and his brother Mark Briscoe. To have Mark Briscoe holding up both of those ROH Tag Team Championship belts on behalf of him and his brother, and that song played with Jay Briscoe saying, 'Reach for the sky, boy,' I thought that was one of the most iconic moments I've ever seen in wrestling. More importantly, it was so great for the Briscoe family, so great for the Pughs to be able honor Jamin on his birthday. It was a challenge to get it to where it happened, but it was worth it, and it was certainly the best tribute we could give him."

-Tony Khan
The AEW President continued, heaping further praise on Briscoe and highlighting how truly special he was of a performer.
"He was such an iconic pro wrestler, and certainly, in my lifetime, he was one of the greatest I've ever seen, and in my professional life, one of the greatest I've ever worked with, if not the single greatest pro wrestler, bell-to-bell ever, I've had the pleasure of producing. So many people said that at his funeral. I can't tell you the number of people who said, some of the best wrestlers in the world, who said, 'Honestly, he's the best I've ever faced.' Not only is he one of the best wrestlers, but he has an amazing family and I'm so glad they were able to pay tribute to him in such a memorable and meaningful way."

-Tony Khan
Jay Briscoe's Funeral was held on January 29th, 2023. Many of Jay's friends from across the wrestling world would attend, and fans were also able to watch via live stream.
Fans can support the Pugh family through their official donation page, or by purchasing the Jay Briscoe Memorial shirt from ProWrestlingTees.
H/T to Fightful for transcription.