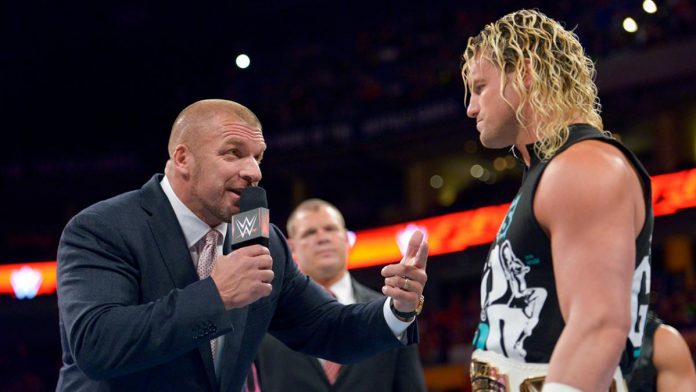 Following Vince McMahon's shocking retirement as WWE's Chairman and CEO on July 22nd of this year, multiple corporate changes have taken place within the company, one of which being Paul 'Triple H' Levesque's appointment as both the Head of Talent Relations and Head of Creative.
On WWE star that has had a number of interactions with "The Game" throughout his time with the company is Dolph Ziggler. Having been a part of the main roster for the better part of the last two decades, "The Show-off" is one of the longest tenured WWE Superstars currently active on the roster. Ziggler spent the majority of 2006 as a member of the Spirit Squad, a male cheerleader stable that worked very closely with Shawn Michaels and Triple H, the two men in charge of the direction of all WWE brands.
Speaking to Baby Huey of the In The Kliq podcast, Ziggler discussed Triple H's new role as the man in control of WWE creative, recalling how Triple H helped him during his Spirit Squad days as an example of why he's the perfect person for the job.
"Triple H has been in the system from start to finish, helping young guys out in NXT, helping us out backstage, hell, even when I was in the Spirit Squad 15 years ago, he and Shawn Michaels were helping us out. So I think it's a great fit. That's the guy to do it. It'll be a fun way to just switch things up a little bit for us. But I mean, we're surrounded by some of the greatest minds in the world. We're very lucky, my — I would say, teammates, because we all kind of work together to put on this awesome show. There's something special about having all this talent, all these Superstars, all these great minds behind the scenes, and when it comes together as this group effort, it can become something special. It's the greatest thing in the freakin' world when it goes great for us."

-Dolph Ziggler
When asked whether he's been able to talk with Triple H since his latest rise to power, Ziggler stated that whilst his door is always open, Mondays and Fridays can be the most hectic days of the week.
Ziggler also noted that whilst he personally believes the backstage environment has been relatively unchanged, the morale is still high, with an air of excitement stemming from the idea that with the team they have, anything can be accomplished.
"I haven't really noticed anything different. Everyone's like, 'Oh, cool. We have someone else who's calling the shots.' But, it's still all this group/team effort where everyone's pitching an idea. Like I said a second ago, there are so many awesome minds behind the scenes that help us out with things. There's a reason that some of us, even myself 18 years in, can come out looking good every night and make something happen, have some story advance or make some match awesome. It's not just because we're great. We have these minds behind the scenes. So we're all waiting, like, 'Hey, is this going to be different, are things going to change?' What's happened is I haven't noticed anything personally, I just think we've had a really fun time and it stayed a group effort and I really think that when you have this team put together like we do, behind the scenes and in front of the camera, that we can do anything."

-Dolph Ziggler
One thing is for sure, fans of the classic "black and gold" NXT brand are certainly excited to see what the future holds for the company, with noticable changes such as the match length and usage of NXT call-ups having been well recieved thus far.
H/T to Fightful for the transcription.