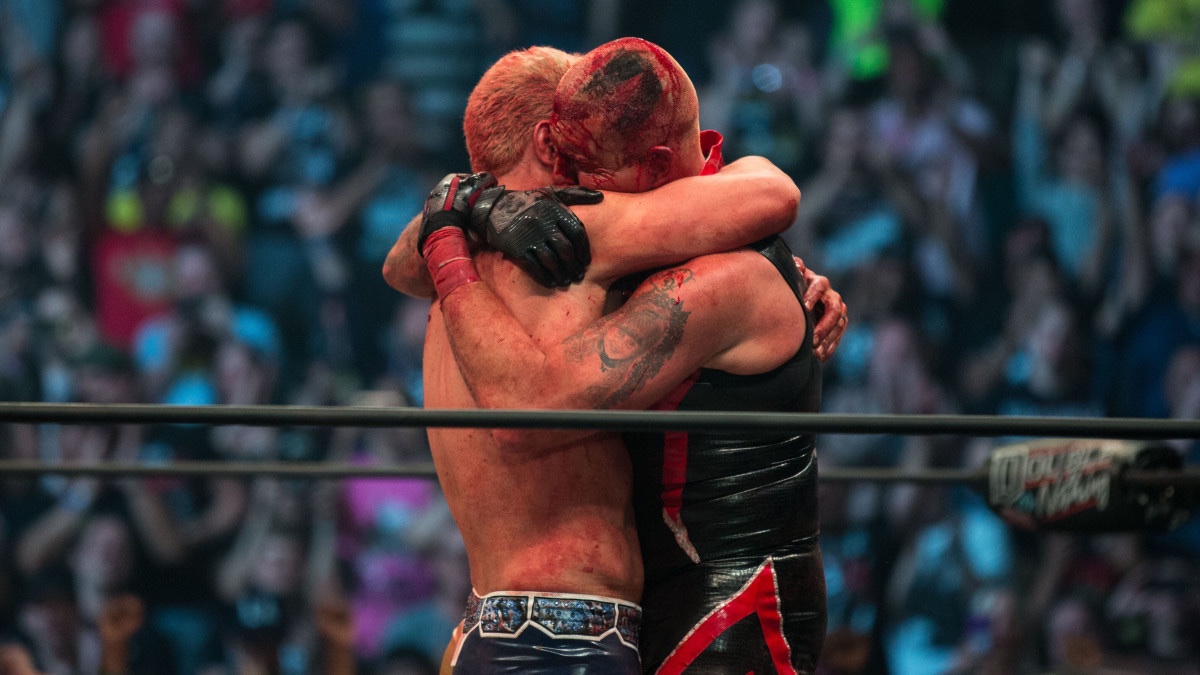 WrestleMania 39 saw Cody Rhodes unsuccessfully challenge for the Undisputed WWE Universal Championships in a move that perplexed many fans. When The American Nightmare came out on top at this year's Royal Rumble, most assumed that he would be walking out of 'Mania draped in gold, though that didn't come to be.
Cody's bid for WWE's top prize centred around the fact that no one from his illustrious family had ever been world champion in the company and Rhodes wanted to 'finish the story', only for Triple H to say that stories don't finish in the WWE in an attempt to justify Roman Reigns' retention at The Show Of Shows.
Now, despite the general feeling that The American Nightmare should've won at WrestleMania, Cody's brother Dustin Rhodes (via Busted Open Radio) has affirmed his belief that the loss was the right move, claiming that he likes the idea of his younger brother being made to 'earn' the eventual prize with Dustin raising the question of where Cody would've gone if he had immediately won the titles at 'Mania. When asked whether there was pride for Cody despite his loss, Dustin commented on their current relationship.
"There is, an extreme amount. I'm super proud of Cody, and I want to just, from this point on, get closer and closer to my family as possible and love him and put aside everything. Me and Cody are fine, there's nothing wrong. We call each other all the time, we talk to each other, and he's doing an outstanding job. He's being shot to the moon right now, which is great. That's good for him, and I hope is happy and finally gets that big one that dad never got, and I've never won a world title. There is a little jealousy on my part because man, why can't I do that? But it's okay. It's not a bad jealousy thing. I'm extremely proud of him. I wish him the best. He's gonna be world champion, I know it. I don't know when. He's gonna be the world champion. Keep doing it, man. They're making him pay for it now. They're making him earn it. I like that, I do. I like that because once you put the title on him, where are you going?"

-Dustin Rhodes
Dustin continued by saying that he understands why some fans are upset at the decision to have Cody lose, even stating that he himself attended 'Mania assuming that his brother would win. However, The Natural explained that, at least from a business standpoint, Reigns coming out victorious may make the most sense.
"I understand, I went to Mania, and I sat up in the box and I wasn't allowed down or anything like that. I was there, and I went there for the reason that Cody was gonna win the title. We didn't know. We were just, it was just, this is his time. It was a little frustrating when he didn't win. But at the same time, business-wise, everybody in the world thought he was gonna win that thing. When you look at it a week later or whatever and you kind of analyze it and see what they're doing with Brock right now and all that kind of stuff, it makes sense. Was it the right call? I don't know. Personally, I wish he would have won it. But was it the right call? Probably so. Probably down the line, he builds to this thing, and he finally wins it, then it's gonna be that much bigger, at least in my opinion,"

-Dustin Rhodes
Many fans feel as if the moment to crown Cody has now passed. They feel as if Rhodes had unprecedented momentum on April 2, and WWE wasted the right opportunity to have Roman finally drop his titles. Dustin, however, was keen to emphasise the extent to which he believes the company can build Cody back up to the level he was pre-Mania.
"Looking at Cody now, he's got to step up his game from here on out to get to where you're talking about, to make this thing a special [moment]. There's no reason Cody can't do it because he's very talented. His promos are great, his work rate's great. He's gonna go out there and right now he does have the people, so it's just a matter of keeping them, sustaining them, and making that moment when it does happen that much more special. I believe you can strike it again, I do. With somebody that has been born into the business and loves it and things like that, it's few and far between, but when it happens, it happens, and their times are right. So with storylines and the way they go, if it's done right, then yes, they're gonna respond. Finally, Cody gets the championship, oh my god. Then, where do we go from? Now you gotta keep it because he's there for the long run, so it'll be interesting to watch over the next year and couple of years,"

-Dustin Rhodes
As of now, Cody's next challenge with come at Backlash when he will battle against Brock Lesnar. Whether his eventual climb to the top of WWE will be as hot as it was heading into WrestleMania 39 remains to be seen, though the former AEW EVP still has a lot of fan support and admiration.
As always, we'll aim to update you on Cody Rhodes and his future plans as we hear more.
H/T to Fightful for the transcription.