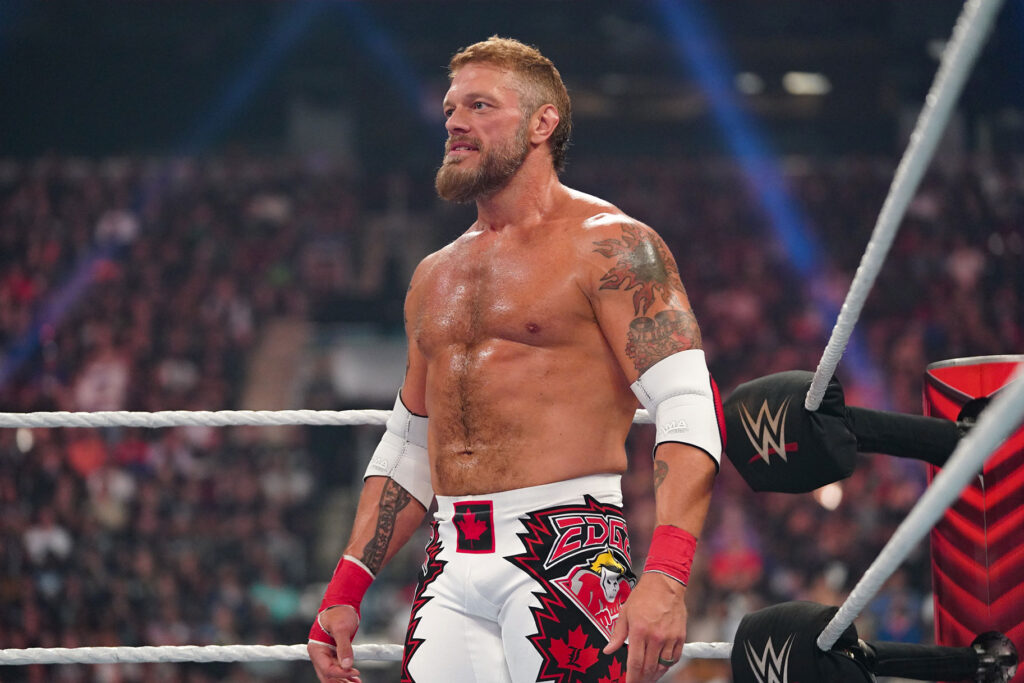 Edge has been taking full advantage of his veteran position in WWE.
As someone with a well documented and prestigious WWE career, Edge made his return to the ring after a forced retirement due to injury in 2020. In the time since his return, he's worked with superstars such as Randy Orton, Seth Rollins, Finn Balor and more. Edge was also the founder and a short-term leader for the still active faction, "The Judgment Day"
Edge recently discussed the new role that he's found for himself since his return on WWE Podcast, "After the Bell," mentioning conversations he had with both Carmelo Hayes and Mustafa Ali at a recent episode of Raw.
"This is my first love, always has been, always will be. I love acting, not as much as I love being a wrestler and performing for WWE. For whatever reason, you can't really explain it. It's just there, and you're hooked. After nine years, to get it back. I had a list of guys that I was like, 'I would love to work with some of these people, and if I can help some people along the way,' to push the future forward. I've been able to check off a lot of those names on the list, and a lot of those names don't need my help, but if they can pick up something, great. More than anything, I feel the mentorship in the locker room. The locker room knows that I am a safe guy to go to, to pick my brain. I'm not sequestered to my own locker room. I change with everybody else. I put myself out there to say, 'If you're thinking of something, just come ask me.' Whether you want to try it after you ask, that's up to you. Sitting there the other day with Carmelo (Hayes) and (Mustafa) Ali, we sat and talked for an hour, and they just picked my brain. I loved it. It was so much fun and so nice to see these guys at that stage of their careers. I remember being at that stage and being oblivious as to what to do. How do I make this work here? I could wrestle and do moves, but that's not going to cut it. What is it that I need to do? The environment was a little different then. The locker room was a bunch of great whites. It forced you to figure it out, but I feel like, why not try to give some helping hands?"

– Edge
Edge noted that he's one of few remaining WWE wrestlers who have performed through 4 generations of talent, getting his start with the company during peak times of the Attitude Era.
On a recent episode of WWE Raw, Edge called out Finn Balor to a face to face meeting on the March 13th episode of Raw. This after a previous report that the two were to wrestle at the Royal Rumble in a Hell in a Cell match, but were unable to after Edge felt he could not properly build the match in time.
H/T to Fightful for transcription.