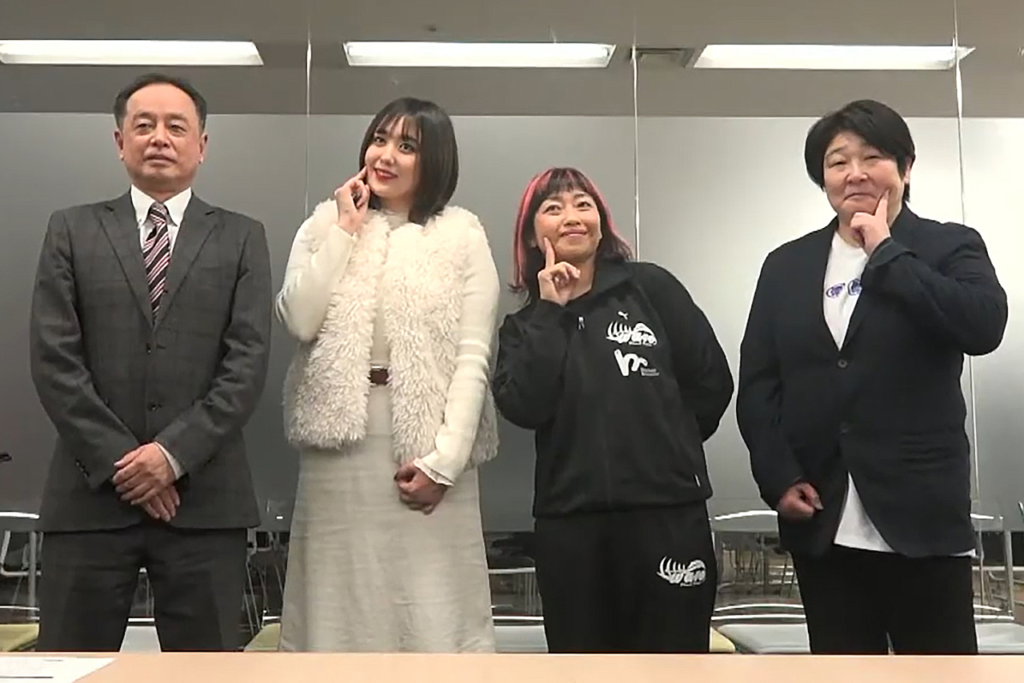 Stardom
On Friday, Stardom held a Korakuen Hall show that featured two title matches, Himeka vs Natsupoi. Before the show, Fuwachan appeared and announced that her second match will happen at the Yokohama Arena show. Fuwachan is a Japanese celebrity that made her in ring debut on the first night of the Goddess Of Stardom Tag League when she teamed up with Hazuki against Queen's Quests Saya Kamitani and Hina. Her wrestling on the show is a major thing and comparable to celebs wrestling in WWE or AEW.

KAIRI says she will take part on All-Star Grand Queendom, April 23 at Yokohama Arena! She says she is bringing someone with her that will shake things up in Stardom. She will unveil who it is at Stardom's April 2 show at Korakuen Hall.
Ami Sourei retained her Future Of Stardom Championship against Lady C in a good Future Title match. Ami defended the title for a third time in dominant fashion when she pinned the Queen's Quest Member with the "Like a Thunderbolt". Her next challenger will be Rina, who defeated Miyu Amasaki and her twin sister Hina in the opener to earn this title match. It's not announced yet when Rina will get her chance to win her first-ever Stardom Title.

Himeka's retirement road continues with a special singles match against her former friend and "HimePoi" Tag Team Partner Natsupoi. The Cosmic Angel's member taped out Himeka with just half a minute left on the time limit to secure a big win. After the match, Mina Shirakawa challenged Himeka to a singles match before she retires while Himeka wants a Tag Team match against Kakeru Sekiguchi and Natsupoi together with her The Beginning Tag Team Partner Miyuki Takase.

In the Main Event, Yuu and Nanae Takahashi faced Ruaka and Natsuko Tora for the Goddess Of Stardom Championship in a great match. The match was built around the champions destroying Ruaka, who showed a lot of heart and fought back like an underdog. It was by far the best performance of her career, and the fans were loudly chanting her name to support her. Ruaka was the center and the star of this show and she needed this. In the end, Yuu was able to get the job done and retain the Tag Titles for a second time. MIRAI and Ami Sourei came out after the match to challenge 7Upp for the Yokohama Arena show.
Updated Card for All-Star Grand Queendom
7Upp (Nanae Takahashi & Yuu) (c) vs God's Eye (MIRAI & Ami Sourei) – Goddesses Of Stardom Tag Team Title Match
Himeka vs Maika – Himeka's Retirement Match
Syuri vs Chihiro Hashimoto
Saya Kamitani (c) vs Mina Shirakawa – Wonder Of Stardom Title Match
Giulia (c) vs Tam Nakano – World Of Stardom Title Match
---
WAVE
On Sunday, WAVE held a Korakuen Hall show. In the beginning, they announced that next to Kizuna Tanaka, the promotion has two more Rookies. One is called Honoka, and she will make her debut against Tanaka on the April 2nd show. The other Rookie is called Asuna, and she hasn't passed her pro test yet.

The Tag Team title changed hands when Itsuki Aoki and Ikuto Hidaka defeated galaxypunch! to win the WAVE Tag Team Championships. SAKI & Hikari Shimizu have held the Championships for over 200 days with a record-breaking twelve defenses. Ikuto Hidaka is the first male WAVE Champion in nearly a decade, while Aoki holds the title for the 2nd time in her career, after holding it together with Rin Kadokura in 2021.

Hikaru Shida defended her Regina di WAVE Championship against Aiger who will retire soon. It was her 5th defense with the belt and only one is missing to tie the title defense record of Yumi Ohka. Shida announced that she won't take part in this year's Catch The WAVE Tournament because she has unfinished business in the United States with someone. Her next defense will be against the winner of said tournament.

WAVE also announced that in partnership with Bushiroad fight that on April 28th they will produce a "Jumbo FOREVER WAVE" Show with a spin-off match of Himeka after her official last match against Maika.