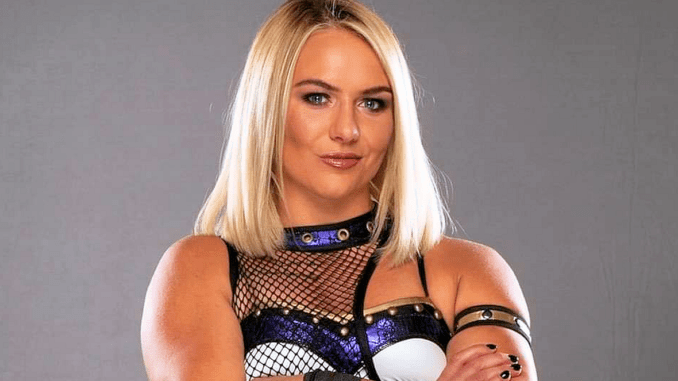 After almost four years away from the ring, Sadie Gibbs is set to return to action.
Sadie Gibbs last wrestled on the October 30th, 2019 episode of AEW Dark, teaming with Allie against Big Swole and Mercedes Martinez. The UK native was later released by the company in August of 2020, alongside Jimmy Havoc and Bea Priestley.
On April 26th, 2021, Gibbs officially announced her retirement from professional wrestling, noting that she'd be focusing on her fitness career moving forward. The 31-year-old now looks set to step out of retirement, as she recently took to Instagram to confirm that she will be partnering with Envigor Media to produce a documentary on her return.
"SO IT HAS BEEN FAR TO LONG!

But I can't get this chapter of my life, out my heart!I will be doing a documentary on my RETURN (yup I said it my RETURN) with @envigormedia

Truth is the pandemic (which end of 2022 only really started to feel like life was free to grasp again) took its effects on all on us one way or another for me I think without knowing it (I had another journey to take) in the last two years I've had a a couple of opps one where I had a 5cm inactive tumour (known as a dermoid) removed from my right ovary and endometriosis also diagnosed and removed.

I started suffering with sideeffects of this in my first year of being with AEW having vagal syncopes randomly and dangerously low blood pressure drops during these episodes.

Basically LIFE Happens! And TIME is needed where HEALING can occur my journey in wrestling all happened so fast it was one hell of a rollercoaster including my first ever major family loss (as many know about) then being signed one week prior to the funeral ❤️‍🩹 a year later planing my move to the STATES all packed ready to leave & we hit our first national lockdown 🔒 💭" it's fine be over in a few months" 6 months later no change and my release took place from @aew a contact I gave my heart and soul to gain! But if I'm being honest I wasn't ready for it,but that's another thing are we ever truly ready for what life throws at us? No we level up and grow despite what healing needed to take place inbetween we suck it up and know how blessed we are to have the opportunity.

I've been toying with the thought of getting back wrestling (I honestly feel like I went through a breakup with the business, and my craft that I worked so hard to create to that point ) I shut it out and got on with life SURVIVAL INSTINCT!and embarked on a journey which has now brought me back to this point! THE TRUTH! I've never stopped talking about performing the art of wrestling and everyone always says I have so much passion when I do. But it's something I suppressed and I've never thought I'd say this about myself but the path back looked harder than the path away so I guess I just rolled over and called it retired.Let the hard work begin…."

-Sadie Gibbs
Gibbs competed in just three matches for AEW prior to her release in 2021, one of which being the 2019 Casino Battle Royal. Prior to her stint with AEW, Gibbs competed for Stardom, where her gymnastics and athletic prowess got her over with the crowd despite being relatively inexperienced in the ring at the time.
As of writing, it remains to be seen where Gibbs' long-term future will be now that she's stepping back into the squared circle, however as always, we'll aim to provide any further updates as soon as we hear more.