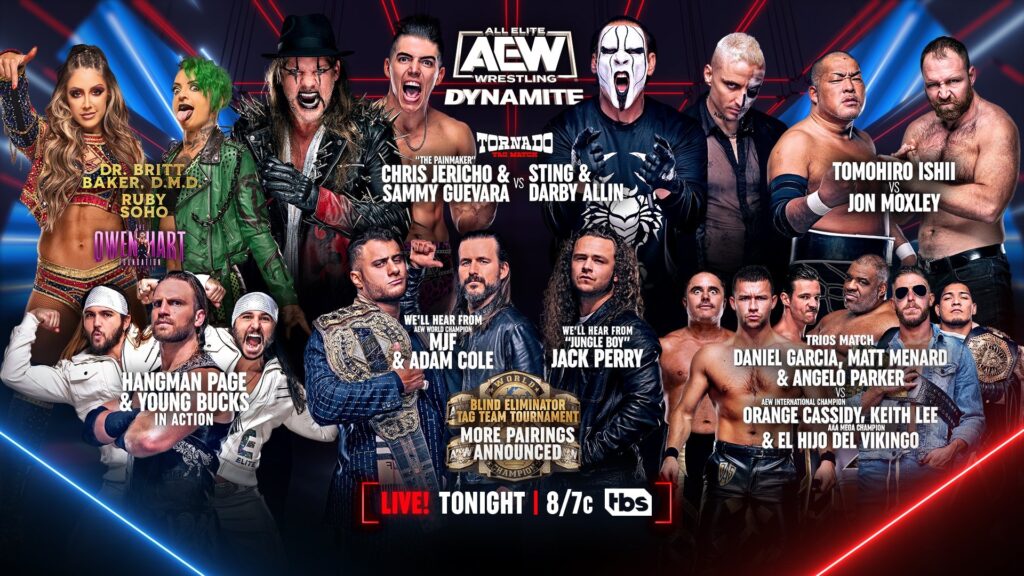 Welcome to the Wrestle Purists' Coverage of AEW Dynamite on June 28th, 2023.
Forbidden Door is now behind us. As great of a show as it was, I'm ready for some new stories and feuds to take over my television screen. With that being said, it always feels like the episode after a massive PPV can be kind of empty. Almost like Tony Khan wants to give some time off to certain stars. Will this episode follow this trend? Time to find out…
Opening Match: Jon Moxley Defeats Tomohiro Ishii
Immediately when this match was announced, we knew exactly what we were in for. A hard hitting… hard slapping… match. With that being said, this was an excellent way to kick off dynamite. The direction of this match was made really clear the moment the bell rang. It was all taken up a notch the moment Moxley decided to bite Ishii. During the match, BCC comes out to ring side. This leads to Eddie Kingston's music hitting. Everyone loves an equalizer. This "slapper" of a match quickly turned into a classic slow paced grapple match. Like I previously mentioned, this was an excellent choice as the opening match. The crowd was HOT for this opener. The match overall led to a bloody Moxley hitting a death rider for the 1..2..3.
Backstage: Adam Cole and MJF Arrive
MJF tries to make amends with Adam Cole. He would like to "get to know" Adam Cole. At the end of the promo, MJF gives Adam Cole a t-shirt (official merch). In my opinion, the blind tournament immediately comes off like a bad idea. Committing the WORLD CHAMPION of the company to the tag division is pretty risky. I really hope I'm wrong.
Backstage Segment: Moxley and Eddie Kingston
Moxley and Kingston get into an argument over loyalty. These former best friends are definitely heading towards a match with each other very soon.
Match #2: Orange Cassidy, Keith Lee, and Vikingo defeat JAS (Garcia, Menard, Parker)
Although I have many questions about the team that was created around Orange, I can't take away how entertaining this match was. At this point, I've become a massive fan of Daniel Garcia. He's the perfect blend of a sports entertainer and a wrestler. It's also nice to see Keith Lee. It really feels like we go weeks at a time without seeing him. The JAS tried their usual shenanigans to no success. The match ended with Keith Lee hitting his finisher against Menard. Again, a really entertaining match that featured some of the best!
Match #3: Hangman & The Youngbucks defeat The Dark Order
This match wrote itself the moment Hangman started to wrestle with the Youngbucks. With that being said, I'll take any moment I can to watch some more of The Dark Order on my television. I really enjoyed this match. The fast paced action of The Elite makes any match feel perfect. The emotions that followed Hangman throughout this match were the story. At first, he refused to wrestle The Dark Order. Every time he would get tagged in, he would refuse to wrestle and tag himself out. This was not the case the other way around however. Evil Uno made it his job to hit Hangman whenever he got the chance. In the end, this match told a good story that is set to continue. At the end of the match, BCC comes from behind to attack The Elite… The Dark Order just watches… and does nothing. Eddie Kingston attempts to make a save but is immediately jumped as well. Konosuke Takeshita & Don Callis also join in on the beatdown. Moxley then grabs a microphone and challenges The Elite to Blood & Guts in Boston on July 19.
In-Ring Promo: Jack Perry
Now that the heel turn is set for Jack Perry, we can finally see what he has to offer. He has also ditched the Tarzan Boy theme music. As expected, his promo work has improved, slightly. This upcoming feud with HOOK will be a nice test to see how far both have grown, in ring, outside of the ring, and with the crowd.
Match #4: Ruby Soho defeats Alexia Nicole
After the match, Ruby Soho cuts a promo on Britt Baker who she was originally scheduled to face Tonight, but was cancelled due to Britt Baker suffering an illness. The match has been rebooked for next week.
Main Event: Sting and Darby Allin defeat Chris Jericho & Sammy Guevara
Personally, I thought Sammy was turning on Jericho at Forbidden Door. The timing was just right. It feels like the heat that Sammy has accumulated over the past year has slowly started to fade…. Slowly. With that being said, we kind of knew exactly what this match was going to be. Sting no selling, Darby putting his body on the line, and Jericho being The Painmaker. I was not a fan of this match. Although I'll always appreciate Sting on my screen, that was not enough to make this worth any kind of rewatch. Except for one moment… Sting launching off a ladder onto Sammy through some tables. The crowd went crazy!
Final Thoughts
This was definitely not my favorite episode of Dynamite. However, it had many different moments that did make it stand out. For example, BCC versus The Elite feud is still one of the hottest in the company. Follow this up with some great 3 on 3 matches, and we get a pretty good show. At the beginning of the article I talked about how the follow up shows from PPVs always seem to just miss the mark. Unfortunately, I believe that this fit that category perfectly. Hopefully next week, we can start really progressing some stories.