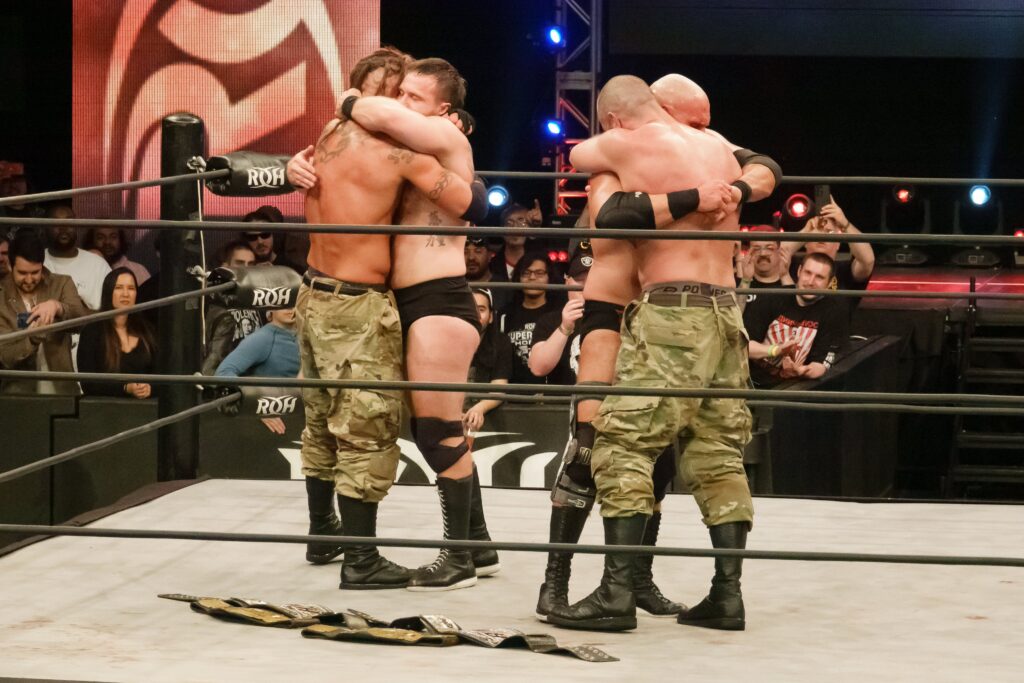 For the longest time, I watched wrestling alone. If you're reading this, I'm sure you can relate. While pro wrestling is at its absolute best in a group setting, that choice isn't always available, especially for under the radar PPV's that just happen to be ending at 5 am. That never stopped me from watching though, maybe sharing the occasion with a few (thousand) tweets along the way, anything to add some sense of companionship to the experience. After a while though, everything runs together, the more you watch, the more it blends.
That's something that I've especially struggled with since taking the role of "analyst" or whatever. Eventually, you find yourself watching for that alone, unable to embrace the fan experience and instead, jotting down notes like a mad man. I truly believe that pro wrestling is, in many ways, better than ever but I can't lie, I don't feel too much of it anymore. I'm sure it's the opposite for many of you and don't get me wrong, I have my moments but mostly, I feel an objective appreciation rather than an emotional, raw adoration.
Weirdly, that's only been exacerbated by the pandemic as for the first time in years, I had someone watching alongside me. Initially, it was my brother for AEW Dynamite and now, it's a whole family affair but the result is, I currently feel almost lost without that element. Suddenly, my norm is sharing those moments of electricity and so suddenly, it's harder than ever to feel the same way when watching alone, especially when playing the often ill-advised role of wrestling critic.
To be clear, I still very much love pro wrestling. I still pop for those grand moments, still go wild for the latest loud lariat, but if I'm honest with myself, it seldom has my full, truly unwavering attention anymore. Frankly, that concerns me at times, and it often leaves me questioning my own fandom. Doing other things, plotting different projects, all while some pro wrestling takes place in the background. Maybe it's just habit at this point, maybe I've again hit the wall of content creator.
Well, those questions were again going through my mind last Friday night. ROH Supercard of Honor was on and while my excitement was sky high, my interest had begun to deteriorate some. Through four matches, it was a strong show but personally, I hadn't felt much yet. To be clear, that's more a reflection of me than the recently revived Ring of Honor, but it's relevant to this story nonetheless. Going in, I knew the match that I'd paid the hefty PPV price for but after an hour and change, my fatigue was slowly winning out.
Remember, it's gone 2 am and on WrestleMania week, I know what's ahead, let alone what's already been. I mean, around 20 hours prior, the sun had come out and there I was, watching Low-Ki threaten to fight a fan. It's a busy week folks, please bear with me. Anyway, following Mercedes Martinez' impressive Interim Title win, Ian Riccaboni set the stage for our next match, throwing things to a video package as that familiar match graphic re-appeared. The match graphic that filled our feeds only weeks ago and after a slight delay, that aforementioned video package finally emerged.
In response, I immediately locked my phone, instinctively putting my snacks aside. As they have for months now, two of the greatest tag teams of all time were talking trash and I edged forward in my seat. It was time, FTR vs. The Briscoes and this wasn't just a teaser, it was the unique build's final touches before the bell finally rung. Four months ago, these two teams violently brawled at Final Battle and since then, this tag team dream match had travelled quite the rollercoaster ride.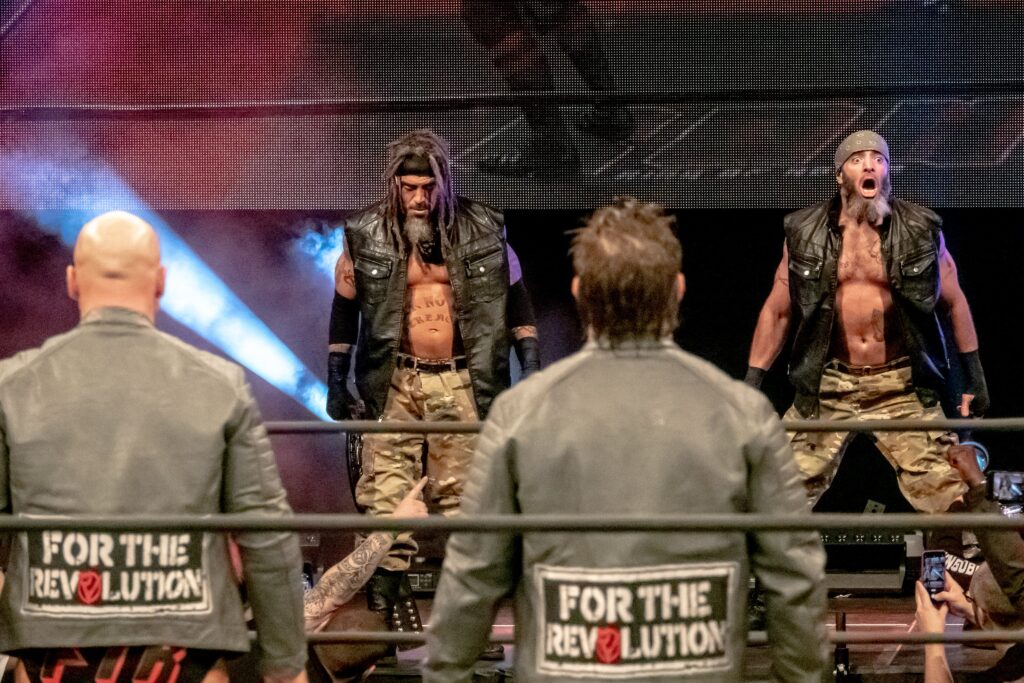 Honestly, it had been so long, that even though I was excited and quite literally bought the show for this match, it only became real when that video package aired. In an instant, I was struck that by addictive emotion, the electricity of the big fight feel, which was only reiterated by the live crowd's overjoyed roar at FTR's fabulous theme. I was right there with them, now inexplicably standing up, reminded that within a bloated weekend schedule, this was the one that had my heart.
At its best, pro wrestling is a special force of nature. When you truly care, it can give you the butterflies of your favourite sporting contest but as you age, the investment is different. After all, when you tune in to your favourite mixed martial artist's latest grudge match, you're attached to the unknown. After all the hype, you don't know what happens next, that's the magic. Better yet, you probably have a dog in the fight too, adding an uncomfortable anxiety to the whole occasion.
Well, for better or worse, that part isn't present for me anymore with professional wrestling. Instead, I find myself increasingly attached to the quality itself, almost like I'm at the start of a long-awaited album or movie. I know that's weird, but it's true, especially last Friday. In reality, I was pretty sure that I knew what this would look like, and I certainly didn't care who won. In fact, I was pretty confident on that front, and it was the least of my worries.
At Supercard of Honor, two of my favourite tag teams ever were finally clashing and I didn't care about the result, I just wanted this thing to be everything that my fandom believed it could be. Before the bell even rung, I was pretty confident that'd be the case, truly overwhelmed by the sheer atmosphere and intensity. This clearly meant an extraordinary amount to both teams, and that shined through the screen. I'm still on my feet by the way, for some reason clapping wildly as both teams went nose to nose.
My excitement was building with each passing second, almost reminding myself of just how much this meant to me. Incredibly, the folks in attendance seemed to be doing the same thing, getting louder and louder as the first bell approached. Somehow, some way, we were sharing this experience, with one last stare-down catapulting this moment into the tier above. As the teams separated, heading to their opposite corners, the place exploded, rumbling with excitement as all four men paced with an infectious nervous energy.
Familiar chants commenced, and with a rejected handshake, we were underway. Well, in theory anyway, as the first bell only extended that prior stand-off. Kicking things off, Cash Wheeler and Mark Briscoe had the poise to give this whole experience a chance to breathe. They edged towards each other cautiously, before ultimately embracing the emerging atmosphere. Wheeler smiled in response to the noise, while the illegal men seemed almost completely overcome with emotion. Dax Harwood even left the apron, high-fiving fans with enough ferocity to break their hand.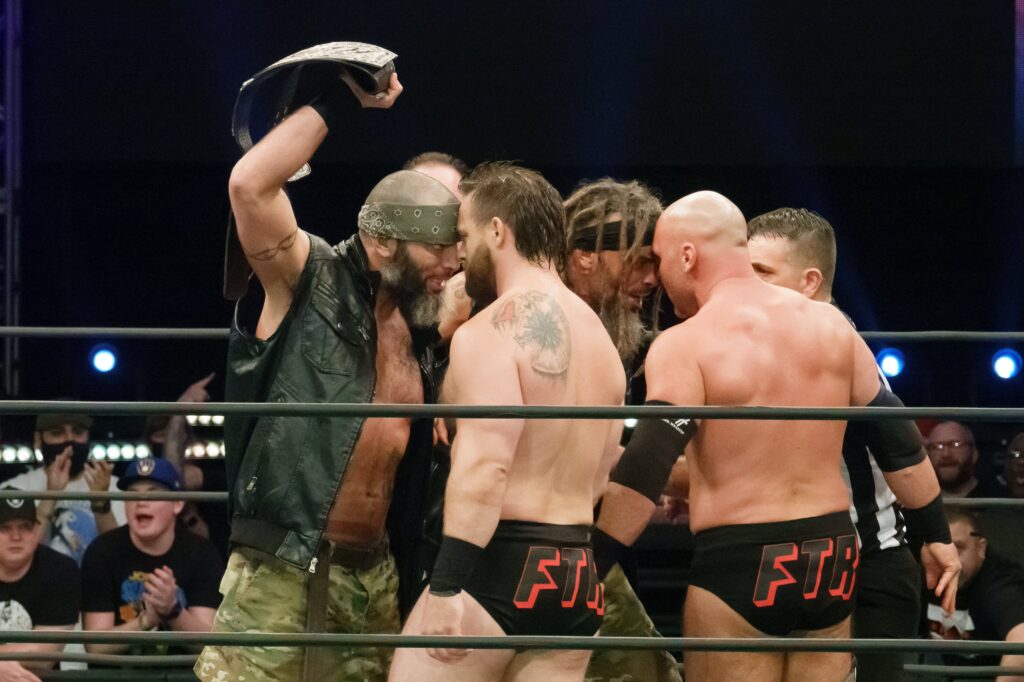 With that though, the waiting was over, for real this time. To an ovation, Cash and Mark finally locked up, earning a united cheer for the classic ahead. That's emotion and though I'm sure most had their preference, it wasn't rooted in result. In my view, that was the investment that I've always struggled to explain, the wrestling fan's desperation to see magic, to watch the greats make history together. Inside the ropes, it was immediately perfect, every bit as crisp and sharp as you'd expect.
"Tag team wrestling" was the chant that followed and somehow, the intensity would only increase. Jay and Dax were in next, this rivalry's true trash talkers finally settling the score. Silly as it may sound, that 10-15 seconds is why I watch pro wrestling. Look at how serious both guys are taking this in that very moment, absolutely locked onto each other, not a distraction in sight. That's the kind of straightforward charisma too often forgotten in my view, the power of a pro wrestler who just for a second, makes you truly believe.
Here, two of them were wrestling for position and the crowd was onboard for every step. By the way, I'm still standing, almost overwhelmed by the whole thing. Looking back, I don't even fully know why honestly, which explains my rambling here. If you're reading this, you will have, or at least should have, watched the match by now. If not, remedy that immediately, as it'll hopefully make more sense of my own recollection. I say that because again, explanations can only do so much, it just has to be felt.
I'm not going to recap this match, strike for strike, near fall for near fall. I could, but it loses sight of the lesson in my view: the reality that this wasn't a case of what they did, and instead about how they did it. Shoulder tackles were dished with dismissiveness, lockups with intent and those chops, oh who could forget those chops. Just on sheer execution, those told a story, brutalising each other, still somehow going back and forth with every potential shift in momentum, simply refusing to concede.
My favourite thing about tag team wrestling is the palpable chemistry that it can showcase. Those personal connections are inherently central in tag team action, the overarching stories within every tale. Whether they're best friends, brothers or even prior rivals, a true tag team has a bond that explains their every move, it's the connective tissue, the root of any fan's investment. On his own, a babyface in peril can only look to you or I for support but in tag team wrestling, they always have history standing on the apron.
That's a powerful storytelling tool, and in the hands of these two teams, it's a beautiful sight. They protect each other, they redeem each other, they quite audibly encourage each other. After all, Mark's hot tag hits an awful lot harder when you've just seen FTR's respective right hands ricocheting off Jay's bloody forehead. Though they certainly have their moments, especially before this latest incarnation, it's hard not to admire FTR when Wheeler literally helps Harwood to his feet. That's the heart of this match, it's always endearing soul.
Over the almost 30-minute runtime, FTR and The Briscoes had their greatest night yet, solidifying themselves as two of the finest teams in professional wrestling history. It was everything, filled with violence and sporting a palpable conflict that with each bruising blow, slowly wore away. By the end, a show of respect felt necessary, a feeling only comparable to the sight of two great prize-fighters sharing twelve enthralling rounds. It was earned, the only human response to such a rollercoaster. This match meant a lot and these teams didn't just deliver, they far exceeded even the wildest expectations.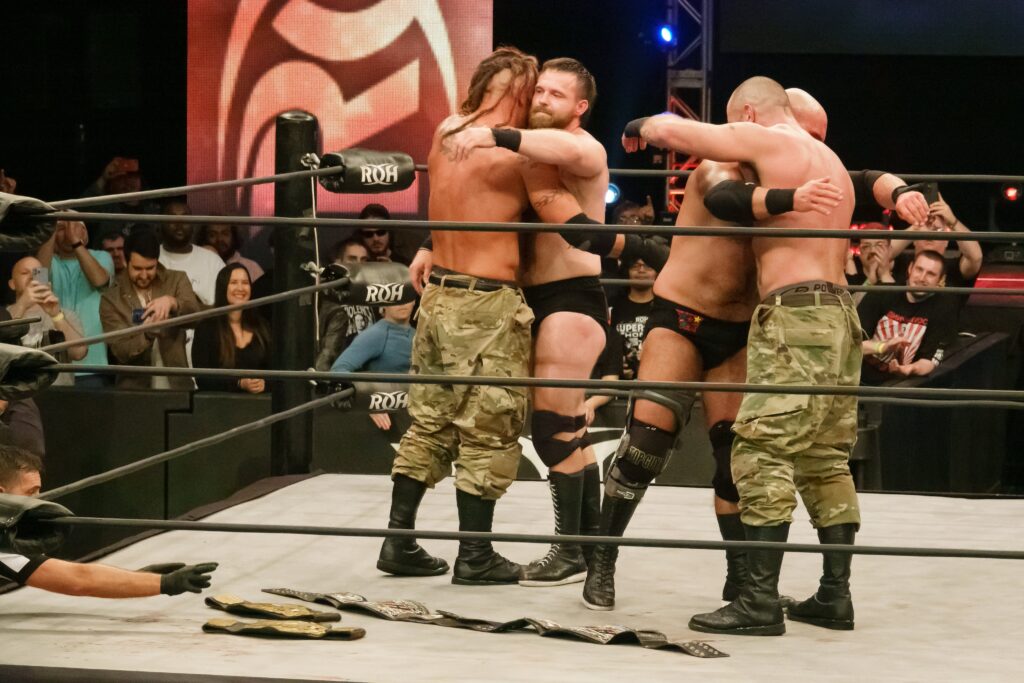 For The Briscoes, this was the culmination of twenty years as one of the world's great teams. ROH's immovable titans, Mark and Jay have bled buckets for the promotion, there from day one in February 2002. Naturally, that has limited their exposure and notoriety some through the years but in one match, The Briscoes proved themselves to any new fan still somehow unsure. If this was the end of their Hall of Fame run in Ring of Honor, it was the perfect final note, a match that'll single-handedly extend their legacy for decades to come.
For FTR, this was very different, but the conclusion not too dissimilar. Dax and Cash have shared the industry's biggest stages together but in many ways, this felt like their finest hour. Not just due to their performance either, but the setting, the excitement. This was a celebration of tag team wrestling, a showcase of the genre's drawing power and ceiling in 2022. At Supercard of Honor, tag team wrestling was the true main event and from the outside looking in at least, that feels like the most FTR triumph of all.
FTR are finally where they need to be, exploring the wider wrestling world as only they can. With each classic, they climb those historic rankings a little higher and in the minds of many, they don't even have any climbing left to do. At the conclusion of Friday's bout, I was convinced that I'd just watched the greatest tag team match that I'd ever seen. I'm no historian and so ignore me accordingly but in my view, that was immediately unparalleled and my multiple rewatches since have only made me more confident.
More than that though, this was an experience that I'll never forget. I watch so much wrestling and a lot of it's objectively good but I don't always feel this stuff quite how I want to anymore. Well, at Supercard of Honor, I felt this match. In fact, I couldn't take my eyes off it, barely taking a seat along the way. This was about as close to an out-of-body experience as wrestling has given me, just swept away and left completely exhausted at the final bell. This felt alive, a living, breathing fight, a moment I'll remember forever.
Whatever this match or any other meant to you personally, it's important to cherish those memories. I adore pro wrestling's past but I'm no fool, we have to appreciate today's men and women while they remain active, still thankfully at the peak of their powers. I refuse to one day look back on these teams with regret, left wondering why I didn't enjoy them while I had the chance. Absolutely not, my fandom is guilty of many things but not that, and I feel increasingly fortunate every time another memory is made.
After all, that's what every high and low is in the end, just another memory. Well, last Friday's memory may be my most enduring of all, the kind of instant classic that you dream about. At Supercard of Honor, the 'Living Legends' shared the ROH ring with rare peers in that regard and together, they painted a pro wrestling masterpiece.
Thanks to the remarkable JJ Williams (@JJWilliamsWON) for the fabulous photos.