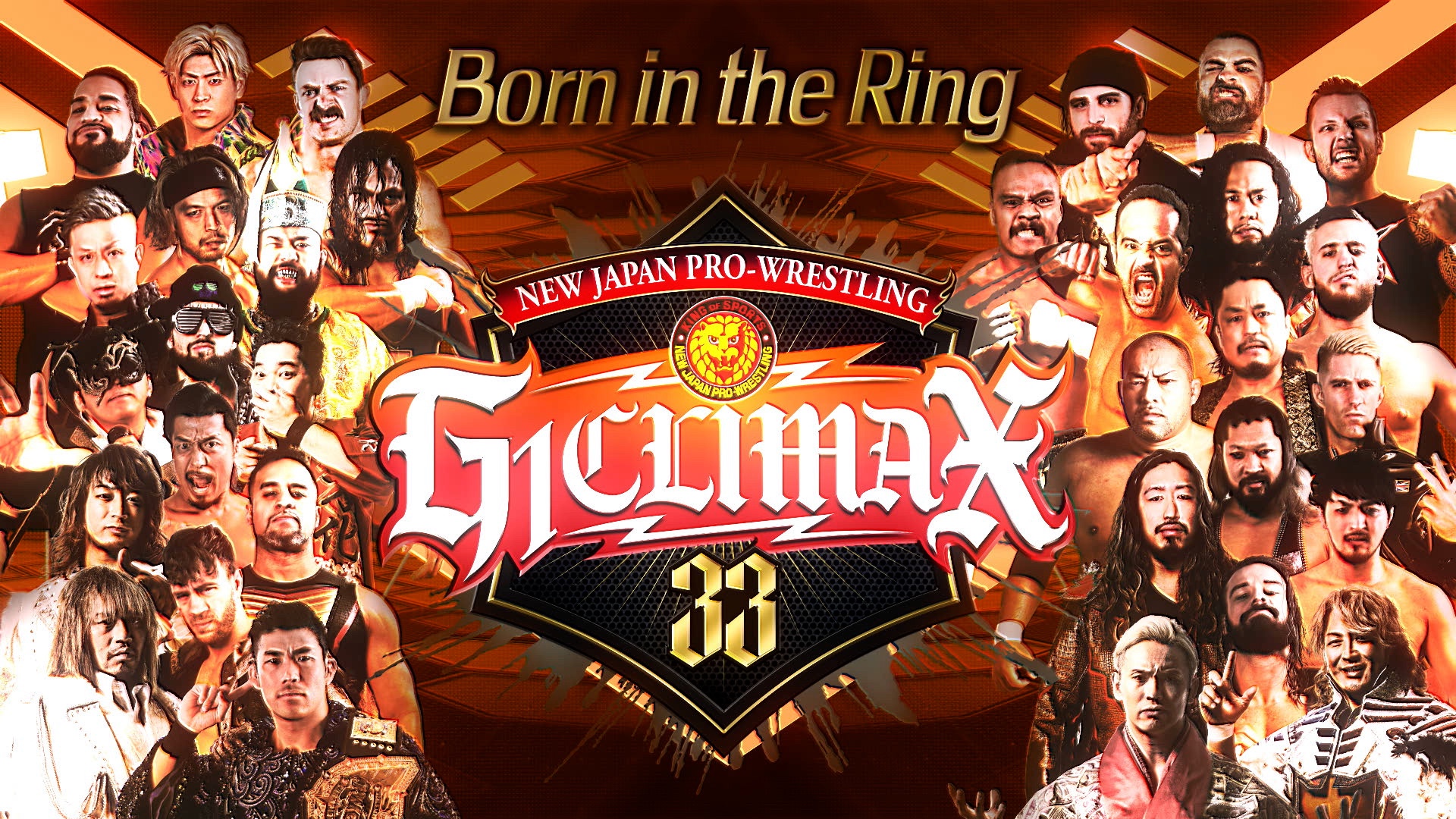 It's that time of year again – New Japan Pro Wrestling (NJPW) are once again the centre of the wrestling world as their prestigious G1 Climax tournament is well and truly underway. As of writing, we now know the talent that have qualified out of each block, and it's certainly drawn a lot of questions from fans who have been following this year's lineup.
For a brief history, The G1 Climax is a round robin tournament hosted by NJPW every summer. Though they began running a tournament of this ilk as early as the late 1970's, this version of the event wasn't officially coined until 1991. The tournament has gone through a few changes throughout the year, but the core idea has remained the same – win the tournament and earn a shot at the IWGP Heavyweight Championship. From 2012 to present day, this opportunity is promised to happen at the following Wrestle Kingdom.The winner is presented with the contract in a briefcase for this opportunity, and they have to defend this between the end of the G1 Climax and the Wrestle Kingdom event.
Back to this year's tournament, the people who have qualified from each block are as follows:
Block A: SANADA (14) and Hikuleo (8)
Block B: Kazuchika Okada (12) and Will Ospreay (10)
Block C: David Finlay (10) and EVIL (10)
Block D: Tetsuya Naito (10) and Zack Sabre Jr. (10)
Let's talk about Block A, and why the standings baffled some fans so much. Hikuleo being the man to qualify alongside SANADA has blindsided some, considering the other people in this block. The most notable of these is Kaito Kiyomiya, from Pro Wrestling NOAH. His lack of qualification means that we aren't yet getting what many expected to be happening here: the Okada rematch. However, I truly feel like we've gained more than we've lost with his performance in the G1. Kaito wrestled not only the three Reiwa musketeers (Yota Tsuji, Ren Narita, and Shota Umino), but also Bullet Club's Gabe Kidd and the IWGP World Champion, SANADA. All of these matches gave him a wonderful platform to showcase just what sort of talent he is, and even to someone like myself who was not as familiar with his work prior to this G1, it is evident just how much of a star he is.
There were so many stand out moments for Kiyomiya in these matches, and he more than proved he can keep up with, and even out wrestle, the top young talent that NJPW themselves have labelled as the future. He has such an exciting style in the ring, and on more than one occasion during his matches I found myself disappointed about the 20 minute limit, because I simply didn't want the performances to end. The Gabe Kidd match is one that stands out in particular – the two had chemistry from the absolute get go, and brought out a new level of intensity in each other. This match ended in a draw, but not because they wrestled to the time limit, but rather because both men were so hell bent on just beating the hell out of each other with no regards to the points on the table. The barely 12 minute brawl these two had has the potential to set up one hell of a feud that can be capitalised on again and again for years to come. It's money on the table right now, and based on the fan reaction on the night, both NJPW and NOAH will be doing themselves a disservice if they don't realise the potential this has.
The Reiwa Three Musketeers are also very much a talking point coming out of this block. Though their performances in the block matches may be viewed as a mixed bag, there's a deeper story at play here and the tournament so far has been nothing but a net positive for each of these guys. Personally, Yota Tsuji has been the standout from the group. He's had the best chemistry with any other competitor, and combine that with how well he's put everything together in the ring, and his insane levels of star power, he's as close to being the full package you can get without being perfect. You can tell that he thinks he's THE guy, and having that confidence is half the battle when given the prestigious label that NJPW bestowed on these three. It's only a matter of time before everyone sees Yota Tsuji for what he is – not only the face of New Japan, but Japanese wrestling as a whole.
Shota Umino, in my opinion, has had a fascinating G1 experience. In his performances, it's clear to see that he's so close to tying everything together and being an absolute megastar, but as the block days wore on, it was becoming clear that there's something holding him back. For my money, it's clear what the next steps for Umino should be – becoming his own, undeniable self. For as incredible as he is becoming (his performance in some of the block matches is undeniable), the identity of Shota's inspirations is evident in everything he does, and as he furthers his career, you have to wonder when they start to become more of a hindrance than a help. Absorbing aspect of the talent he idolises has undoubtedly gotten him far in this game, but there comes a time to step up and shine for who you are, not for who inspired you. A unique finisher should be his first step in solidifying who Shota Umino is as a wrestler, and when he nails these last few aspects, he's going to be an unstoppable force in wrestling.
Ren Narita is an interesting wrestler to discuss. His G1 performance has been about what I expected – he showed spark in places, but there still feels like there's something missing with him as a wrestler. Some of his matches felt like he was somewhat just going through the motions, which is unfortunate considering many consider him to have the ability to be the best of these three when all is said and done. Don't get me wrong, I truly do think that Narita is talented – it's undeniable after watching so many matches in a short time span – but something about his presentation and in ring work just isn't clicking yet. I love the style of wrestling that he uses, but considering the influence of Katsuyori Shibata is clear as day every time he gets in the ring, some of the work he's displaying thus far isn't quite at the level you'd expect. This is especially evident when you put him against not only the other Musketeers, but the other young talent in A Block that have had star making runs in this G1. I have absolute faith that everything will click for Narita and he's going to be a star, but his story in this year's G1 Climax showing him struggling to get the job done against his counterparts has shown that he's just not quite there yet.
I touched on it briefly, but Gabe Kidd's performance in A Block was one that took a lot of fans by surprise. It's clear to those following that he didn't really care about the points at the end of the day – he just wanted to do as much damage as possible to his opponents, and boy did he do that. The Bullet Club War Dogs moniker is "bring gold or bring bodies", and win, lose, or draw, Kidd was doing that throughout the entire two weeks of block matches. He brought the violence to everyone he stepped in the ring with, forcing them to either match his intensity or find ways to overcome it. It was a breath of fresh air to see – the physicality created brutal and exciting to watch matches with pretty much anyone he stepped in the ring with, and he brought the best out of so many of the other Block A competitors. He may not have qualified, but Kidd has absolutely come out of these block matches a made man, and is one to watch in the future.
With all this said, it does make me question the decision to not pull the trigger on one of these guys and have them qualify for the quarterfinals – it very much feels like NJPW has several bonafide stars on their hands, and a standout quarterfinal match at the least would have done even more to solidify them as the future of the promotion. Alas, what is done is done, and these guys will be stars for years to come even with the way this tournament has shaken out.
Moving onto B Block, the men that qualified here are Will Ospreay and Kazuchika Okada. The biggest story coming out of this block regards these two men, as well. Anyone that has followed Ospreay's journey in New Japan knows that prior to their meeting in this G1, Ospreay has only managed to get the win in singles competition with Okada on one other occasion. These two have a long storied history and Okada himself acknowledged how losing here felt like losing to a little brother, but it was a victory that was earned. A lot of fans were surprised to see this being the moment he earned another win, but to me it felt like the perfect time. Ospreay has had an undeniably incredible 2023 so far, and this is another milestone in one of his most important career years to date. He's made a point of proving that he is deserving of the legacy he's carved out, and the astounding level of work he's put in for New Japan has cemented his importance to not only the company, but wrestling as a whole in this current era.
In my opinion, this year's G1 is Ospreay's to lose. As mentioned previously, his 2023 up to this point has been fantastic. I already discussed the importance of his win against Okada in the block rounds, but not even six weeks ago Ospreay also got his win back over Kenny Omega in their second meeting at Forbidden door. I truly believe the wave of momentum he is riding may be enough to carry him all the way to the G1 finals and beyond to Wrestle Kingdom.
El Phantasmo's story in this year's G1 is one that also stands out to me. Getting off to a rough start with taking a few losses in a row, the real turning point for him was winning against Tanga Loa. His match against KENTA was in fact much less of a match and instead an intense brawl, clearly showing the fact that the betrayal from earlier this year was still fresh in ELP's mind. I believe this is not the last we will see of this rivalry, as El Phantasmo may have picked up the win here but it was clear neither man was done with the other, even after the level of brutality was displayed.
The B Block final match that El Phantasmo had with Will Ospreay was something special. These two have always had great chemistry, but the bout they put on together in this match was probably their best ever. This was an "all or nothing" final match for them both – win and qualify. In this instance Ospreay had ELP's number, but as he said himself in the backstage comments – he just had more riding on qualifying for the next round. It's interesting to note that Ospreay was very candid about the level of respect he has for El Phantasmo, and that he loves wrestling him too much to bring him into the fold of the United Empire. Despite Will's words here, I definitely feel like this is a dynamic worth keeping an eye on, even as it currently seems that ELP has landed himself some friends in the form of Tama Tonga and Tanga Loa. This alliance formed between ELP and Guerrillas of Destiny is an interesting one, but anyone that's been following New Japan, and especially El Phantasmo's journey since being kicked out of Bullet Club, can see the direction that this seems to be taking.
As for the rest of B Block, there's honestly not much to dig into in terms of the bigger picture at play. Of course Okada put in a number of great performances, and it is worth mentioning Taichi and YOSHI-HASHI, both of whom had a few standout performances across the block nights. It'll be interesting to see how things play out for a lot of these guys post G1 Climax, with both the World Tag League not being all that far away and the slow build to Wrestle Kingdom starting to shake out.
Up next is C Block, which was the one I most anticipated when all the blocks were announced. Having been nicknamed "murderer's row", there were definitely a handful of match ups that delivered the sort of physicality that seemed promised. Out of the field at play here, seeing David Finlay and EVIL qualify has left a majority of fans completely baffled. Considering the stories that New Japan has been telling throughout the year, there can be cases made for both individuals why advancing them makes sense. At face value though, the company passing up on the chance for Kingston or Takagi to make it to the next round is definitely not a favourable decision for the western audience especially.
That being said, it was clear from the EVIL vs Finlay match that there was disruption in the peace between Bullet Club and House of Torture, and them both qualifying may play a further part in this story. When you consider who both of these men will be facing next, there is a level of history in both of the quarter final matches. Finlay and Ospreay haven't met in the ring since September last year, but the two have previously had three singles matches. Out of those Finlay has only won one of them, but it was in fact during the 2022 G1 Climax. EVIL will be facing SANADA, the man who he used to partner with in Los Ingobernables de Japon, before EVIL betrayed them in order to join House of Torture back in 2020. They haven't met in singles competition since 2021, so I am somewhat interested to see what the dynamics between them are since it's been so long. It's not what I would've considered as my first choice of story to tell in the G1, though.
Eddie Kingston in the G1 Climax is not something we thought we'd witness, but we were given an absolute treat this year. Regardless of him not making it to the quarterfinals, we still got to see Eddie make one of his dreams come true, and for me, that's the most important thing to take away from C Block. He had a handful of awesome matches and the Japanese crowd fell in love with him, because how could they not? I'm just over the moon for Kingston that he was given this opportunity, and even though he didn't make it out of the block rounds, he's the winner in a lot of people's hearts this year.
When it comes to standouts of this year's G1, both HENARE and Mikey Nicholls weren't exactly at the top of anyone's list. After the performance they've both had though, they've commanded the respect and admiration of a wide array of fans. Both of these men came into the G1 and left absolutely everything on the table every night. They embraced the block's nickname of "murderers row" and brought a level of physicality and brutal in ring action that other blocks were sometimes lacking. I applaud them both for blowing all expectations out of the water, and I'm excited to see what will be next for both of these men.
I'd be remiss to not also highlight the performance by Tomohiro Ishii. Now approaching the twilight years of his career, it'd be safe to bet this might have been his last G1 and if it was, what an absolute stellar way for him to go out. Probably one of the most consistent performers in the field this year when it comes to output, Ishii went toe to toe with the best of C Block and provided endless highlights night after night. There truly isn't a way to put my admiration for this man into words, so I will simply say this – if you go out of your way to watch anything from the G1 you haven't already seen, make sure it's an Ishii match. You won't be disappointed.
The last block to have its qualifiers take place is D Block. This one had the most riding on each of the final matches, as many of the competitors went into them tied for points, or having enough that they could qualify if other match results played out in their favour. In the end both Naito and ZSJ made it to the quarter finals, which felt like the most obvious choices here.
Truthfully, there doesn't feel like there's overall that much to say about the bigger picture for D Block; I'd like to highlight the performances by Hirooki Goto and Jeff Cobb, though. The former sustained an injury early on in the G1, but he kept putting on the best performance possible in each of his matches, and Goto was actually still in contention up until the last couple of matches of D Block. Cobb had an absolutely stellar G1 performance this year, picking up notable wins over both Naito and ZSJ – you have to imagine this'll put him in a favourable position to challenge either men if they are the ones to win the entire tournament. Hiroshi Tanahashi also had a beyond admirable performance, once again shocking fans that he can still wrestle at such a high level, especially on this consistent of a basis.
When looking across all the blocks, it's clear that the real standout here is the performances from a lot of the younger wrestlers, all of them having been first time G1 contenders. They're all set up very well to have successful futures in New Japan, in both the short and long run. Looking forward, it'll be exciting to see what new feuds come out of the G1, which old feuds are reignited, and who feels like they're owed title opportunities after pinning belt holders during the block rounds. Before we get there though, the quarterfinals, semifinals, and finals are shortly upon us and I'm sure we'll see even more developments throughout them.