It's perhaps the most loaded weekend of wrestling's 2023 thus far, as NJPW's G1 Climax gets underway while NOAH hosts a blockbuster main event. In addition, Collision boasts a television special lineup, with FTR's rematch against Jay White and Juice Robinson stealing the headlines. Elsewhere, Kenny Omega shares his own rematch with El Hijo del Vikingo, taking their thrilling dynamic to Tijuana. Meanwhile in NXT, Bron Breakker and Ilja Dragunov clobber each other and in IMPACT, Alex Shelley and Nick Aldis do the dance.
Let's get to some nitpicking and uninvited analysis, all hail.
Bron Breakker vs. Ilja Dragunov (WWE NXT)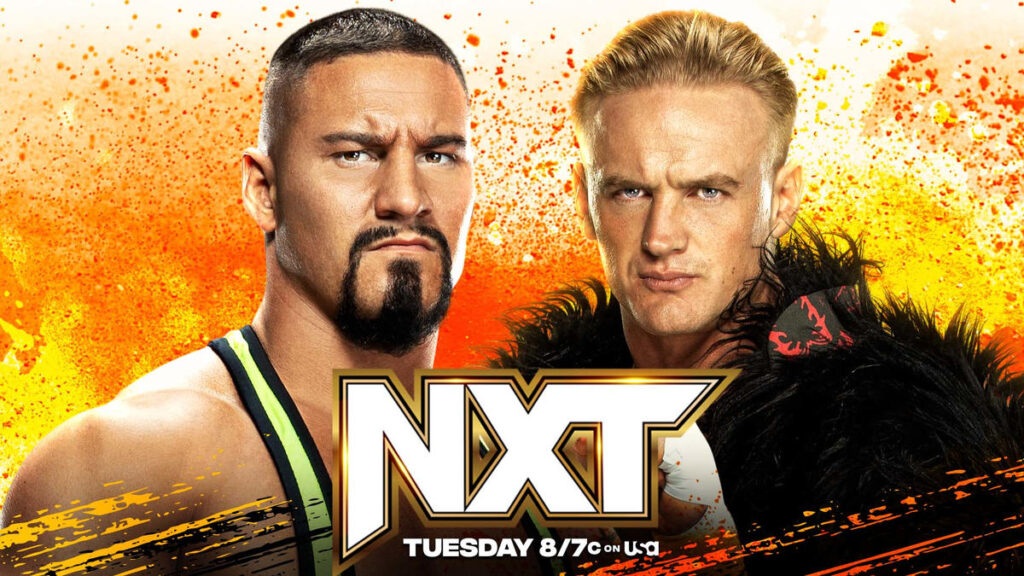 At last year's Halloween Havoc event, Bron Breakker and Ilja Dragunov showed noticeable chemistry, producing the highlights of that special's headliner. Now, they meet again, sharing a singles match to decide the new number one contender. Since turning heel, Breakker has somewhat regained the momentum that accompanied his initial title win, levelling up as a personality while maintaining his in-ring physicality. Meanwhile, Dragunov has been prolific since returning in February, recently sharing a gruelling Last Man Standing match with Dijak.
Much like that match, this earned immediate acclaim, continuing NXT's recent hot streak of sorts in that regard. Indeed, it's very good too, even if falling slightly short of the top tier that it seemingly reached for some. In fairness to the talent, this may be a personal hurdle with the setting, especially as I only stop through for these celebrated affairs. I've yet to do so without being rocked by the current NXT environment, but still certainly enjoyed this nonetheless.
Dragunov always brings an intensity to his matches and that positions Breakker to succeed here. In this matchup, he's able to be aggressive at the bell, thriving in the almost immediate firefight. Understandably, Breakker's best work thus far isn't defined by concept or structure but instead, outright physicality. On athleticism alone, he's already an engaging meathead wrestler, which isn't meant as an indictment by any means. That's a celebrated but increasingly uncommon wrestling subgenre, with Breakker being a natural since his debut.
He really brings it here and Dragunov reacts accordingly, relishing the role of ragdoll as Breakker goes through the gears. The pace is such that at times, Breakker briefly appears somewhat clunky but whenever that's the case, he explodes into action. Breakker is always impressive enough on offence to mask his steadily eroding flaws, producing highlights throughout. He takes a loose control segment early, with Dragunov's swift retort transitioning the match towards an extended shootout.
That makes up the bulk of the match, playing to both men's strengths as they produce an exciting television thriller. It doesn't feel like they're merely taking turns either, with a general scrappiness shaping the bout. That's the highlight for me, those pockets of violence that emerge as near falls unfold. Don't get me wrong though, there are some spectacular highlights to boot, including a couple electric offerings late. Those final sequences are worked with such intent that each kickout feels substantial, also.
Ultimately, it's a very good match, especially for TV. It doesn't go beyond that for me though as while I enjoyed this, Breakker is still very much finding his footing beyond those snapshots of excellence. That's understandable considering his inexperience, with the snapshots alone being incredibly impressive for such a raw pro. On the other hand, Dragunov is full Dragunov here, delighting me with his thudding offence while admittedly, earning some frustrating with his usual theatrics.
That's a quirk that defines Dragunov's game and so I try not to dwell on it when reviewing his work but certainly, it's a little much for me at times. Even still, this is a good time and worth your fourteen minutes or so, producing undeniable thrills down the stretch.
Taichi vs. Will Ospreay (NJPW G1 Climax)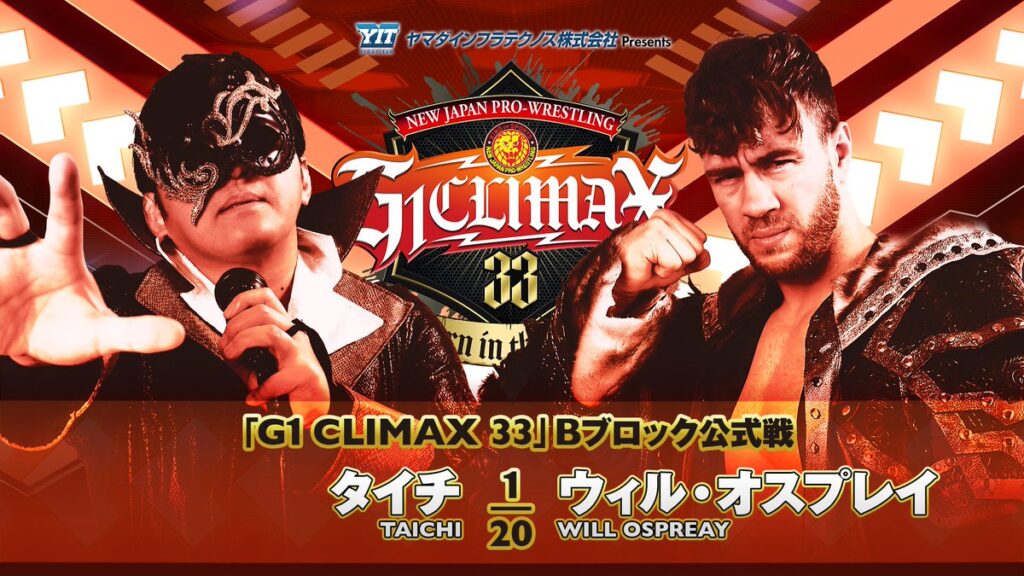 In February, Taichi and Will Ospreay produced one of the year's early hits, sharing a fiery encounter at The New Beginning. There's been enough great wrestling since that it's been mostly forgotten, but they were able to build on that effort with the G1's opening night. Certainly, those gripping exchanges are again in attendance here also, but they're part of a slightly more daring recipe on this occasion. The results are somewhat mixed, especially compared to that prior meeting.
Either way, they quickly find their feet, recapturing the physicality that defined that February shootout. Some booming bumps soon follow from Ospreay, as they fight at ringside and beyond. There isn't much to that stretch, but it leaves Ospreay in control, taking most of the match from there. He finds a nice balance with that advantage, pairing bursts of offence with ill-advised arrogance. The latter neatly sets the stage for their destination, but only after Ospreay dominates further.
Admittedly, it drifts slightly as they go further in that direction, but Ospreay's showy demeanour neatly accompanies his usual offence. Ospreay pays the price for playing with his food though, losing his balance after a sharp kick connects with his ear. This is a fascinating transition as it's not really a transition at all, with Ospreay actually catching the kick, maintaining control but failing to regain his balance. While he's clearly selling in the moments that follow, I'm intrigued by this choice.
If this was the intention all along, it'd be a reasonable choice, believably building upon the damage that Ospreay sustained against Kenny Omega. However, it'd be an incredibly unique execution of that concept if so, feeling organic if nothing else. It takes awhile for Taichi to truly turn the tide though, which suggests that Ospreay was simply playing with an idea that had organically emerged along the way. Regardless, I appreciate the thought, but it makes for a slightly uneven third act.
Ospreay almost snaps out of that state at times, trading bombs as usual but sporadically sprinkling in those staggers and stumbles. When he overly veers in that direction, it leaves Taichi feeling like a passenger of sorts, almost watching on as Ospreay battles this admittedly compelling inner conflict. Thankfully, the work is terrific anyway, especially late. There's a real fire to Taichi within this matchup, rising to the occasion as he and Ospreay trade feasible knockout blows.
That electric closing stretch feels like a direct successor to their February bout, while the rest is a touch more vague. Ospreay takes a lot of the match, with that concussion sell serving as a slightly jarring transition to the final act's fireworks. Those fireworks sure do impress though, providing a thrilling conclusion to an undeniably strong G1 bout. While they don't quite come together for me, this sequel isn't short on ideas, painting a broader picture with its shorter runtime.
For me, it falls short of that February meeting but is an interesting match nonetheless. It's certainly not without excitement late, either.
Katsuhiko Nakajima vs. Kento Miyahara (NOAH One Night Dream)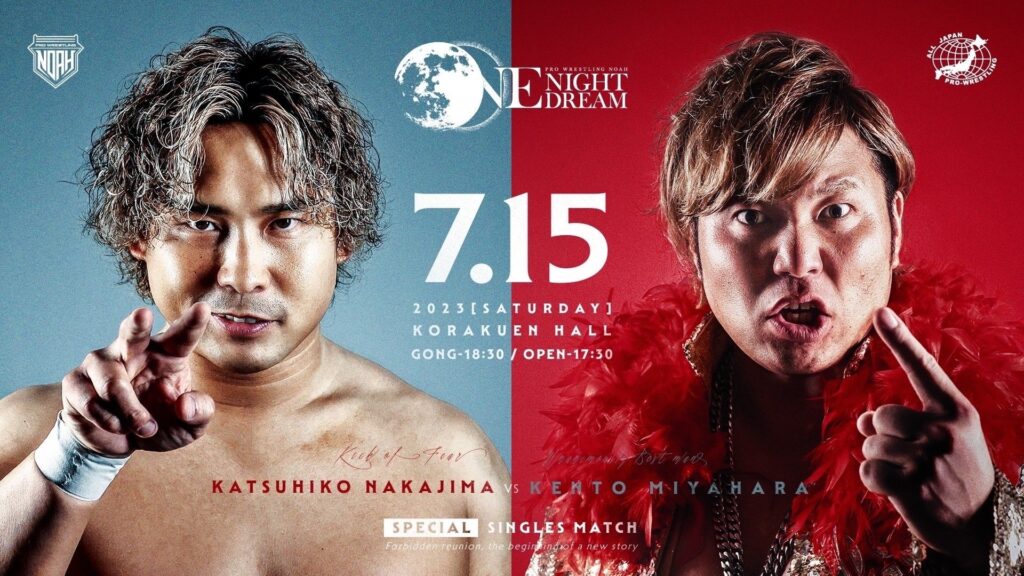 Korakuen Hall hosted one of the year's most anticipated bouts on Saturday, as Katsuhiko Nakajima and Kento Miyahara met for their first singles match since 2012. A clash between All Japan's ace and NOAH's resident destroyer, this all-star matchup has obvious appeal, but it's far more personal than promotional bragging rights. In Kensuke Office, later known as Diamond Ring, Nakajima was Miyahara's senior, debuting four years prior and winning their three singles encounters.
In the decade since, there has been increasing talk of resentment between the two, with Miyahara going his own way in 2013 and ultimately becoming AJPW's centrepiece. That resentment was on display at the Tokyo Dome, as Miyahara and Nakajima shared the ring for a trios match at Keiji Muto's retirement show. More recently, their rivalry resulted in a memorable incident at the pre-match press conference, with Nakajima receiving a dose of his own medicine, being knocked unconscious by a sudden slap.
Now, I'm no expert and am recapping things broadly there but clearly, this money match was armed with a substantial backstory. As a result, it's greeted by a simply magical atmosphere, with Korakuen Hall exploding at the bell. They embrace that electricity, sharing an extended stare down before edging forward with palpable caution. It's a classical main event opening, allowing the moment's significance to tell a tale of its own. Before long though, that underlying hatred is on display.
Miyahara's initial success is halted by a horrifying head kick, setting the tone in an instant. The momentum swings back and forth from there, with Nakajima building on that strike for a control segment before Miyahara rallies with an onslaught of headbutts. Those early shifts are simply building blocks though, with escalating physicality bringing an increasing cloud of danger to proceedings. There's just something intoxicating to this pairing, so much so that they're almost twenty minutes deep before even heading towards a specific destination.
Speaking of such, Nakajima does briefly target Miyahara's leg, spending a portion on that focus before eating a violent piledriver for his troubles. That transitions the match to its more explosive offerings, as they bring their biggest bombs to the party. Naturally, that direction favours Nakajima, punishing Miyahara during their extended shootout. At times, it feels like nothing but stubborn defiance is keeping Miyahara upright, eventually crumbling from the assault. Nakajima is a truly spiteful monster in this domain, relishing his increasing control.
He's destructive enough to threaten a knockout finish, but Miyahara finds an answer to stay alive. That's ultimately all he's doing though, too deep in a fight that fundamentally favours his foe. This match is too entrenched in bitterness and hatred, living in the ferocity that Nakajima thrives upon. For all his resistance, Miyahara can only slow the inevitable, quite literally losing his grip on things in the bout's final moments. It's a cruel conclusion in that regard, closing with a barbaric final note.
This is a staggering match, one of the year's absolute best and for my money, second only to Omega and Ospreay's first meeting. There's such gravity to this match, a sense that an unfathomable explosion awaits. The most impressive thing is that in truth, they only provide that explosion in bursts too, saving an awful lot for a potential sequel. Even still, this is paced so perfectly that the content is almost secondary, a conventional epic that makes every bomb count.
In terms of output, they're capable of more but personally, I'd surprised if they actually improve on this effort. This is an absolute masterpiece, drenched in drama and armed with an overwhelming emotion. That emotion isn't showy or theatrical but it's present throughout, the colour that shapes each momentum shift. It's personal, wrestled as though it's the most important fight of their life. Thankfully, this Korakuen Hall crowd viewed it similarly, resulting in one of the year's most magnificent matches thus far.
BULLET Club Gold vs. FTR (AEW Collision)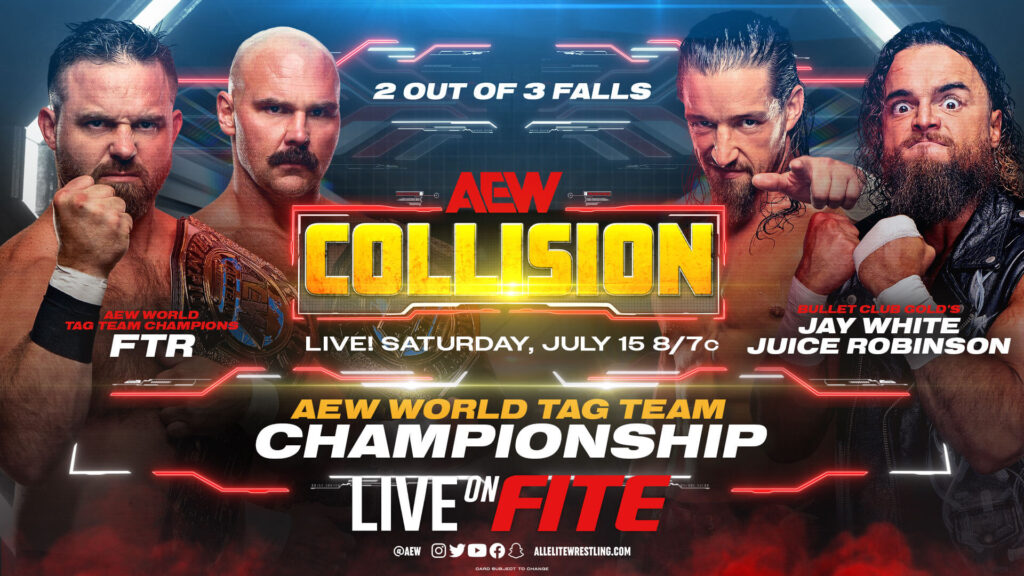 Last week, FTR added another classic to their catalogue, sharing a memorable television thriller with Jay White and Juice Robinson. The BULLET Club Gold tandem stood tall, setting the stage for an immediate rematch in Calgary. This time, the belts would be on the line, with FTR returning to the 2-out-of-3 falls stipulation that unlocked them as an all-time great team. Their single fall encounter went almost thirty minutes and with just two other matches advertised, this seemed certain to go the distance or at least very close to it.
They opted for the latter, clocking in at 58 minutes, reaching their conclusion just before the finish line. That makes this one of the year's longest matches, swinging big with an elaborate and expansive outline. Naturally, that approach won't connect with everyone but personally, I found this to be one of the most remarkable matches in recent memory. Even with the extended runtime, this features almost perfect pacing, building gradually and using the three falls to create tonal variety.
That's one of the match's defining traits, each fall feeling like a standalone entry. As a result, the first two finishes feel like necessary exhales, resetting things for the next portion. That isn't necessarily the most cohesive route and won't work for everyone, but I thought it allowed them to keep pushing forward without reaching a natural dead-end. As with most matches of this length, they take their time early, allowing the atmosphere to chip away at the clock.
The stalling doesn't last long though and they quickly build on last week's meeting, sharing those same crunchy exchanges. Naturally, it's not quite the thriller that was, but it's not unnaturally slow either, feeling more tactical than anything else. That's captured by the contrasting shine as this week, FTR are less dynamic and instead, more mechanical. They feel like they're returning to their roots early, cutting the ring off for brief control segments on both antagonists.
This match really builds upon that core contrast, as FTR showcase greater chemistry while BULLET Club Gold's success is often rooted in White's quite staggering brilliance. To be clear, that's a compliment to Robinson's presentation, not a criticism of his performance. He's glorious here, even offering a knockout sell for Harwood's first thunderous chop. Again though, it's all about White, who almost singlehandedly turns the tide, shifting the match into some heat on Harwood.
That segment is executed seamlessly, ultimately concluding with a gorgeous sequence in which Wheeler's intended hot tag walks him into a sudden trap. With that, almost twenty minutes have elapsed and they've barely scratched the surface, yet the quality of work is such that a war of attrition already feels underway. With some time in-between, they totally reset for the second fall and admittedly, that produces a slightly jarring building block or two. Once they return to heat on Wheeler though, it feels firmly back on track.
The crowd's response isn't immediate but with one fall already on the board, they go far enough in that direction to earn genuine drama. In truth, they're only thirty minutes or so deep, yet FTR's situation seems alarmingly desperate. White is an extraordinary tag team wrestler, cutting the ring off at a level that only the champions themselves can claim. By design, Robinson is slightly less conventional, opening the door himself with continued antics.
That's a theme throughout, as BULLET Club Gold frequently taunt the fiery Harwood, testing his discipline on the apron. Those tactics only allow the eventual hot tag to pack an extra punch, with Harwood's retort catapulting the bout up a tier or two. The momentum swings back and forth, ultimately settling on a stretch in which FTR are simply unable to pin White's shoulders to the mat. Even after the slightly slow restart, this chunk quite comfortably cements the second fall as my personal favourite.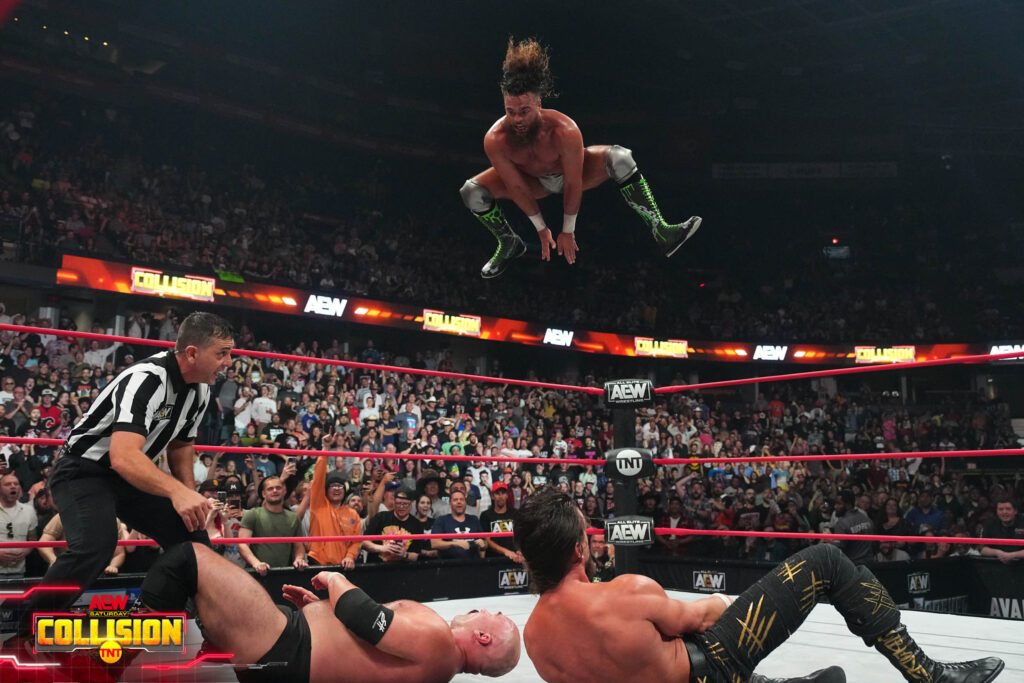 It genuinely feels as though the ground is eroding from under them, their tag title reign fading in front of us. This isn't a singles match though and White isn't their only foe, with Robinson walking directly into the storm that's emerged in his absence. With that, they're tied at a fall each, resetting again before brawling their way into the deciding act. That sets the tone, as they spill to the floor, fighting at ringside only to share a standoff upon climbing through the ropes.
The third fall is an unapologetic epic, with that standoff being the first hit of a familiar handful. FTR have their routine in that regard but there's a reason for that, those tropes work, especially when armed with such sturdy foundations. There's some incredibly captivating work also, as BULLET Club Gold target Harwood's knee in pursuit of victory. It increasingly feels like a matter of survival for Harwood, barely staying alive as they approach the 60-minute time limit.
Wheeler's re-entry allows much more than that though, as the champions close the show in their own right with just under two minutes remaining. Ideally, I think a match of this calibre would have a slightly more dramatic final note but in some ways, this is more fitting, as FTR barely have the energy to even celebrate. It's also smart, built upon a subtle adjustment in the dying moments. In addition, I adore how they used the time limit to make a mostly predictable outcome feel surprising.
They go so deep here that you almost have no choice but to expect a draw, adding gravity to the finish and hopefully assisting the longer matches that emerge in AEW's future. Either way, this is one of the year's most special matches and an instant television classic. Admittedly, the third fall is my least favourite, but that speaks more to the quality of those first two entries. Even with each fall feeling somewhat separate in tone, there's a clear escalation throughout.
At 58 minutes, it probably is a touch longer than necessary but I can't pretend that it dragged for me, because it didn't. In fact, the meat of this match flowed gorgeously, making for a smoother watch than much shorter epics of the day. I just can't quite fathom what they've managed here, creating an unfathomable two match series that mere months ago, would've been understandably dismissed. Credit to Juice Robinson for finding the form that's allowed such a shift in that regard, visibly relishing the Collision spotlight.
He's certainly got the ideal ally also, as Jay White continues to perform at a best in the world level. More specifically, he's revealing himself as a secretly superb tag team worker, adding two very different hits to his catalogue. Speaking of such, this is the latest classic for FTR, further polishing their case as one of the industry's all-time great teams. I'm not sure that this is perfect, necessarily. Tonally, the third act feels slightly distanced from the rest and at 58 minutes, there's unavoidable fat to trim.
With that being said, I struggle to overly ponder those faint flaws. I found this to be truly moving, breathtaking in a fashion that'll live long in the memory. From the focused first fall, through the electric second act all the way to the expansive epic that closed, they had me. I was immersed, simply lost in the stunning picture being painted. Frankly, I'm in awe of this effort. There is such heart to this match, a palpable passion that's present in FTR's many greatest hits.
This was magical, one of the most impressive television epics that I can recall.
Alex Shelley vs. Nick Aldis (IMPACT Slammiversary)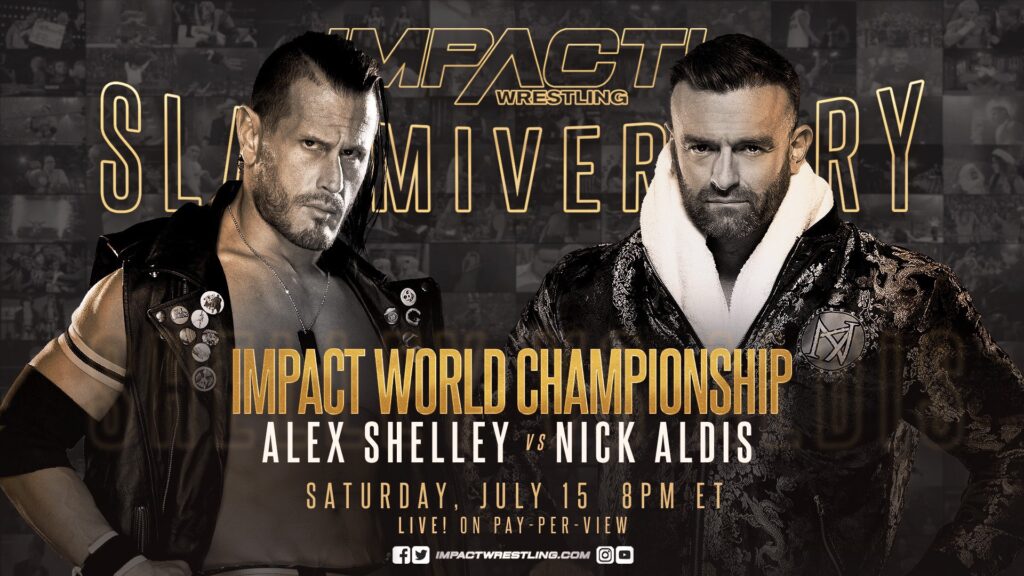 Last month, Alex Shelley shocked the wrestling world, defeating Steve Maclin to become IMPACT World Champion. I didn't love that match, but was delighted by the moment, with a promotional great finishing his story, so to speak. Now, he defends that prize, meeting Nick Aldis in a clash of 2009 TNA tag team stalwarts. Jokes aside, I enjoy what Aldis has become in recent years and Shelley remains one of the world's finest workers. They deliver here too, producing a nice World's Title tilt to close Slammiversary.
They find some immediate intensity, with Shelley jumping on Aldis at the bell and going to work with right hands. He pays the price for that tactic though, as Aldis capitalises on his unusual naivety by immediately turning the tide. They use that for an incredibly early false finish, as Aldis snatches his submission finish while commentary reiterates Chris Sabin's earlier title loss. That was sudden also, as Sabin was toppled in just 80 seconds by Lio Rush.
Shelley survives however, firing back to the knee but being overwhelmed regardless. Aldis is really polished in control, earning steady heat as he chips away at Shelley with his power advantage. They build gradually to Shelley's eventual retort, returning to the leg frequently before finally flooring Aldis to reset things. The challenger doesn't throw that work away either, keeping the injury present as he briefly regains control. Shelley responds by targeting the arm, again working with that typically broad focus.
Only Shelley could so consistently take this approach without muddying the waters. His work is so sharp that it's always coherent, even as he splits his focus. Now, Aldis plays his part in that regard also, selling with much more commitment than Maclin who for all his strengths, struggled to make that work stick. Better yet, Aldis pairs his selling with some spite, giving the match a little grit as they trade blows in the emerging race to the finish.
Along the way, Aldis has damaged Shelley's back also, leaving both men in desperate need of the finish line. Shelley's usual work is particularly at home against Aldis, seemingly working both the arm and leg in direct response to his early cloverleaf success. That increasing desperation forces some questionable tactics out of Aldis, re-engaging the crowd after they'd been somewhat mild for the bout's second chunk. That, as well as some late blood, adds a touch of drama to the finish.
I liked this match quite a bit, even if it was without the atmosphere to really make it pop. Even still, I found it to be a more focused effort than last month's main event with Maclin, it just didn't have as much time to reach a more memorable conclusion. Still, this was a worthy main event, with two very different wrestlers finding a substantial stylistic middle ground to explore. Good match, two solid pros, and things of that nature.
El Hijo del Vikingo vs. Kenny Omega (AAA TripleMania XXXI: Tijuana)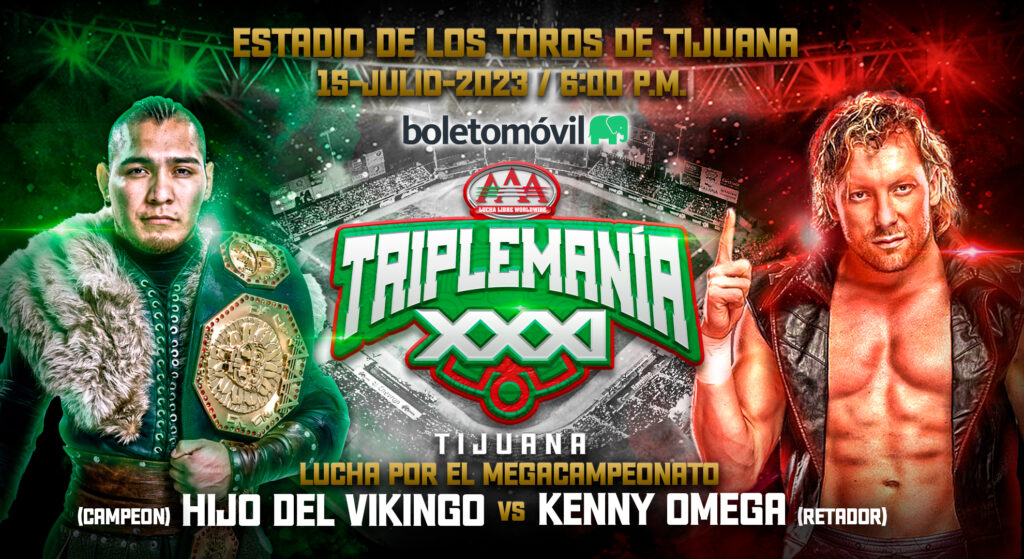 In March, El Hijo del Vikingo made his US television debut, closing an episode of AEW Dynamite opposite Kenny Omega. That match was initially scheduled for December 2021's TripleMania Regia II event, ultimately being cancelled as Omega stepped away from the ring to recover from his increasing injuries. Nonetheless, it was worth the wait, as Vikingo made an extraordinary first impression, wowing fans with an enthralling television main event. Beyond anything else, that seemed like the match's main goal.
Though Omega wasn't without his own highlights, it felt as though his sole intention was to showcase Vikingo on that stage. For much of its 17 minute runtime, that match was an expansive compilation of Vikingo's greatest hits. Thankfully, those hits sounded good enough to make it work emphatically, with Omega's bumps and wrestling brain providing the rest where necessary. Now, almost four months later, they meet again, headlining TripleMania XXXI: Tijuana.
Naturally, it's a very different match. Without such a clear endgame in sight, they have a blank slate to build upon, surprisingly opting for something somewhat conventional. The awe-inspiring high spots remain, but they're placed within a more grounded outline. They tease a Vikingo flurry early, with Omega finding an almost immediate answer by quite literally swatting the champion out of the air. That sudden strike puts Omega in control and he seldom relinquishes it from there, steering the ship with absolute ease.
I'm slightly in awe of Omega's performance here, almost casually dictating the action as he operates with relative restraint. Even in this role though, the quality of his work is such that he's still sublime, effortlessly so in this case. They sprinkle in some Vikingo hope spots throughout, including a brief comeback before Omega regains control. For the most part though, he simply sells, playing the role of underdog as Omega embraces his physical dominance.
Ultimately, Vikingo's conclusive comeback arrives in the form of a power move, with the champion's range surprising Omega late. The flashiest fireworks follow, putting the finishing touches on an incredible enjoyable title tilt. I'm certainly not stunned by this match's quality, but I am surprised by its greatest strengths. Even with the inevitably innovative content, this is a mostly traditional match, a bout built on the underdog hero's defiance. It really works too, using its comparable runtime completely differently to their first match.
To be clear, I don't think this is better than their first match and it's certainly less memorable, but I still very much appreciated the differing approach. This didn't have the same goal as the Dynamite bout, and that approach couldn't possibly be improved upon anyway. They approached this rematch differently, producing a contrasting kind of hit that simplified Vikingo's appeal and leant on Omega's outright brilliance. Very good match, a more restrained take on a pairing that can't possibly fail to thrill.
Eddie Kingston vs. Shingo Takagi (NJPW G1 Climax)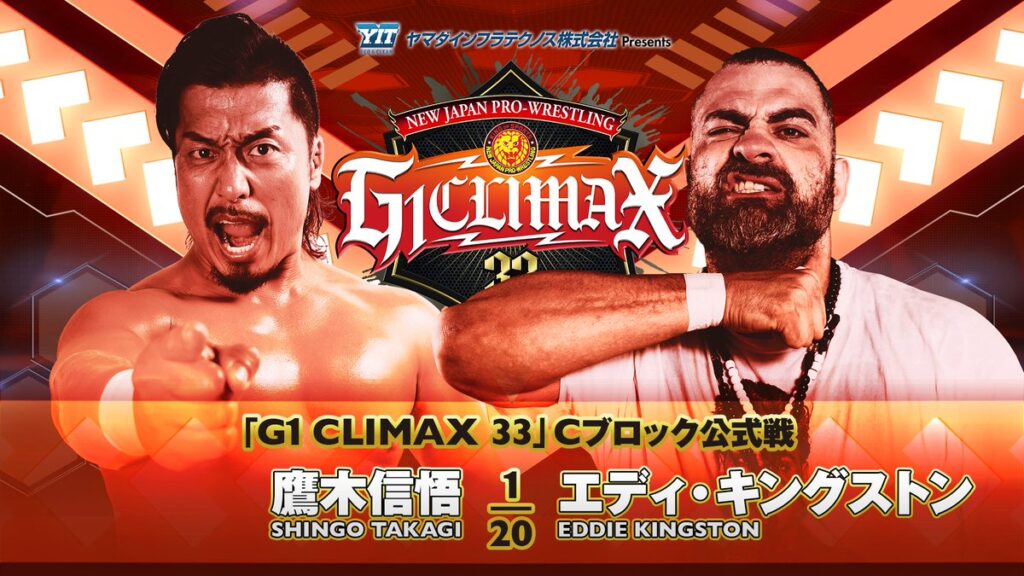 Not even two weeks removed from his NJPW STRONG title win, Eddie Kingston is back in Japan, kicking off his G1 campaign against Shingo Takagi. Even as their respective openers, this was the C Block match that many circled, feeling like a natural stylistic clash. It's as advertised too, with Kingston and Takagi swiftly finding a seamless groove in their very first meeting. That's pivotal, as they only have twelve minutes or so to play with, operating in front of a crowd mostly unaware of Kingston.
Thankfully, his approach is at home in this setting, gleefully matching Takagi for some bruising exchanges. Before long, it's a shootout, with Kingston inviting Takagi into his domain and accepting the bullets that come with him. Takagi isn't outmatched in that firefight by any means, but Kingston's route to success is much simpler with the former IWGP World Heavyweight Champion standing directly in front of him. Even beyond that core dynamic, it also works as a simple showcase of Kingston, which should assist his other outings.
That simplicity is one of the bout's strengths, especially with this somewhat limited runtime. As usual, Takagi is a force of nature on both sides of the ball, still bringing some offensive range and blessing Kingston's bombs with gorgeous staggers and stumbles. Kingston responds accordingly, being overwhelmed at times by Takagi's fleeting bursts of pace. He just can't help himself though, seldom building upon those advantages and instead holding his feet for further bombs.
He isn't without success, dropping Kingston frequently but still paying the price for playing with fire, reaching a sudden roadblock on his apparent road to victory. This worked a treat, delivering on the hype that this matchup earned while still leaving an awful lot of meat on the bone. The deeper they got, the more that this match got over, really feeling at home in the G1 Climax. At core, it captured Kingston's pro wrestling identity, soaking up knockout blows in order to land a conclusive strike of his own.
It's a wonderfully selfless effort from Takagi in that regard, giving Kingston enough to make this work in front an audience that wouldn't necessarily root Eddie to his feet. If armed with an AEW PPV crowd, Takagi would likely take much more, steering the ship while Kingston simply sells. That'd be terrific also, but Kingston's underrated versatility allowed this to work in its own right, believably earning advantages throughout. Very good match and more importantly, the right one for this occasion.