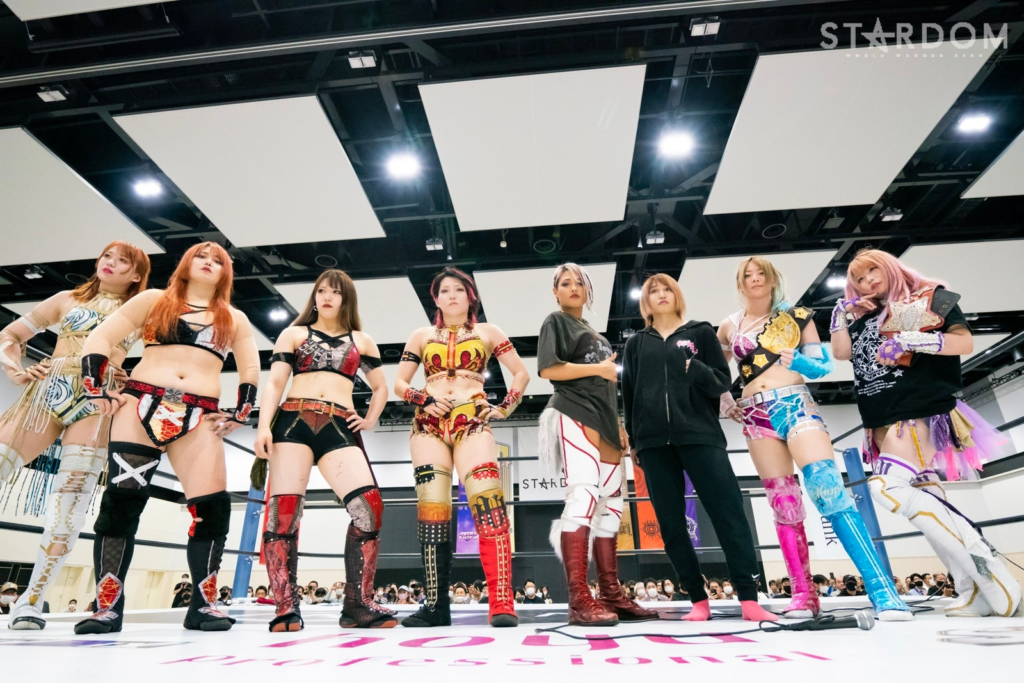 Stardom
In Stardom, a battle of generations broke out when after an Eight Man Tag Team Match between STARS & Queens Quest the young prodigy Suzu Suzuki came out together with DDMs Maika to call out the Leaders Mayu Iwatani, Syuri, Giulia, and World Of Stardom Champion Tam Nakano to declare war to them and end their era. Saya Kamitani and Utami Hayashishita side with them. Suzu feels like the catalyst here for the generation war. Her character since coming in last year was that she never backed down from her seniors. Maika is in need of a major singles win soon. She was always in the shadow of her seniors in DDM and this could be her opportunity to break out and reach her potential

An Eight Woman Tag Team Match between the two generations is set for the June 4th Korakuen Hall show. This match will set up the entire summer of STARDOM with a ton of possible outcomes in terms of who gets the next championship opportunities, who gets left behind, and which generation is the strongest.
Sareeeism
Sareee (fka Sarray in WWE) made her comeback to wrestling after leaving WWE a couple of months prior. For her return match, she produced a show called "Sareee-ISM" that featured wrestlers from her past.

Aside from the return match, another match stood out here. AKARI and Arisa Nakajima faced Ibuki Hoshi and Miyuki Takase in the second match of the show. This was pure violence, and they didn't bother with any slow build and just went straight into all out aggression without ever really stopping for pause, and it made for a thrilling encounter. All four wrestlers beat the living hell out of each other in this bout. Arisa had her best performance of the year by destroying Ibuki Hoshi with lethal strikes and punches, while the future Ice Ribbon top star fought back with vicious chops. They used every minute they had to create an awesome match, with Arisa and AKARI walking out as the winners.

The Main Event was the return match of Sareee against Chihiro Hashimoto, and Hashimoto was the best choice for her opponent given their history and how well they worked together. It was a fantastic return match for Sareee that started a bit slow but build up a fantastic intensity over the match with both getting more brutal the longer the match went. They threw each other with German Suplexes on their heads a dozen times, and it was just amazing to watch. The Sun Goddess played a fantastic underdog here against the unstoppable beast that Big Hash is. The Ace of Sendai Girls won the brutal war, and Sareee lost her first match back in Japan, but the more important fact here is that Sareee is back, and she's here to stay-

This won't be a one/off appearance for Sareee since will compete at Hana Kimura's Memorial Show Pinx tomorrow, and she is also announced for a Diana & T-Hearts show.
Hana Kimura Memorial Show: "pinx!"
The Hana Kimura Memorial show "pinx!" takes place on May 23rd in the Korakuen Hall, and it will mark the 3rd anniversary of the passing of Hana Kimura. The card features six matches with talents from many different promotions, including STARDOM, Marvelous, Sendai Girls, GLEAT, AJPW, WAVE and more with many friends of Hana competing on this show

Full Card
Tag Team Match: Mika Iwata (Sendai Girls) & Mio Momono (Marvelous) vs Aja Kong & Sareee
Singles Match: Saori Anou vs Miyuki Takase
Six-Woman Tag Team Match: ASUKA (Veny), Natsupoi (Stardom) & Syuri (Stardom) vs Konami, Kaori Yoneyama & Rina (Stardom)
Four-Way Tag Team Match: Masao Hanabatake & Mayumi Ozaki (OZ Academy) vs Ryo Mizunami & Sonoko Kato (OZ Academy) vs Yuko Miyamoto (666) & Ram Kaicho (666) vs Minoru Tanaka (GLEAT) & Kengo
Singles Match: "Good ol' Hana Kimura" aka Sakura Hirota (WAVE) vs X (SURPISE)
Annual Battle Royal: Chihiro Hashimoto vs Fuminori Abe vs Hanako Nakamori vs Menso-re Oyaji vs Super Delfin vs Tatsuhito Senga vs Tsutomu Oosugi vs surprise opponents.
You can buy the show on FITE just for $14.99 with all revenue going to the mother of Hana Kimura. It is possible to pay with a credit card and PayPal. If there was ever a show that is worth your money, then it will be this one. Please, buy this show on FITE and support the family & friends of Hana Kimura

Start Time:
Tokyo 18.30
LA 01.30 / NYC 04.30
Calgary 02.30
Mexico City 03.30
Rio 06.30
London 09.30
Paris 10.30
Berlin 10.30
Istanbul 12.30
Jakarta 16.30
Sydney 20.30