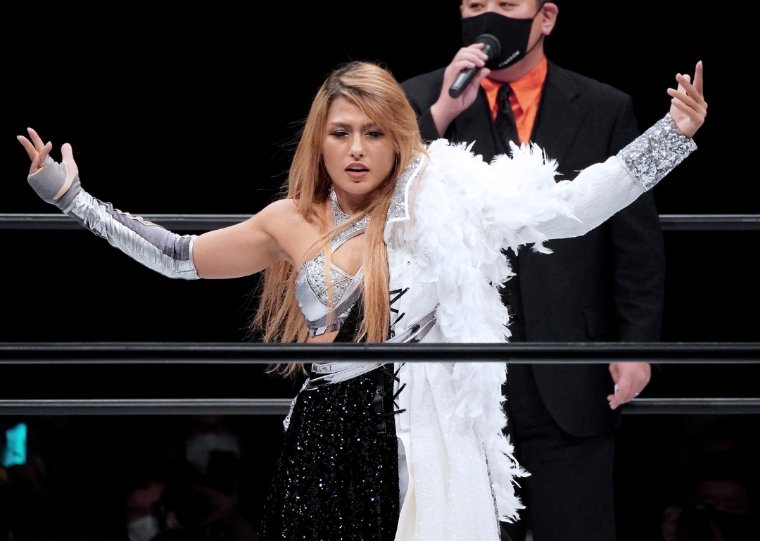 On October 1st of this year, Giulia defeated her longtime rival Tam Nakano in the final of the 5 Star Grand Prix, Stardom's equivalent to NJPW's G1 Climax. As a result, Giulia now finds herself preparing for a World of Stardom Championship match against her former tag-team partner Syrui at Stardom Dream Queendom on December 29th.
Ahead of the event, Fightful's Scott Edwards had the chance to interview Giulia about a number of topics, including said title match, her dream opponents, and the prospect of eventually wrestling overseas.
Regarding the upcoming Red Belt title match vs Syuri, Giulia revealed that she has a tremendous amount of respect for her former Donna Del Mondo stablemate, however, she's more than willing to forget about their friendship to achieve her dream of becoming Stardom's top champion.
"There has been and will probably never be another person who will surpass her for me. I believe she totally changed my life in wrestling. She is a precious person who is respected by all wrestlers regardless of career or age, and of course I am filled with respect for her. 2022, going separate ways with Syuri was a really big decision. However, I always felt that one day we would have to fight for everything. I have respect for her, but there are some things that are non-negotiable. There's no doubt that she is a special person, but it this a big wall that I must face to get to the top. I have to shatter that wall into pieces."

-Giulia
Many Stardom fans have long expected Giulia to eventually dethrone Syuri for the World of Stardom Championship, and thus despite Syuri's dominant 2022, the DDM leader will likely be considered the favourite heading into their match on December 29th.
Should Giulia emerge victorious from her upcoming title match, she'll have a long list of potential challengers heading into the new year. When asked who some of her dream challengers would be should she capture the World of Stardom Championship, Giulia namedropped former title holders Mayu Iwatani and Utami Hayashishita, although perhaps the most intriguing name mentioned by Giulia was Ice Ribbon's Tsukasa Fujimoto, particularly considering the DDM leader's history with the promotion.
"There's Mayu Iwatani. She's the symbol of Stardom, and I've had several fights with her at big shows, but all of them were non-title fights. For me, coming from outside of Stardom, it's one of my goals to have a title match with the symbol of Stardom. A match with her is always different from what I imagined it would be. That's what makes it interesting. How will I respond to moves and techniques that are beyond my expectations? I am excited about the matchup. I want everyone overseas to look forward to it. I also want to fight against Utami Hayashishita. Like Mayu Iwatani, she is a great fighter who debuted in Stardom. I have been fighting in Stardom for three years, but I have never had a singles match with Utami. I think one of the reasons is that when I was fighting as the White Belt champion, she was fighting as the Red Belt champion. It would be very thrilling and exciting if my first match with her could be a title match on a big show. Lastly, if I were to give lip service, it would be Tsukasa Fujimoto, who lured me into the world of professional wrestling. She is currently on a leave of absence due to childbirth, but I hear she will be back soon. If the timing is right, I have a feeling that I would like her to challenge for my title. I have many feelings of gratitude and also resentment towards her…I would like to meet her in the ring."

-Giulia
Whilst Giulia's sights are currently set on Syuri's World of Stardom Championship, another top prize in Joshi wrestling is now available, as NJPW recently debuted the IWGP Women's Championship, with Stardom's KAIRI as the inaugural champion.
When asked whether she'd be interested in challenging KAIRI for the gold, Giulia emphasised that she's unsure as to whether the IWGP Women's Championship is on her radar at this time, although she did reveal that she hopes to face off against KAIRI soon, with the two top stars yet to cross paths since the former NXT Women's Champion's return to the company earlier this year.
"If it looks like a belt I want to win from my point of view, I may challenge for it. I cannot say at this stage. What is the champion KAIRI trying to show us? Since the opponent for her first defense is Tam Nakano, I am looking forward to the match itself. I don't know yet whether I want that belt or not; I would like to fight KAIRI sometime soon. She has a great aura of having fought in the world's top brand. I think she has adjusted to Japanese wrestling again, and I respect her. But when she faces Giulia, can she have the same attitude that she had with Kamitani and the young guys? I would like to ask her. Her aura is great, but I don't intend to lose to her either."

-Giulia
Outside of her upcoming World of Stardom Championship match, Giulia also has eyes on starting that supports retired female pro-wrestlers, a goal she first revealed ahead of her Gold Rush ladder match on November 19th. Whilst she has yet to officially begin this endeavour, Giulia hopes that fans can support her dream in order to provide a better life for women who gave stepped into the ring.
"As I announced in Osaka, I would like to start a company that supports female professional wrestlers when their careers are over. This has the potential to make the lives of those who have joined women's wrestling organizations in Japan more colorful, and is a great attempt to increase the number of people who want to join, and hopefully this turns into something that gives the fans more wrestlers to love. I hope that everyone overseas will support this project. This is a project of mine that has not started at all yet, but if this does happen in the future, please give us your support."

-Giulia
Finally, Giulia was asked if she had a message to share with her fans worldwide. The 'Dangerous Queen' revealed that she hopes to compete overseas soon, an announcement that will likely have promoters across America and the rest of the world jumping at the opportunity to feature one of the best women's wrestlers of today on their shows.
"I would like to compete overseas in the near future. All you overseas fans, just wait and see!"

-Giulia
Giulia's World of Stardom Championship match with her former Alto Livello Kabaliwan teammate Syuri is likely to be a must-see affair. Both women have had an incredible 2022, and we're certain that their bout on December 29th will only add to that.