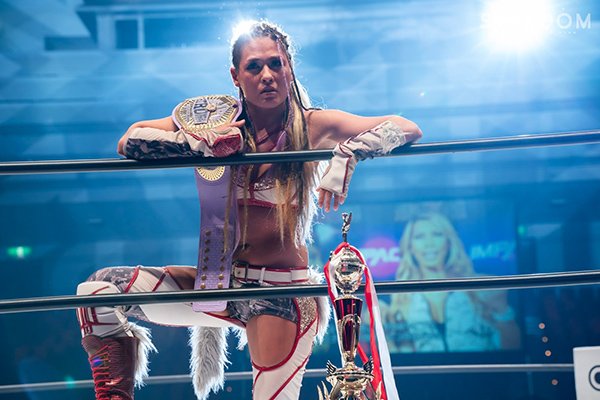 STARDOM
The STARDOM 5STAR Grand Prix continued with a show at Korakuen Hall with 1.519 fans in attendance, the highest attended Korakuen Hall show of the year, and one of the highest in the history of STARDOM.

The 5STAR GP Matches kicked off with a Blue Stars Block Match between Momo Watanabe (2-0-0) and Saori Anou (1-2-2). Momo has been a stand-out in the tournament and is finally showing again how great she is and why so many fans hold her to a high standard. This match was no exception, with she and Anou having a well-paced and laid-out match. Watanabe instantly attacked Saori during her entrance, but it picked up pretty quickly from then on. "The Black Peach" landed some brutal kicks and strikes on the helpless Anou, who tried to find answers, and eventually did, but this match was all about Momo. She destroyed Anou and gave her no chance at any point for the two Points. She hit a brutal Hitodenashi Driver for a close near fall before Watanabe finishes her off with a Tequila Sunrise followed by two Peach Sunrises for her third straight win in the 5STAR and puts her now officially in contention to win the Blue Stars Block.

Mariah May (1-2-0) faced her stable partner Mina Shirakawa (3-1-0) in the next match, and this was as emotional as it gets. In Kayfabe, it was Mina who recruited and brought over May to STARDOM and gave her the chance to shine. May has been vocal about how much the run in Japan means to her, so wrestling her Leader and Tag Team Partner means a lot to her character. Also, they were just coming off the loss against Anou and Natsupoi, where they lost their Goddesses of Stardom Championship. Right from the bell, Mina Shirakawa went for the legs of Mariah May, showing no mercy to her Club Venus Partner. May seemed to fall into a similar fate as in the Anou match, where she got submitted in a leg lock, but this time it came differently. The "Foreign Ace" found her way back into the ring with a vicious German Suplex, where Mina landed right on her neck, which started the huge offense of May, that lead to her hitting the Happily Ever After for the three count and a huge win over her leader.
Hazuki (0-2-0) tries to get on the board by facing Syuri (2-1-1) in the Red Stars Block. This first-time-ever Match had a lot of excitement from many in the fan base, and it delivered. Syuri is on another level again in this tournament, and her run reminds me of her 2021 5STAR run, which she won in the end. She brings an energy to her matches that no one on the roster has in their matches, and this match wasn't much different. She kicked the living hell out of the STARS Member here, who at the beginning at close to zero offense, but Hazuki found her way into the match and was able to level Syuri's energy and brutality by hitting Syuri with her Boot right into the head, but most of the offense had Syuri. Whenever Hazuki just found her way into the match, Syuri kicked her head in with one brutal kick after the other, but the Wild Heart tried everything and came close with the Hazukistral flash pin for a near fall. Hazuki fought until the end, she eventually needed to give up in the Byakko Submission. Hazuki now is 0-8 in her last Eight 5STAR Matches. Syuri now is slowly finding her footing again after two devastating point drops to Natsuko Tora and Natsupoi.

In the next 5STAR match, Tam Nakano (2-0-0) tries to defeat Mayu Iwatani (2-0-1) for the first time in a singles match in front of a hot Korakuen Hall crowd. They both have a lot of chemistry and fans always can always expect good things between them, and this match wasn't different. The first minutes were quite slow, but the pace picked up quickly. From then on it was amazing and especially the action and excitement during the last few minutes were terrific. The story that Tam can't beat her former mentor and friend made this match that much better, as she was just seconds away from finally doing it before the time limit hit during the pinning attempt after the Twilight Dream Suplex. Their last three matches now all ended in a time-limit-draw, with neither being able to pin the other in 60 minutes. A Championship match seems inevitable.
The 5STAR didn't start as expected for AZM (1-3-0) who only won one of her four matches in the Blue Stars Block, and her schedule isn't getting much easier with her Stable Leader Utami Hayashishita (2-0-0) standing across the ring of her in the Korakuen Hall Main Event. This match has one pace, and it was fast, with AZM having a star-making performance. Utami sold her ass off for the High-Speed Bomb Girl and made her look like a million bucks in this match, as she was the perfect base for AZM's offense. The final three minutes were outstanding and ended with AZM's incredible Code Red, and she followed that up with the Canadian destroyer and the Azumi Sushi to get the win over her faction leader. An amazing match, that is a must-watch.
Next Week's 5STAR Grand Prix Matches:
Day 11 – August 26
Blue Stars: Maika vs Utami Hayashishita
Blue Stars: MIRAI vs Giuia
Red Stars: Natsuko Tora vs Tam Nakano
Day 11 – August 27
Blue Stars: Mariah May vs Momo Watanabe
Blue Stars: Saori Anou vs Hanan
Red Stars: Ami Sourei vs Starlight Kid
Red Stars: Natsupoi vs Natsuko Tora
Official 5STAR Grand Prix Standings following Day 10:
RED STARS BLOCK –
9 – Natsupoi (4-0-1)
8 – Natsuko Tora (4-2-0)
5 – Tam Nakano (2-0-1)
5 – Syuri (2-1-1)
5 – Mayu Iwatani (2-2-1)
4 – Suzu Suzuki (2-3-0)
2 – Starlight Kid (1-2-0)
2 – Ami Sourei (1-2-0)
2 – Hazuki (1-3-0)
0 – Saya Kamitani (0-4-0)
BLUE STARS BLOCK –
6 – Mina Shirakawa (3-2-0)
6 – Momo Watanabe (3-0-0)
5 – Giulia (2-1-1)
4 – Saori Anou (1-3-2)
4 – Utami Hayashishita (2-1-0)
4 – MIRAI (2-2-0)
4 – Mariah May (2-2-0)
4 – AZM (2-3-0)
3 – Maika (1-1-1)
2 – Hanan (1-4-0)
T
he 10th NEW BLOOD happened this past Friday, with seven interesting match-ups that featured talents from STARDOM, Diana, and Pro Wrestling WAVE.

In the opening match, Ami Sourei teamed up with Diana's Miran and Nanami to face HANAKO and WAVE's Kizuna Tanaka and Honoka, who both make their STARDOM debut. Honoka went to the same High school as Starlight Kid and Kizuna Tanaka is the daughter of Pro Wrestling Legend Minoru Tanaka and Yumi Fukawa, and her parents promised Rossy Ogawa, that she will compete in a STARDOM ring back when she was a child, Honoka. The by Ayumi-Kurihara-inspired Kizuna started the match off with a barrage of Dropkicks to the chest of Sourei, but it didn't take long until the former Goddesses Of Stardom Champion was able to put a stop to it and get the match under control for her Team. Then it was time for Honoka, and she started the comeback of her team by outsmarting both Nanami and Sourei and hitting a Space Rolling Elbow. HANAKO was next for the team, and she displayed her power against Nanami and Miran, but the quickness of Miran made problems for the tallest Joshi Wrestler and was eventually getting her offense in with a beautiful middle rope moonsault, and several roll-up attempts that lead to close near falls. With the help of Kizuna and Honoka, HANAKO was able to get back control of the match and submitted Miran with the Argentine Backbreaker.
The second match was between Lady C and Pro Wrestling WAVE's Cohaku. The height difference between the two couldn't be much bigger, with Cohaku being 4'10 while Lady C is 5'1, and this was displayed early in the match, with Lady C gaining control due to her height advantage, while Cohaku uses her quickness to balance it out. The match got really fun, with both Wrestlers standing out and delivering a great performance, especially Cohaku who even was to hit Lady C with a Vertical Suplex, but also bumped fantastic for C's offense. She is someone STARDOM needs to consider bringing in more often, and she was able to pick up the win with the European Clutch.

Mei Seira and Suzu Suzuki, the next challengers for the Goddesses Of Stardom Championship, teamed up to face Hina and Hanan. This was another fun match and a great showing for all four competitors. The interactions between Hanan and Suzuki were the best here, but Hina and Seira did a more than great job. The stand-out here was the Tag Teamwork from both teams. While it's known that the Sisters have great chemistry, Seira and Suzuki work well together and have fantastic chemistry, them getting paired together was already a fantastic decision. It was Mei Seira who picked up the win for her team after pinning Hina with her version of the Liger Bomb.

The next match was a trial match for Yuna Mizumori since she wants to officially join Cosmic Angels. What does she need to do to join? Perform well against the Goddesses Of Stardom Champion Natsupoi, with Tam Nakano sitting ringside and watching the action and judging Yunamon's performance. The normally really fun Mizumori had a serious look on her face and wanted to use her chance. As expected, Natsupoi is dominating the match but also is provoking Mizumori to get the best out of her. Mizumori tried with some nice lariat, but she had no chance of winning against Natsupoi, so the much more experienced Poi had easy work with her and pinned her in under 10 minutes with the Fairy Strain. Natsupoi still seemed impressed by her work, but Tam Nakano wasn't, and they rejected Mizumori's application to join the Cosmic Angels, but she has another chance to join by wrestling the World Of Stardom Champion Tam Nakano at the next NEW BLOOD show.
Miyu Amasaki faced Saori Anou in a Super Nova 5 Match Trial EX Match. Anou dominated and disrespected the Queen's Quest Member from the very beginning. Amasaki has a hard time trying to find her footing in the match, with Anou just being all over her, but she eventually did and showed a lot of fire. Amasaki put on one of her best performances in her career and was possibly close to upsetting the Goddesses Of Stardom Champion, but Anou's veteran instinct got her the win with the Temps Tendre. The improvement Miyu Amasaki is having this year was seen here again, and she is slowly putting it all together, Anou on the other hand continues her fantastic run in STARDOM and can not miss.

A Passion Injection Match was next, with Saya Iida trying to take down Nanae Takahashi. The story coming into this match was Iida being frustrated with her recent results, and all the losses she is taking, so she is trying to gain some Passion in this match, and slowly moving up the card again. This match was as awesome as it sounds on paper. They just beat the hell out of each other in the first 10 minutes of this match, with chops, lariats, slaps, and brutal elbow strikes. Iida showed fantastic underdog fire, and is one of the best bumpers and sellers in STARDOM, making everything from Nanae look fantastic. She came really close several times to upsetting Takahashi. The crowd was loud for her and wanted her to win, but Nanae was able to prevail and beat Saya with the "Nana Rocker". This was Iida's best career match to this date and a fantastic performance that could open a lot of potential stories for her. After the match, Mei Seira came out and challenged Nanae Takahashi to a Passion Injection match. These two have faced each other before when Seira was known under the name "Mei Hoshizuki" in Marvelous.

In the main event, Waka Tsukiyama challenges Rina for the Future Of Stardom Championship. This is Tsukiyama's last try to capture the Championship before she reaches her 3rd Anniversary and isn't eligible anymore to challenge. The match kicked off slow with some solid groundwork, but the pace got fast quickly and hit the next gear. Waka looked superb in this, busted out innovative moves, dominated the Champion, and was close to winning her first STARDOM Title, but with the time running out she became more frustrated and negligent, which gave Rina an opening, and she was able to defeat Waka and end her hopes with the Hydrangea submission. Another good Future defense for the Oedo Tai Member who has been on a great run with the Title, defeating Sourei, Lady C, and now Waka who are all above her in the card. It's not known yet who will be her next challenger.
STARDOM held the Mid-Summer Fest Show in Ota Ward on Saturday, with the theme of the show being legendary Joshi Wrestlers getting a last hurrah on a big stage in STARDOM, teaming up or facing the current STARDOM roster.

In the opening match on the PPV, Waka Tsukiyama, Yuna Mizumori, and Lady C team up against the Three Sisters Trio of Rina, Hina, and Hanan. The Match just happened one day after Rina successfully retained her Future Of Stardom Championship against Waka Tsukiyama. The match wasn't anything memorable, just a solid Six-Woman opening match with six of the least experienced Wrestlers showing some good offense. Rina stood out the most here, with her just doing whatever she wants, and even annoying her own two Tag Team Partners. It was Hanan who get the pin for the Sisters, by pinning Waka with the Seventeen Roll-Up.

In the second match, Mariah May and Mina Shirakawa teamed up for the first time after losing the Goddesses Of Stardom Championship and facing each other in a Singles Match on the Korakuen Hall Show as part of the 5STAR. Rose Gold wrestled Thekla and Megan Bayne on this show to try to bounce back from their devastating Tag Team Championship loss last week. This was a match that featured a lot of comedy with good wrestling. Mina and May worked well together trying to take down Megasus, but they had problems with it, especially since Thekla always was a factor to remember. Mina was able to outsmart Bayne and took her out with a Crossbody, which gave Mariah May the opening to counter Thekla's roll-up attempt for the three count.

In the third match, Maika and Suzu Suzuki teamed against the duo of Ami Sourei and Saya Iida, who never teamed up before, which makes this an interesting match-up. The match was a nice match with all four battering each other with Chops, Suplexes, and Lariats. Saya Iida and Maika were the main focus of this match, spending most of the time against each other, with Iida trying to get an upset win over the Empress of STARDOM. She came really close on several occasions, but Maika was just a level too high for her and planted Iida with the Michinoku Driver II for the win.

After Syuri protected Saki Kashima from Oedo Tai and let her join God's Eye, this is the first time the former rivals team up in a normal Tag Team Match against the STARS Duo of Koguma and Mayu Iwatani. Kashima came out doing an advertisement for a fighting game, that she also promoted on YouTube, which is why she had a new theme for today's show. The match itself was really fun and good, Kashima brought under the advertisement for the game several times and did funny bits together with Koguma. Especially, Syuri and Mayu were focused here on just wrestling each other, and their chemistry is great. The end sequence between Iwatani and Kashima was nice, with Iwatani submitting the High-Speed Champion with the Dragon Sleeper.
The Queen's Quest trio of AZM, Miyu Amasaki & Utami Hayashishita teamed together with the legend Kyoko Inoue to face Dump Matsumoto, ZAP, and the Oedo Tai duo of Natsuko Tora & Ruaka. This match was built around Dump destroying Miyu Amasaki, and it brought out Miyu's fighting spirit, and she looked great in this match. This continued like that until Kyoko stepped in and stopped Dump from annihilating Miyu. In the end, Tora and Dump used the Double Red Mist and then Tora pinned Miyu with the Death Valley Driver for the win. This was a fun match, nothing that fans miss out on if they don't see it.

Shinobu Kandori & Takako Inoue from LLPW-X teamed together with Hazuki to face Tam Nakano, Natsupoi & Saori Anou in the second match with Legends being involved. This was a fun little match with especially Natsupoi being the stand out in the match. She worked most of the match and bumped her ass off for the two legends. "Ms. Joshi Wrestling" was great in this like always, Kandori just dominated the CA trio and together with Takako did great stuff. In the end, Hazuki got pinned by Natsupoi with the Fairy Strain, and Tam Nakano tried to challenge Kandori for a World Of Stardom Championship match, but the legend just walked off.

In the Main Event of the show, Momoe Nakanishi comes out of retirement to team with Nanae Takahashi and Jaguar Yokota to face Starlight Kid, Momo Watanabe, and Yuu. This is the first time Nanae and Momoe are forming the "Nanamomo" Tag Team in 18 years, and this together with one of the biggest Joshi Stars in history is a big moment. The match kicked off with a great Momoe-SLK high-speed sequence and then with Nanae & Yuu, who were former Goddesses Of Stardom Champions together, hitting each other with brutal chops. The fast pace got slower in the middle part, but picked up quickly again at the end, with everyone in the match just showing out. The longer the match went, the better it got. Great sequences between all wrestlers, and fantastic near falls. The ending sequence was phenomenal between Nanae and Starlight Kid, with Nanae picking up the win for her team. This match was great and featured a fantastic performance by Momoe, who didn't look like someone that hasn't wrestled a real match in 18 years. The clear stand out in this match together with Starlight Kid

Overall, the show was nothing special, but rather STARDOM's way to celebrate a few legends of the past. Nothing will matter in the long run, since the chance that anyone is ever stepping into a STARDOM ring is really low. If you haven't seen it then there is nothing that you will miss.
---
New Japan Pro Wrestling
Giulia made her debut in the United States on the IMPACT/NJPW Multiverse United 2 show in Philadelphia as she defended her NJPW STRONG Women's Title in a four-way match against Momo Kohgo, Deonna Purrazzo, and Gisele Shaw. Giulia's entrance was incredible and proved that her star power and aura are once in a lifetime, with the fans chanting "holy sh*t" just by seeing her standing in the ring. This match was fun, with all four women showing out, but the stand-out in the ring was Momo Kohgo. She put on another fantastic performance of her in an NJPW ring for her with a great performance next to three great Wrestlers. This match had much more drama than expected, with great near falls, especially Giulia kicking out of the Queen's Gambit, Deonna's finisher, putting the fans in the venue on their feet. In the end, Giulia retains her Championship with the Northern Lights Bomb after pinning Gisele Shaw.
After the match, Kohgo attacked Giulia again, but Giulia just planted her with the Glorious Driver. STARDOM needs to run the Momo Kohgo vs Giulia singles match for the Championship. Them having 10–15 minutes in front of a hot Korakuen crowd would be incredible, and could create a magical moment and match. But the first challenger is someone else, a few hours after the show, Risa Sera from Prominence challenged Giulia for the NJPW Strong Women's Championship. It isn't official yet when the match will happen, but this is one to look forward to!