Honestly, for the first time in a while, I'm not sure that it actually is an especially big week for pro wrestling. In fact, this week very much feels like the calm before the storm, with an awful lot of headlines ahead. Even still, we have some matches worth covering, including the 1-2 punch of Edge and Christian main events. Speaking of main events, we take our first trip to WWE's resident C-Show, as Ricochet and Tommaso Ciampa meet for their very first singles match.
Elsewhere, Stardom's 5STAR Grand Prix rolls on while Rampage continues to rock, inexplicably operating as the week's best AEW show. Finally, Philadelphia hosts the All Star Junior Festival, and Tokyo Joshi Pro-Wrestling also returns to the guide. Quite the batch of graps and so, let's get to some incredibly niche reviews. All hail!
Ricochet vs. Tommaso Ciampa (WWE Main Event)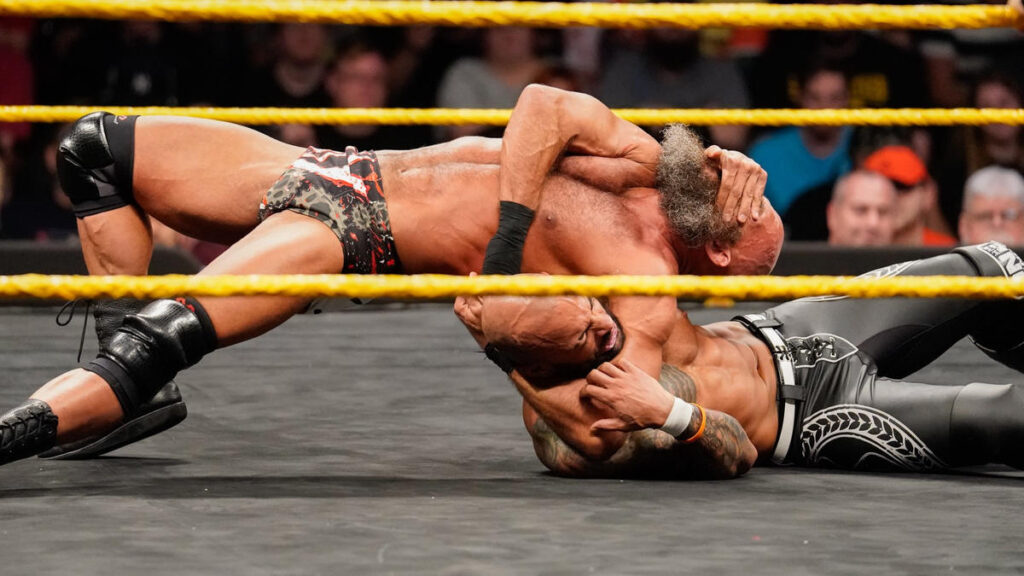 This entire scenario is just quirky enough to intrigue me. Two months ago, Tommaso Ciampa returned, answering The Miz's open challenge and operating as a babyface since. In terms of wins and losses, he hasn't had much success, seemingly waiting for a DIY revival and losing to Bronson Reed and Shinsuke Nakamura along the way. Two weeks ago, he ate the pin in RAW's enthralling fatal 4-way match, with Chad Gable securing an Intercontinental Title shot over him, Matt Riddle and Ricochet.
The latter is mere weeks removed from opening SummerSlam opposite Logan Paul. That match drove me slightly insane, but I've been happy to see Ricochet's gradual increase in importance, even if he still has a ways to go. Here, he meets Ciampa on Main Event, setting the stage in Winnipeg before the evening's live RAW episode. Incredibly, this is their first singles match with one another, even if they've met frequently in other scenarios. Then again, even those interactions started in NXT.
Before that, they'd only shared a single tag match, with Eddie Edwards serving as Ciampa's partner while Uhaa Nation (Apollo Crews) stood alongside Ricochet. That match took place in January 2014, and they didn't touch again until June 2018. Over the next six months or so, they were on opposite teams in quite a few house show main events, taking that formula to television for NXT's Halftime Heat offering. Later, they'd meet in the Dusty Rhodes Tag Team Classic, with Aleister Black and Ricochet defeating DIY.
Prior to last week's 4-way, they'd been limited to two overloaded matches since, now sharing their first singles on Main Event of all places. If all that isn't enough, this match is produced by Bobby Roode, which is the emerging equivalent of "directed by Martin Scorcese." Okay, with that unrequested history lesson in place, you're probably wondering the same thing that you were wondering around four paragraphs ago: is the match good? Yeah, it is, funnily enough!
They're obviously limited here, effectively working the pre-show but in some ways, that makes for an interesting watch. It's in these scenarios that you see just how good Ricochet is, adjusting his game accordingly and seamlessly hitting the mat. While he's reigned in, Ciampa's play calls don't have to change quite as much, still bringing that general scrappiness to the C-Show. He works as the match's de facto antagonist, being outhustled on the mat and lashing out via chop to the back.
Ricochet responds with some chops of his own, then going into an effortless high spot before chasing Ciampa to the floor. That chase quickly halts his momentum, charging into a single knee and going to the ad break with a terrific knockout sell. We return to Ricochet's slightly underwhelming take on the Bret buckle bump, with Ciampa settling for just some of his usual roughness, ultimately settling into a hold.
The people don't take much convincing to root Ricochet upright, though Ciampa swiftly halts his first attempt at a comeback. As he looks to close the show however, Ricochet finds an answer, producing a double down within this seven minute Main Event match. Ricochet's aforementioned comeback follows, transitioning the match to a neat little finishing stretch, finding room for two near falls before crossing the finish line.
It's always slightly bizarre to watch workers of this calibre plugged into the formula of a virtually non-canon show, but they have some fun here. It's more expansive than the norm, doing this matchup justice without undercutting the three hours ahead. Good match, a nice way to spend eight minutes or so, as two top tier talents remain compelling, even while working well within themselves.
Mayu Iwatani vs. Tam Nakano (Stardom 5STAR Grand Prix)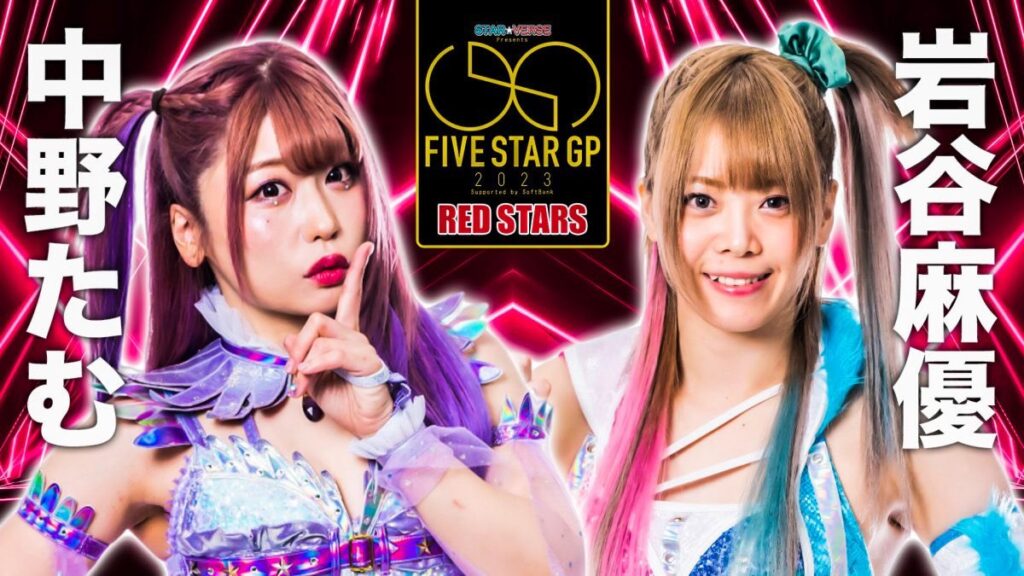 Once again, the match guide takes us back to Korakuen Hall, as Stardom's 5STAR Grand Prix continues. This particular night closed with AZM's surprisingly dominant showing opposite Utami Hayashishita. Our focus is the co-main event, as Mayu Iwatani and Tam Nakano meet in their first singles match since October 2021. That night, they went the distance, drawing after 30 minutes of action, keeping the Wonder of Stardom Title around Tam Nakano's waist.
Speaking of such, both women enter with gold here, as Nakano claimed the Wonder of Stardom Title on the same night that Iwatani toppled Mercedes Mone, becoming IWGP Women's Champion. Nine months prior to their last match, Nakano and Iwatani shared a fifteen minute draw, starting a trend after Iwatani had won their first three singles matches. Even still, Nakano has yet to defeat Iwatani in singles competition and after fifteen more minutes, that doesn't change here.
Even as someone who's mostly unfamiliar with their previous bouts, this very much feels like a snapshot of the pairing. They don't really go in any particular direction here, mostly using this fifteen minutes to exchange offence. That makes for an engaging watch, as they go back and forth with world class work, comfortably delivering on the matchup's allure. They open with some caution, hesitantly wrestling for position only to remain neutral, sharing a stare down.
The pace quickly increases from there and seldom slows, with Iwatani setting the tone via double foot stomp. More strikes follow, as Nakano soon responds by dropping Iwatani head first on the apron. From there, they go into this set piece on the middle rope, trading bombs and teasing a rana to the floor, only for Nakano to snatch a submission instead. She then dives to the floor, coming off the top with a crossbody to ringside.
Iwatani rallies in centre ring, producing a forearm exchange before expanding beyond that. Matches like this are hard to capture without veering into outright recapping, but the offence here is immense, especially from Iwatani. Much of the final five minutes are shaped by superb suplexes, trading them back and forth which each one somehow topping the last. In the midst of one particular sequence, Iwatani staggers into her retort, almost appearing to be in some kind of suplex trance.
By contrast, Nakano brings the fire, upping the ante as they approach the finish line. Again, in fear of simply listing the offence on display here, this is best showcased by Nakano's very own Steiner Screwdriver, which still doesn't close the show. it's not just those bursts either, with strikes emerging throughout, frequently meeting in centre ring for a duel in that domain. As they reach the 15-minute time-limit, Nakano seems to be on the verge of victory, ultimately going without an answer.
They pack an awful lot of content into this match but even still, it very much feels like a preview of something more substantial. This is effectively a moves match, just an incredibly awesome moves match. It's a shootout, from the strikes to the suplexes and even some dives to the floor. They go tit for tat, with Nakano seemingly outlasting Iwatani until the time limit interrupts. It's the perfect tournament match in that sense, not burning anything epic but still emphatically delivering.
On the sheer quality of their work, this is borderline great and yet, still feels like only a glance at what could be ahead. Thrilling stuff, a high octane affair.
Miyu Yamashita vs. Shoko Nakajima (TJPW Inspiration #7)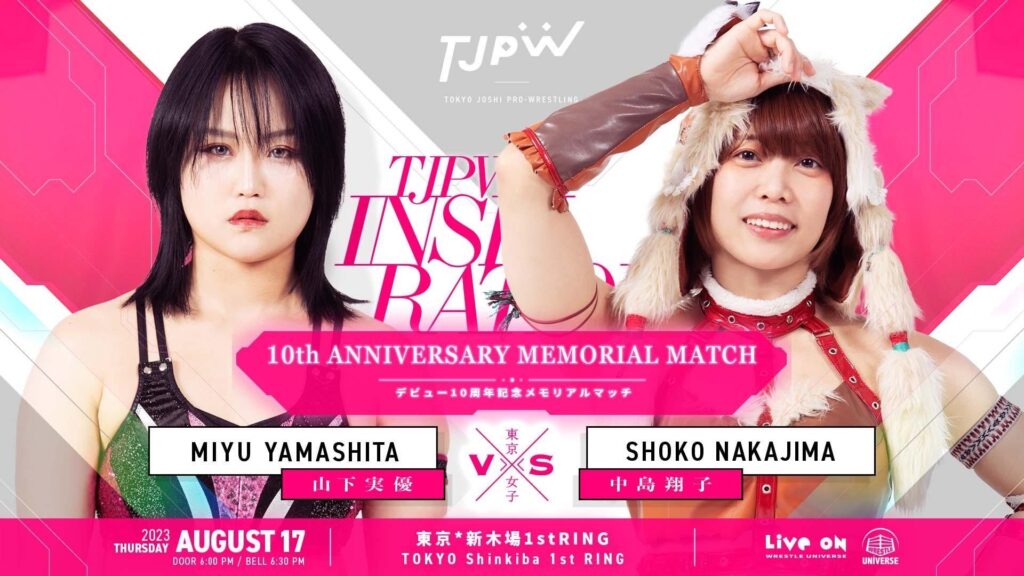 On Thursday, Tokyo Joshi Pro-Wrestling produced their seventh Inspiration event. Announced in February 2021, the brand of event was announced as a more experimental addition to the promotion's calendar. They're shorter also, generally going 90 minutes or so. This latest entry was closed by the seventh singles match between Miyu Yamashita and Shoko Nakajima. Their last meeting was in March 2022, with Nakajima claiming the Princess of Princess Title.
Even in such an intimate setting, they're armed with an engaged crowd at the bell, sharing a feeling out process in response. They eventually hit the mat and after some serious struggle, begin to trade pin attempts, with Nakajima ultimately bailing to ringside. The mat wrestling here is immediately gorgeous, flowing beautifully yet always feeling competitive, constantly shifting position. Either way, Nakajima returns for some success on the mat, further targeting Yamashita's left leg as the pace increases.
After quite violently kicking out the leg, Nakajima snatches a submission. Though she sprinkles in some other offence, Nakajima's work generally veers in that direction, quickly returning to another submission. There's a nice subtlety to Yamashita's initial selling, adjusting her leg cautiously, portraying pain in a fashion befitting her usual poise. Eventually, she kicks her way back to neutral, landing a sudden strike to swiftly halt Nakajima's momentum. It's a superb transition, emphatically altering the match.
Nakajima gets greedy for the first time and is flattened for her troubles, walking into Yamashita's still deadly right leg. Yamashita quickly makes up for lost time, throwing some thudding kicks and punishing Nakajima for her prior control. There's an urgency to her onslaught, seeking an immediate finish after sustaining such damage during that first act. Nakajima responds accordingly, going through the gears and rocking Yamashita with a dizzying flurry.
Before long, she returns to the leg also, using that target to snuff out any potential retorts. Yamashita's remaining firepower remains devastating though, frequently turning the tide with a single strike. Those blows slow Nakajima, though she remains mostly ahead, stringing together some wonderful sequences as they produce a few double downs. Unfortunately, Nakajima's prolonged work on the leg gets lost as they go into those back and forth combinations, slightly undoing that work.
In addition, they lose their rhythm a touch on the finish, stumbling into that final step after such a smooth ride previously. That's a real shame as conceptually, it's perfect, with Yamashita landing a conclusive knockout blow. Throughout the match, that threat feels present, as Nakajima wrestles the perfect match and yet frequently finds herself looking up at the lights. Really good match here, building beautifully to that conclusion, sporting seamless escalation throughout.
At almost twenty minutes, this absolutely flies by, a wonderfully structured main event match.
Edge vs. Sheamus (WWE SmackDown)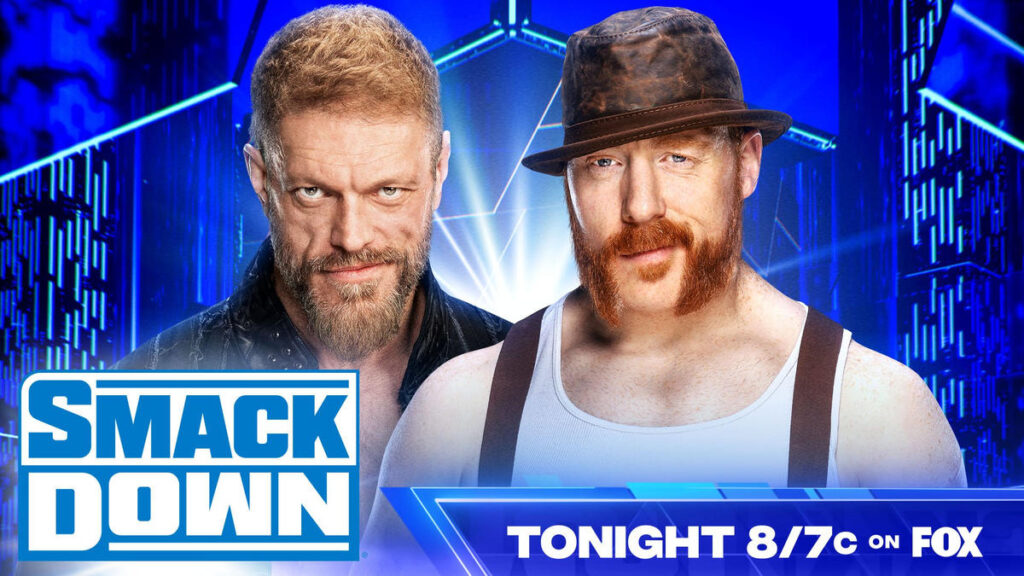 The final match on Edge's WWE contract, this closed an episode of SmackDown built around 'The Rated-R Superstar.' Billed as a celebration of Edge's 25 years in WWE, the edition featured video messages as well as an extensive package, all paying tribute to the man himself. His eventual entrance received a fitting response, walking the aisle to a hero's welcome back home in Toronto, Canada. The matchup awaiting him was a first-time singles meeting also, finally battling Sheamus.
On paper, this felt like the perfect pairing for an occasion such as this. A babyface match pitting the hometown hero against a veteran who the audience accepts as a worthy foe. It's got just enough star power without taking the focus off Edge's potential farewell, only assisted by the novelty of their limited history with one another. Inside the ropes, I expected a good match, something neat and tidy that the house would understandably adore.
We got something far more substantial than that, however. Initially, they set the stage with an opening befitting that prior description, doing the dance and sharing some traditional exchanges. It's a natural fit for the setting, with each slight momentum shift earning an explosive reaction. Very quickly though, things ramp up, as Sheamus lands an early backbreaker, allowing Edge to sell through the first ad break. That provides the match with a certain jeopardy, a sense of danger beyond the broader celebration.
They don't look back from there either, with Edge making his comeback and powerbombing Sheamus to the floor. It very quickly becomes the ideal match for two older pros, more specifically embodying Edge's remaining strengths. While I'm not sure that it quite needed to be branded so loudly, Edge's passion for "grit" has been central to his best work since returning. His matches require a certain rooting in reality these days, stripping wrestling to its raw ingredients.
In those scenarios, Edge only has to plug in his signature offence, allowing his grasp on pacing and selling to manage the rest. That's the case here, with Sheamus being the perfect opponent for that tone, giving the match a palpable toughness. His offence provides some firepower too, an increased physicality that only enhances Edge's desperate, exhausted selling. Even beyond that general roughness, they outright swing for the fences here also, getting more expansive than expected.
That's a theme, as this emphatically exceeds even optimistic expectations. By the closing stretch, it's electric, with each and every near fall feeling significant. They manage genuine drama here, earning an engagement that so easily could've been reserved for the post-match victory lap. Instead, they add a sense of doubt to the finish, including one particular near fall that audibly frightened the live crowd. This is Edge's best performance in some time, but Sheamus' efforts can't be overstated either.
What an incredible television wrestler, one of the most reliable in that genre's rich history. Even still, this was about Edge and he performed accordingly, producing a match to be proud of under any circumstances, let alone a situation such as this. They didn't have to work hard here for a memorable moment, but they chose to chase more than that, producing a genuinely great main event. Gritty, scrappy pro wrestling, an inspired and spirited effort between two admirable veterans.
Timeless stuff, one of my favourite television main events of 2023 thus far.
Komander vs. Rey Fenix (AEW Rampage: Fight for the Fallen)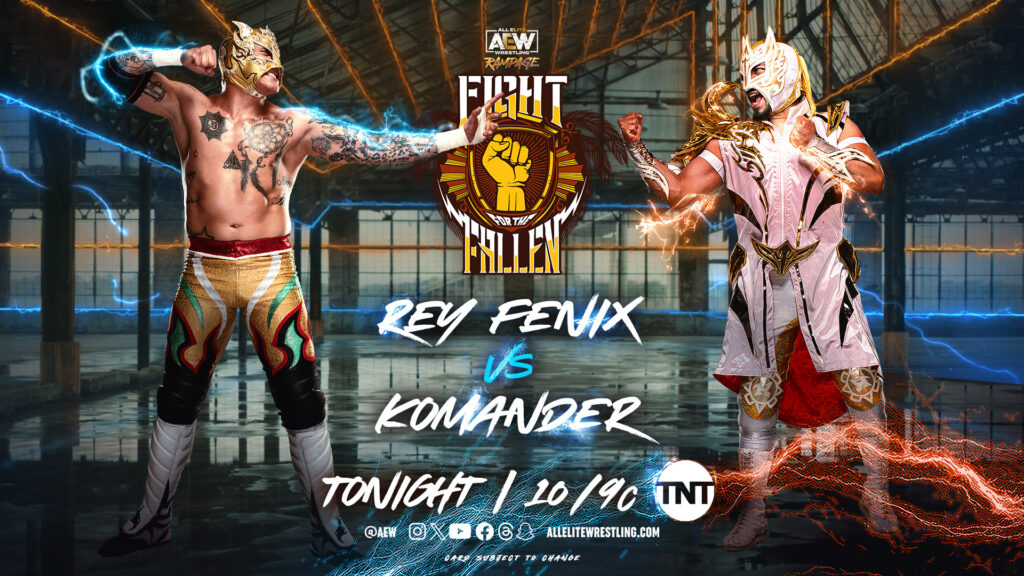 I take no pleasure in saying that thus far, I haven't loved Komander's work in AEW. He just hasn't quite popped for me yet, instead being actively frustrating in some of his more noteworthy showings. With that being said, I've still only seen bits and pieces of course, with this latest outing earning rave reviews. His opponent is Rey Fenix, who's slightly flattered to deceive as of late, mostly playing the hits alongside Penta. Together, they opened Rampage, directly following a dizzying edition of Dynamite.
Considering the viewpoints above, it wasn't a pairing that had me exactly desperate to watch AEW's taped show, though I was quickly proved wrong. This is quite spectacular, and organically captures an importance even beyond that term. Obviously, certain fireworks were inevitable within this matchup, but they really escape Rampage's usual limitations with this, ultimately producing something that feels surprisingly substantial. In fact, it's possibly the best Rampage match of 2023, in the non-Parking Lot Brawl division, of course.
They set a frantic pace early, but do so with some grappling, battling for position on the mat. As they build beyond that and further increase the pace, it feels more urgent than showy, visibly fighting for a sustained advantage. Once they get more expansive, that's understandably hard to maintain, though they still make Komander's dive count, forcing Fenix to create some distance before wiping out his foe's leg. That sets the tone for Fenix's success, distinguishing himself as the match's striker.
Some heavy chops follow, with Fenix clubbing his way ahead, making up most of the match's middle portion. They return from an ad break with Komander's retort, firing a few chops of his own, sprinkling in some fireworks to boot. That extended comeback rocks Nashville, with Fenix then going through the gears in response as they race towards a finish. Once they settle in a double down, the place responds accordingly, managing an excitement way beyond Rampage's norm.
The show stealer soon follows, with Komander landing a springboard destroyer for a huge reaction, ultimately producing an immense near fall. The finish isn't far behind either, providing one final false finish before concluding things. Clearly, this blew away my expectations, delivering the thrills you'd expect but doing so with some refreshing placement and polish. Fenix seemed noticeably motivated for this matchup, selflessly reigning himself in and really allowing Komander to shine.
Komander's offence was very much up to the task too, with the result being a match that really stuck for me beyond merely fun popcorn action. This actually seemed significant and forced me to reconsider my initial Komander read, feeling like a potentially pivotal moment in his young career. Terrific match, the kind that should become a Rampage regular, even making the Friday show AEW's best of last week.
Christian Cage vs. Darby Allin (AEW Collision: Fight for the Fallen)
While they wasn't exactly electric to begin with, an uneventful Collision certainly didn't help Lexington, Kentucky's excitement. Thankfully, Saturday night's remain home to extended main events, with Christian Cage and Darby Allin combining for the latest. Since Collision's emergence, Darby Allin has only further cemented his place as AEW's workhorse, stealing multiple shows each week. By contrast, this was only Christian Cage's fourth match of 2023.
Last month, Allin and Cage danced for the first time, meeting in an all-star tag team main event. Unsurprising chemistry was immediately apparent, with this sequel only building on those flashes. Armed with twenty minutes or so, they take their time early, sharing some tight wrestling exchanges and allowing Allin to show his range. After being outwrestled in that domain, Cage opts for a shortcut, uncorking a flurry of punches to Allin's ribs.
Allin continues to shine afterwards, but that detail adds an awful lot to Cage's heel presentation. Eventually, Cage uses his size advantage to turn the tide, launching Allin through the air and roughing him up with his sudden control. Admittedly, it remains striking to see Cage so frequently tower over today's talent, which they use for this match. That element only simplifies their dynamic, with Cage seamlessly adjusting his usual approach, because of course.
He's still cerebral in control too, targeting Allin's arm with a poised persistence. As usual, Allin combines his explosive bumping with consistent selling, sprinkling in some hope spots along the way. That includes a collection of pin attempts, emphasising Allin's speed advantage in opposition to Cage's success outmuscling him. Cage is masterful in control of this thing, staying on top of Allin yet always finding the time for quirks befitting his persona, even dangling the TNT Title carrot at one juncture.
Physically, he modifies some of his offence, locking the arm for good measure. It's absurd for any 49 year old to so comfortably perform at this level, let alone one who wrestles so infrequently. Either way, they eventually reach a dramatic double down, then going one step further by finding another one immediately afterwards. That play allows them to benefit from their hard work, only elevating the live crowd's already increasing engagement.
They transition to a big shootout from there, trading blows without sacrificing their established dynamic. Allin's success comes via bombs in bunches, thriving most with an uptick in pace. Cage's retort always feels inevitable however, consistently finding an answer to Allin's overwhelming bursts. The extended runtime allows for a suitably daring closing stretch, with Allin getting wild as ever for the final portion. Cage remains capable of his own fireworks, plugging in some signature offence for near falls.
The finish isn't quite as dramatic as all that preceded it, instead concluding things on a slightly flat note. It didn't need to be more conclusive, just a touch more satisfying. Even still, this is a really good time. Darby Allin is AEW's most reliable wrestler and Christian Cage matches are a real treat at this point, so I'm thankful for this even existing, let alone so emphatically delivering. Collision has some emerging issues but these main events remain their strength, simply allowing elite wrestlers to wrestle.
Very good main event, a focused effort between two television greats.
Kevin Knight vs. Mike Bailey (All Star Junior Festival USA)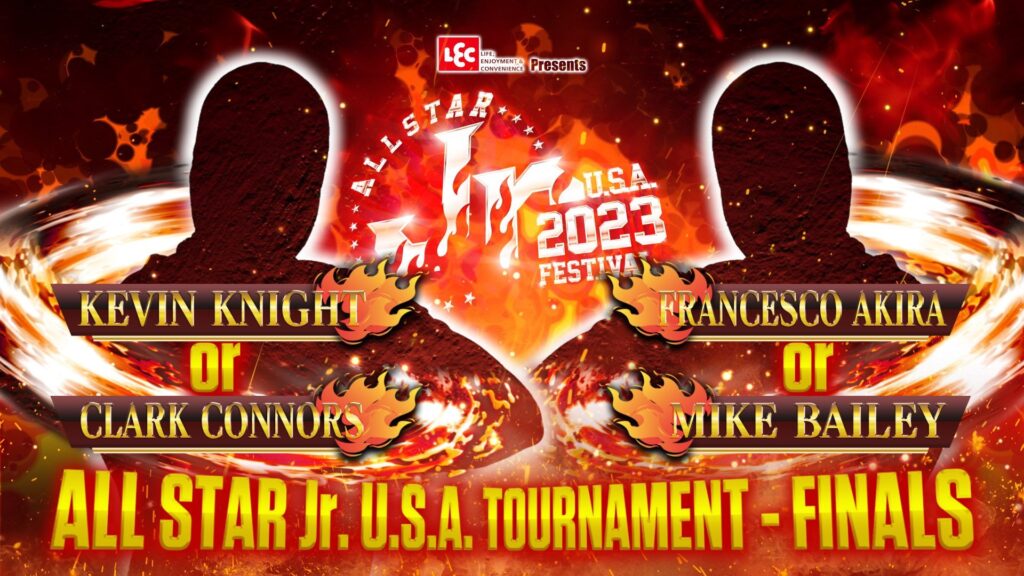 On Saturday night, Philadelphia's 2300 Arena hosted the US' All Star Junior Festival. Though armed with some familiar faces, the event failed to earn much excitement, mostly going under the radar. As well as a collection of multi-man ordeals, the show was built around a four man tournament, with Clark Connors meeting Kevin Knight while Francesco Akira faced 'Speedball' Mike Bailey. Knight and Bailey advanced, later closing the show with their final.
In his semi-final bout though, Knight sustained an injury, entering with taped ribs. That makes up much of the match, with Knight grimacing in their first interaction, instinctively bailing to ringside. Bailey welcomes Knight back through the ropes, initially hesitating and showing some reluctance only to take a swing, firing up Knight as a result. That produces his almost vengeful shine, unleashing some incredibly dynamic offence and showing quite staggering range.
Even with at least half the audience behind him, that decision allows Bailey to work as the match's de facto antagonist. This is my favourite version of 'Speedball,' embracing the understated arrogance that accompanies his signature offence. He finds a fittingly villainous cutoff here too, halting Knight's momentum in an instant, getting his knees up and further injuring the prospect's ribs in the process. He immediately capitalises too, landing his trademark kicks to that very target.
Bailey's work is really purposeful in this portion, staying focused and giving Knight an awful lot to sell. He does so with commitment and enthusiasm too, offering outright agony as well as a gutsy grimace throughout. 'Speedball' really is relentless in control, eventually adjusting his focus to Knight's arm. Knight turns the tide via crossbody, sacrificing his ribs in order to earn some momentum. As he rallies, Knight mostly maintains those injuries, even with some glaring exceptions, especially late.
That comeback is brief anyway, with Bailey quickly striking his way back ahead until Knight's gorgeous dropkick resets things. He builds on that with a neatly stuttered comeback, climbing uphill for an advantage that feels truly earned. In response, Bailey returns to the arm, threatening a submission finish. From there, they get expansive, sharing the kind of explosive exchanges befitting an event titled "All Star Junior Festival." That includes spilling to the floor, operating at ringside for a chunk.
Further fireworks follow, though Bailey's work on the arm does remain present within that excitement. Admittedly, his initial efforts on the ribs feel increasingly distant, which is a shame considering the work's quality, even providing the match's very first building blocks. Speaking of such, their eventual finish seems a touch disconnected from the meat of the match, instead feeling like the isolated conclusion of a frenetic race to the finish.
Don't get me wrong, the work looks consistently great, it just feels like something separate from the rest. Much of this is the logical route, with Bailey chipping away at an already diminished Knight. Clearly, they needed to find a finishing stretch beyond that, but this particular one felt as though it was almost attached, not quite matching the more gruelling tone of what came before. Ideally, they would've extended Knight's shine, virtually bookending the match with thrills.
Even still, there's a lot to like here, as both portions are thoroughly enjoyable in their own right. It's a very good match, featuring flashes of my favourite 'Speedball' variant while reiterating Knight's obvious potential.