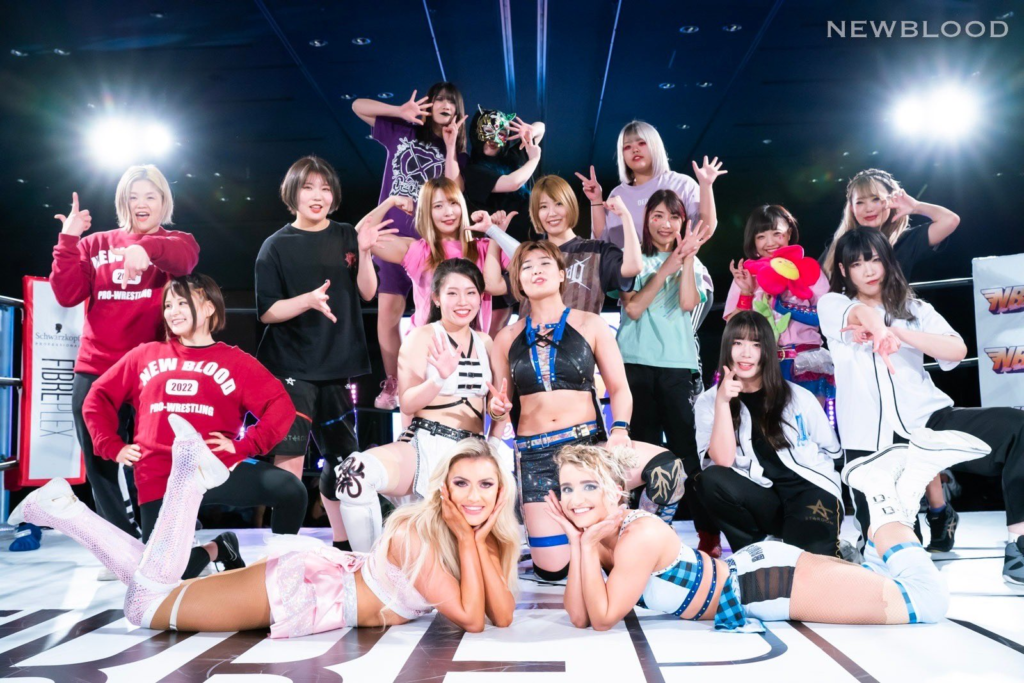 STARDOM
On Friday, Stardom hosted the 7th Edition of the ' New Blood' series. This time the show felt way more important than usual, with five matches that had actual meaning. In the undercard, Rina defeated Diana's Miran in a solid match. Not much else to expect from two very young girls. Both showed a lot of potential in the future and can be two great stars in Joshi in 10 years time. In the second match, the former TJPW Wrestler Marika Kobashi made her Stardom debut in a Singles Match against Oedo Tai's Ruaka. Since graduating from TJPW, the 21-year-old wrestled mainly for P.P.P Tokyo, so this was her first bigger match since leaving TJPW. Ruaka and her put on a solid bout, with the Oedo Tai Member getting the win. Waka Tsukiyama's story to win her first match in her career is one of the best things about Stardom currently, and the Passion Injection Match against Nanae Takahashi proved that once again. Waka showed all her heart and passion to defeat the former World Of Stardom Champion and even came really close with 2.99 counts, but the experience of Nanae was too much to handle for Waka, and she once again lost her match. After the Match, both agreed to have one more match at the New Blood Special at Yokohama Budokan. It will be Waka's last opportunity to win a match and stay in the Cosmic Angels before the three months duration Tam gave her runs out.
Also, the New Blood Tag Team Title Tournament started with the first-round matches. In the first tournament Match of the show, Ami Sourei and Nanami advanced against Momoka Hanazono and Momo Kohgo in a solid match. Momoka once again leaned into her Bubble Comedy, but when she needed to, she showed her in-ring skills. Chanyota & Mai Sakurai also advance to the semi-finals of the tournament with a victory over the Queen's Quest duo of Lady C and Hina in another solid bout. Mai Sakurai and Chanyota work well together as a duo. KARMA and Starlight Kid defeated Xia Brookside and Mariah May to advance in the tournament, and oh boy this KARMA character sucks and is one of the worst things Stardom has done. KARMA is the alter ego of Diana's future Ace Haruka Umesaki and has a totally different vibe to her likable Babyface side, and it just doesn't work. She uses a Fireball, but it's obvious that she is always clearly missing it, but the opponent still sells it. Also in the post-match promo, she now uses a voice changer. It's not a good gimmick and not only hurts my enjoyment of KARMA's matches, but also Umesaki's normal character. The Main Event of the show was the clear Match Of The Night. The God's Eye Team of MIRAI and Tomoka Inaba defeated Hanan and Saya Iida in a tournament match. Non-stop action for 12 minutes between four of the best young Wrestlers in Stardom. MIRAI and Tomoka are the favorites to win the whole tournament.
On the January 21st Show, Ami Sourei defeated Mai Sakurai to retain her Future Of Stardom Championship in one of the best matches of both careers. Especially, Mai improved a lot lately as a Wrestler. She's not great or anything near that, but she put on the best Singles Match of her career here together with Ami Sourei, who continues her dominant reign as Future Of Stardom Champion.
Also, Giulia had a 30-Minute Gauntlet Match where she faced 10 Wrestlers from the Stardom Roster in a Singles Match with a three-minute time limit draw each. Giulia tied nine times and got one victory over Hina.

Results Of the Giulia Gauntlet Match
Giulia vs. Super Strong Stardom Machine – Time Limit Draw (3:00)
Giulia vs. Koguma – Time Limit Draw (3:00)
Giulia vs. Thekla – Time Limit Draw (3:00)
Giulia defeats Hina (1:57)
Giulia vs. Hazuki – Time Limit Draw (3:00)
Giulia vs. Tam Nakano – Time Limit Draw (3:00)
Giulia vs. SAKI – Time Limit Draw (3:00)
Giulia vs. Natsupoi – Time Limit Draw (3:00)
Giulia vs. Saya Iida – Time Limit Draw (3:00)
Giulia vs. Waka Tsukiyama – Time Limit Draw (3:00)
Official Triangle Derby Standings following Day 7:
RED TRIANGLE BLOCK –
6 – Neo Stardom Army (Nanae Takahashi, Yuu & Yuna Mizumori) (3-0-0)
5 – Queen's Quest (Utami Hayashishita, AZM & Saya Kamitani) (2-1-1)
4 – Cosmic Angels (Tam Nakano, Natsupoi & SAKI) (2-2-0)
4 – Club Venus (Mina Shirakawa, Mariah May & Xia Brookside) (2-2-0)
4 – Unique Glare (Starlight Kid, Ruaka & Haruka Umesaki) (2-1-0)
2 – Bari Bari Bombers (Giulia, Thekla & Mai Sakurai) (1-3-0)
0 – H & M's (Mayu Iwatani, Momo Kohgo & Hanan) (0-4-0)

BLUE TRIANGLE BLOCK –
8 – Prominence (Suzu Suzuki, Risa Sera & Kurumi Hiiragi) (4-1-0)
6 – Gold Ship (Momo Watanabe, Natsuko Tora & Saki Kashima) (3-1-0)
5 – Abarenbo GE (Syuri, MIRAI & Ami Sourei) (2-1-1)
4 – MaiHime With C (Maika, Himeka & Lady C) (2-2-0)
4 – Rebel x Enemy (Ram Kaichow, Maika Ozaki & Maya Yukihi) (2-2-0)
2 – Classmates (Hazuki, Saya Iida & Koguma) (1-2-0)
0 – Team Lollipop (Waka Tsukiyama, Rina Amikura & Yuko Sakurai) (0-4-0)
---
TJPW
The Max Heart Tournament continued on Thursday with the Second Round Matches. In the first of three tournament matches of the evening, Kyoraku Kyomei unsurprisingly beat the team of Haruna Neko and Kaya Toribami. Shoko and Misao used their experience to win the match. Neko and Toribami tried their best and even made it feel competitive for a while, but eventually they were overwhelmed and got defeated. The next big upset happened when Juria Nagano and Moka Miyamoto once again advanced when they defeated Arisu Endo and Suzume. Daisy Monkey seemed a team brewing to have Tag Team success, but here they were totally surprised by the offense of Moka and Juria. All four Wrestlers are the future of TJPW.

The Main Event was a battle between former Princess Tag Team Champions. On the one side Rika Tatsumi and the current International Princess Champion Miu Watanabe and on the other Saki Akai and Yuki Arai. A fantastic main event with a really strong showing from everyone involved. Even Arai was clearly the weak link in this match, due to her experience she made the match better. In the end, Hakuchumu were able to defeat Reiwa AA Cannon in the Match of the Tournament to advance to the semis.