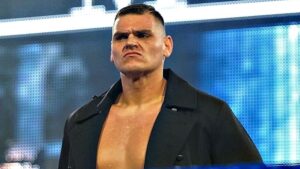 As of writing, Gunther has been the Intercontinental Champion for 298 days. He earned the accolade when he defeated Ricochet on June 10 of last year and has since established himself as a contender to be called the greatest ever intercontinental title holder due to his tendency to have high-quality matches and provide an aura which WWE had been lacking for some time.
With a title reign so legendary, many people begin to wonder who will be the man to achieve the feat of defeating Gunther and taking his title. A few short days ago, The Ring General defeated both Sheamus and Drew McIntyre in a triple threat match to retain his gold and it seems as if even the champion himself is intrigued over who will step up to be his next challenger.
While speaking to Ryan Satin of Fox Sports, Gunther has revealed that he has no idea who will eventually be the man to overthrow him, going as far as to say that whoever it may be might not even be on the roster yet.
"That we shall see. [WrestleMania] was my focus, let's see what happens on SmackDown. I guess I'll see who is next in line. I'm fairly confident. I'm not sure if the man who is going to be able to beat me if he's arrived here already. Everybody go out and find him."

-Gunther
As previously mentioned, Gunther was able to overcome his two challengers at WrestleMania. Many are lauding his match with Sheamus and McIntyre as the best of 'Mania weekend but the Austrian would go on to say that the quality of the match doesn't matter to him as the most important thing is keeping his title in tact.
"Not too worried about that. My mission was to go in there and represent our sport, Imperium, and this title in the best way possible. I achieved that today. I'm satisfied with it."

-Gunther
Many fans are in the same boat as the champion himself, with there being no clear indication of who the next Intercontinental Champion will be.
As always, we'll aim to update you on Gunther and what's best for him as we hear more.
H/T to Fightful for the transcription.