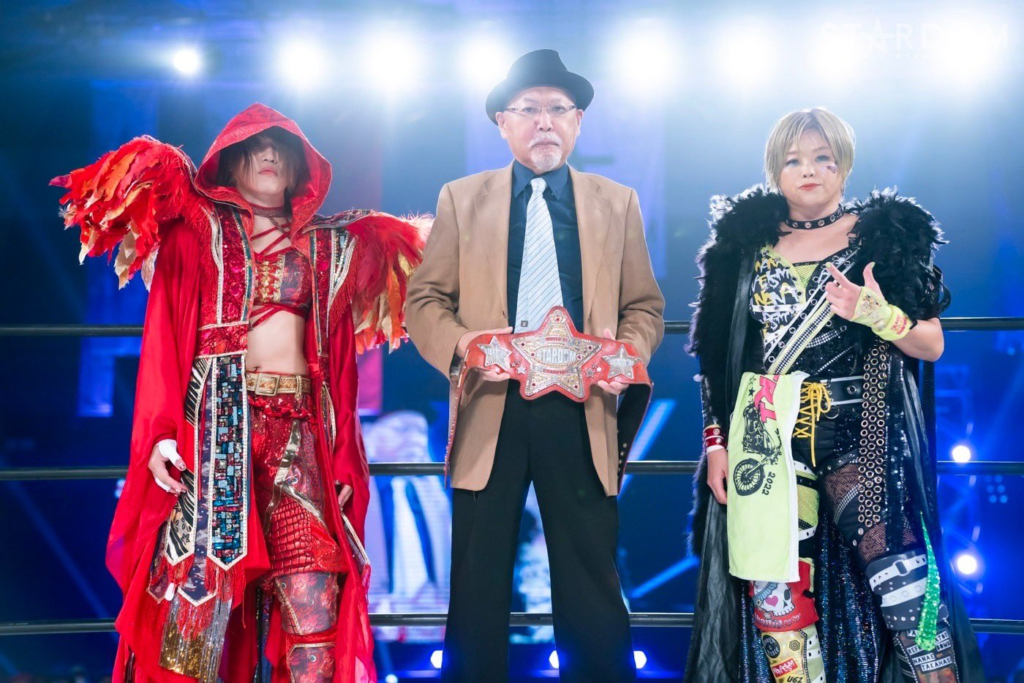 STARDOM:
The annual 5STAR GP Tournament continued this week with a Show in Osaka. It was headlined by Maika getting her 2nd win in the tournament over SAKI while Hazuki gained another win over Suzu Suzuki to continue her winning streak to 6-0, she is still leading the Blue Block with 12 Points. On the same show, we got the biggest upset of the tournament so far with Saki Kashima beating the World Of Stardom Champion Syuri with the reverse Kishikaisei. The story of the match was that Saki had feared facing Syuri due to the kicks of Syuri hurting her a lot. This is why she said after the match that she doesn't want to face Syuri in a singles Match again which means we might not see Kashima challenging for the Red Belt anytime soon.
On Sunday STARDOM had the STARDOM X STARDOM PPV in Nagoya. In the only title change, Tam Nakano was finally able to capture the Goddesses Of Stardom Title together with her new Tag Team Partner Natsupoi, defeating the reigning Champions Hazuki & Koguma. After the Match, the new Champs got challenged by MIRAI & Ami Sourei. The PPV was originally scheduled to be headlined by the "History" Matches but due to a covid infection, KAIRI was unable to challenge Saya Kamitani for the Wonder Of Stardom Title which is why Himeka took her place in the Match. The Jumbo Princess nearly had Saya beating but the teased Japanese Ocean Cyclone Suplex got countered and Saya survived with a roll-up victory. In the Main Event, the first ever World Of Stardom Champion Nanae Takahashi challenged the current World Of Stardom Champion Syuri. In a hard-fought battle, Syuri was able to finish Nanae with the Syusekai.

Full Results
Hanan (c) defeats Miyu Amasaki to retain the Future Of Stardom Title
Maika defeats Hina
MIRAI & Ami Sourei defeat Giulia & Mai Sakurai and Rina & Ruaka
AZM & Lady C & Utami Hayashishita defeat Mayu Iwatani & Momo Kohgo & Saya Iida
Momo Watanabe & Saki Kashima & Starlight Kid (c) defeat Mina Shirakawa & SAKI & Unagi Sayaka to retain the Artist Of Stardom Title
Natsupoi & Tam Nakano defeat Hazuki & Koguma (c) to win the Goddess Of Stardom Title
Saya Kamitani (c) defeats Himeka to retain the Wonder Of Stardom Title
Syuri (c) defeats Nanae Takahashi to retain the World Of Stardom Title
On Friday New Blood 4 will happen which is a subbrand of the regular Stardom product. The shows include a lot of outsiders we rarely see on the STARDOM program. This show is headlined by the Supernova Match Series where Miyu Amasaki faces Tam Nakano. Hanan will aim for her 10th Future Of Stardom Title defense against JUST TAP OUTs Aoi and Haruka Umesaki & Starlight Kid will team up to face MIRAI and Ami Sourei. The show will be live streamed for free on Youtube!

Full Card
Chie Koishikawa vs Lady C vs Ruaka
Hina vs Tomoka Inaba
LINDA & Mai Sakurai vs Momo Kohgo & Saya Iida
Momoka Hanazono & Waka Tsukiyama vs Ram Kaicho & Rina
Ami Sourei & MIRAI vs Haruka Umesaki & Starlight Kid
Hanan (c) vs Aoi – Future Of Stardom Title
Miyu Amasaki vs Tam Nakano – Supernova Match Series

Next Week's 5STAR Grand Prix Matches:
Day 9 on August 27th in Korakuen Hall
Utami Hayashishita vs Maika
Tam Nakano vs Koguma
Himeka vs Risa Sera
AZM vs SAKI
Mai Sakurai vs Unagi Sayaka
Giulia vs Starlight Kid
Natsupoi vs Suzu Suzuki
Mayu Iwatani vs Mina Shirakawa
MIRAI vs Ami Sourei
Hazuki vs Hanan

Day 10 on August 28th in Act City
Syuri vs Koguma
Tam Nakano vs Mai Sakurai
Himeka vs Saki Kashima
Maika vs AZM
Mayu Iwatani vs Ami Sourei
Giulia vs Natsupoi
Hazuki vs Saya Kamitani
MIRAI vs Hanan
Saya Iida vs Momo Watanabe

Official 5STAR Grand Prix Standings following Day 8:

RED STARS BLOCK –
8 – AZM (4-1-0)
8 – Utami Hayashishita (4-1-0)
6 – Himeka (3-2-0)
6 – Syuri (3-2-0)
6 – Koguma (3-3-0)
6 – Risa Sera (3-1-0)
4 – Mai Sakurai (2-3-0)
4 – Maika (2-2-0)
4 – Saki Kashima (2-3-0)
4 – SAKI (2-2-0)
2 – Tam Nakano (1-1-0)
2 – Unagi Sayaka (1-3-0)
0 – Momo Kohgo (0-6-0)

BLUE STARS BLOCK –
12 – Hazuki (6-0-0)
6 – MIRAI (3-2-0)
6 – Momo Watanabe (3-3-0)
6 – Saya Kamitani (3-1-0)
6 – Ami Sourei (3-1-0)
4 – Mina Shirakawa (2-1-0)
4 – Mayu Iwatani (2-1-0)
4 – Natsupoi (2-3-0)
4 – Starlight Kid (2-2-0)
4 – Giulia (2-2-0)
0 – Hanan (0-6-0)
0 – Saya Iida (0-4-0)
0 – Suzu Suzuki (0-2-0)

Match Recommandation:
Saya Kamitani (c) vs Himeka (21/08/2022)
Syuri (c) vs Nanae Takahashi (21/08/2022)
---
SEAdLINNNG
On the 17th SEAdLINNNG celebrated its 7th Anniversary in the Korakuen Hall. In a special Singles Match, Makoto got a big win over her Tag Team Partner ASUKA. The Main Event was a special singles Match between Hiroyo Matsumoto and the Beyond The Sea Champion Arisa Nakajima. It ended in a sad scene after the ref ended the Match after Nakajima got injured. The injury happened when Arisa got dropped from the top rope to the floor. She got carried out with a stretcher. There's no official update yet on what Arisa has and how long she will be out. WrestlePurists wishes Arisa the best and a speedy recovery!
Match Recommandation:
ASUKA vs Makoto (17/08/2022)