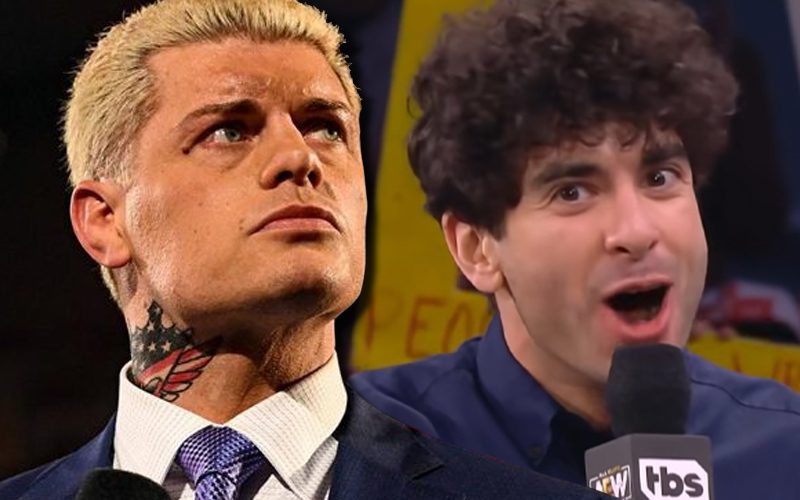 Despite the defection of prominent AEW figure Cody Rhodes to WWE, it's business as usual for Tony Khan and All Elite Wrestling.
There is no denying that Cody Rhodes was a big part of the foundation of AEW. Alongside Kenny Omega and the Young Bucks, Matt and Nick Jackson, Cody was one of the founding four wrestlers to sign with the then fledgeling promotion. All four would also become Executive Vice Presidents of the company, helping guide the company along what has become a very successful path thus far.
Nonetheless, on February 15 Rhodes left AEW, and returned to WWE this past Saturday at night 1 of WrestleMania. One might think this would be a blow to AEW owner Tony Khan, but according to him, one would be mistaken. While Khan acknowledges the loss of a big name in the industry, he also reaffirmed that he is focused on the significant number of recent and upcoming debuts for his promotion.
Speaking with Sports Illustrated, Khan discussed the topic.
"I did lose a very prominent free agent, but weird debuting one tonight in Samoa Joe. In the past 30 days, we've also debuted Toni Storm, Who was incredible last week in her win against The Bunny, and Jeff Hardy, one of the biggest stars in wrestling. We have a lot of excitement happening here, and that's our focus."

Tony Khan
He then went on to discuss the night's upcoming episode of Dynamite, promising it would be pay-per-view quality.
"My goal is to make tonight like a pay-per-view. It's a bigger box office than the card we just had on the Ring of Honor Supercard pay-per-view. This is the Young Bucks – FTR, Adam Cole against Christian, and the Hardys in a table match. We're going to deliver big matches. It's a commitment to pro wrestling you won't see anywhere else but AEW."

Tony Khan
If tonight's episode of AEW Dynamite was any indication, Tony Khan's promotion AEW certainly seems like it'll be just fine, at least in the immediate future.