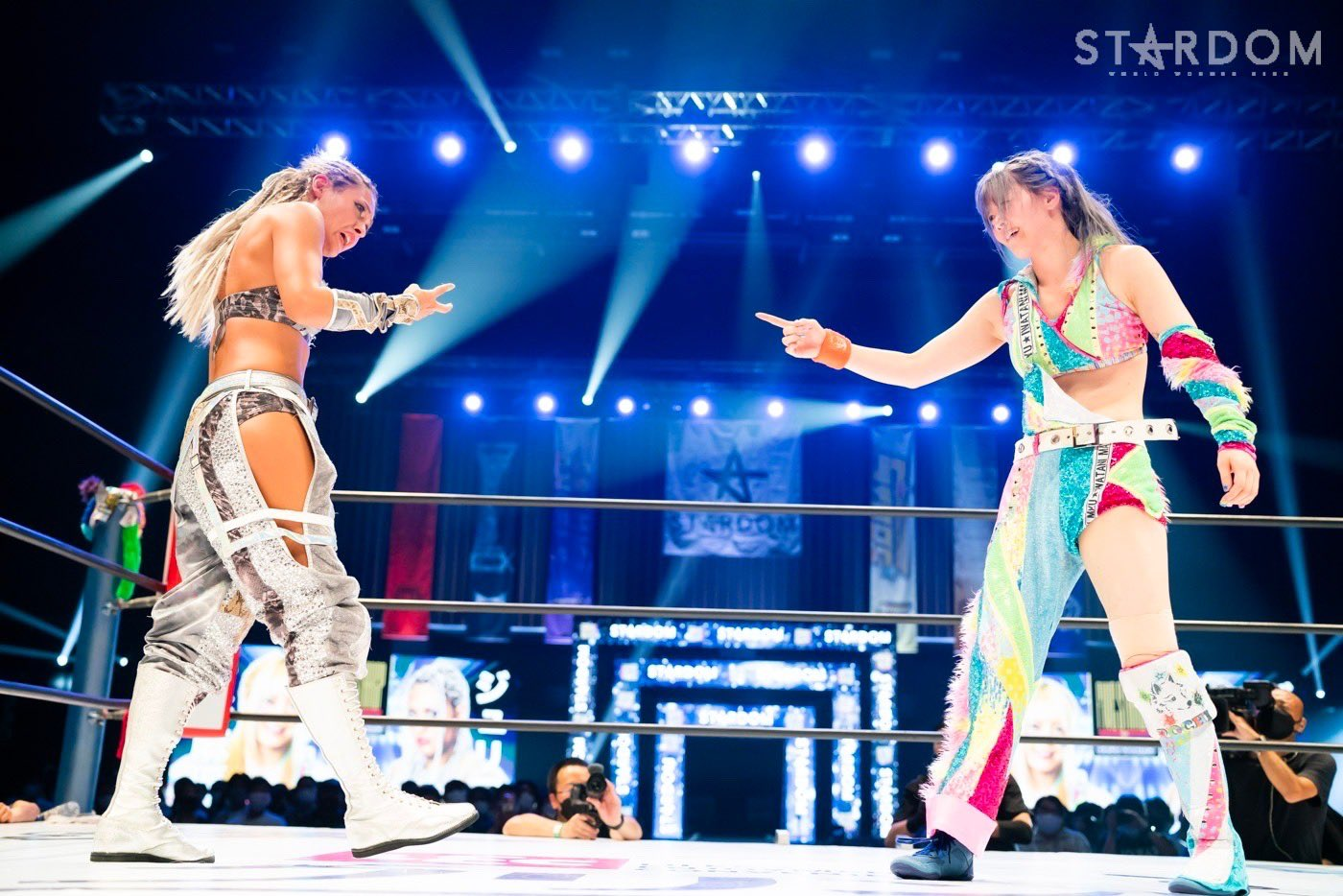 STARDOM
On Sunday, STARDOM had a PPV featuring two title matches and 5STAR GP Block Matches. In the opening match, Syuri & the new God's Eye Member Tomoka Inaba teamed up for the first time against Mina Shirakawa & Waka Tsukiyama. The God's Eye duo won the match after Inaba pinned Waka. They worked really well together and likely will represent God's Eye in the Tag League. In the first 5STAR GP Match, Risa Sera won her Match over Unagi Sayaka which puts her in a good position before the final stage of the GP while Unagi lost her 5th Match out of 6. Himeka stays on the top of the Red Stars Block with a win against SAKI after the running Powerbomb. The first upset happened when Suzu Suzuki ended the six match winning streak of the Wonder Of Stardom Champion Saya Kamitani after two German Suplexes in a great match. Suzu finally was able to recover from her three match losing streak and got her first win of the 5STAR. The next upset occurred only one match later when AZM pinned the Leader of Queen's Quest Utami Hayashishita with the Azumi Sushi in a Queen's Quest vs Queen's Quest Match. In the last 5STAR Match of the Day, the first draw happened in this year's Grand Prix. Giulia & Mayu Iwatani had a fantastic match that just like their match in January, again couldn't decide a winner. The first title Match was between STARS & Oedo Tai for the Artist Of Stardom Titles. After a fantastic performance from Hanan and a kick out of the Moonsault she lost to Starlight Kid and Oedo Tai was able to reach their 4th defense. After the Match, Starlight Kid called out Queen's Quest for the next defense. In the Main Event of the Show, Tam Nakano & Natsupoi were able to retain their Goddesses Of Stardom Titles over Ami Sourei & MIRAI in a really good match to end another great STARDOM show.
Next Week's 5STAR Grand Prix Matches:
Day 14 on September 12th in Korakuen Hall
Mai Sakurai vs Utami Hayashishita
Syuri vs Momo Kohgo
Tam Nakano vs Unagi Sayaka
AZM vs Risa Sera
SAKI vs Saki Kashima
Mayu Iwatani vs Suzu Suzuki
Hazuki vs Saya Iida
Natsupoi vs Hanan
Ami Sourei vs Mina Shirakawa

Day 15 on September 17th in Osaka
Syuri vs SAKI
Utami Hayashishita vs Saki Kashima
Mai Sakurai vs Risa Sera
Unagi Sayaka vs Maika
Natsupoi vs Starlight Kid
Suzu Suzuki vs Saya Iida
Mina Shirakawa vs MIRAI

Day 16 on September 18th in Osaka
Tam Nakano vs Risa Sera
Unagi Sayaka vs Koguma
SAKI vs Mai Sakurai
Giulia vs Ami Sourei
Saya Kamitani vs MIRAI
Suzu Suzuki vs Momo Watanabe
Mina Shirakawa vs Starlight Kid
Official 5STAR Grand Prix Standings following Day 13:

RED STARS BLOCK –
12 – AZM (6-2-0)
12 – Himeka (6-4-0)
10 – Maika (5-3-0)
8 – Utami Hayashishita (4-3-0)
8 – Mai Sakurai (4-4-0)
8 – Koguma (4-4-0)
8 – Syuri (4-4-0)
8 – Tam Nakano (4-2-0)
8 – Risa Sera (4-2-0)
6 – Saki Kashima (3-5-0)
4 – SAKI (2-4-0)
2 – Unagi Sayaka (1-5-0)
2 – Momo Kohgo (1-6-0)

BLUE STARS BLOCK –
14 – Hazuki (7-2-0)
12 – Saya Kamitani (6-2-0)
11 – Giulia (5-2-1)
10 – Ami Sourei (5-3-0)
10 – MIRAI (5-3-0)
9 – Mayu Iwatani (4-3-1)
8 – Natsupoi (4-4-0)
6 – Momo Watanabe (3-5-0)
6 – Starlight Kid (3-3-0)
4 – Mina Shirakawa (2-3-0)
2 – Saya Iida (1-5-0)
2 – Suzu Suzuki (1-3-0)
0 – Hanan (0-8-0) (OUT)

Match Recommendation:
Saya Kamitani vs Suzu Suzuki (11/09/2022)
AZM vs Utami Hayashishita (11/09/2022)
Giulia vs Mayu Iwatani (11/09/2022)
Oedo Tai (Momo Watanabe & Saki Kashima & Starlight Kid) (c) vs STARS (Hanan & Hazuki & Koguma) (11/09/2022)
---
JCW
On Saturday Jungle Kyona had the first Match of her Excursion in the United States against the "Russian Dynamite" Masha Slamovich in JCW which is a sub-brand of GCW. Masha is one of the best female Wrestlers on the US Indy scene and already competed in Japan before but never faced Kyona yet. Jungle came out with a new theme and new in-ring gear. Kyona didn't miss a beat here after her long injury and had a great match. In the end, Masha was able to pick up the victory over Kyona. Jungle Kyona's next match is happening in Garden State on Friday against Janai Kai and on Saturday in DPW when she faces Maya Yukihi who is one of the best Joshi Freelancers in the world.
---
Performer Of The Week
After her amazing performance in the Artist Of Stardom Title Match, Hanan is the Performer Of The Week. Her outstanding babyface performances put her on the next level and proved again that she will be a big player in the future. The current Future Of Stardom Champion showed great fighting spirit and kicked out of multiple big moves and never gave up. She wanted the win and nearly got it but fell to Starlight Kid in the end. This Match instantly elevated Hanan to the next level and put her over really well, even in defeat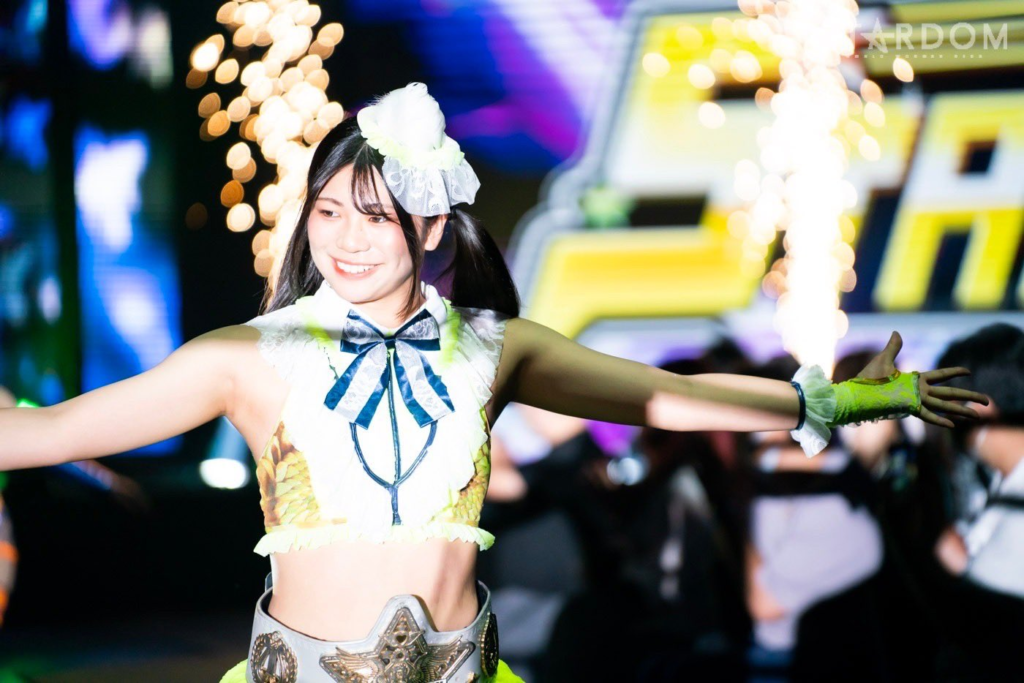 ---
Match Of The Week
It shouldn't be shocking that Giulia vs Mayu Iwatani was the Match of the Week. A 15 minute time limit draw. From the first minute, it continued from their violent Match in January. Giulia gave Mayu a Backdrop Driver right at the bell. Both took an insane amount of punishment in this match. Especially the Suplex trades stood out for me in this match. It is only a matter of time till we get this Match for the World Of Stardom Title. Their head-to-head record now is 1 win each and 3 draws.

**** 1/4