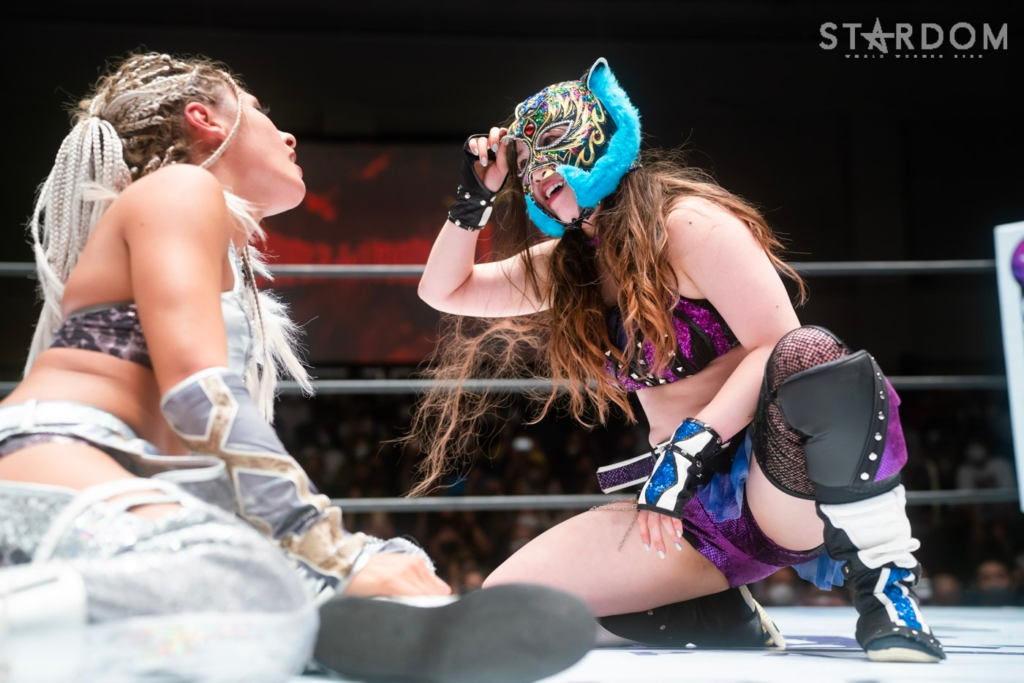 STARDOM:
STARDOM had an extremely newsworthy week. The 5STAR GP Tournament continued with two shows this week. The sold-out Korakuen Hall show on Saturday was Main Evented by Giulia beating her rival Starlight Kid in an incredible match to continue her winning series. On the day after, Giulia was also able to defeat Natsupoi and fully bounced back from her first two losses on the first two days. DDM's Strong Girl Maika who was able to defeat her rival Utami Hayashishita and block leader AZM. With those wins, Maika has a lot of momentum coming into next week. She will face Tam Nakano and the World Of Stardom Champion Syuri on back-to-back nights. The second show in Hamamatsu was Main Evented by Mayu Iwatani getting her 4th win of the 5STAR by beating Ami Sourei. Wonder Of Stardom Champion Saya Kamitani was able to stop Hazuki's undefeated 7-0 streak and also Saya Iida was able to secure her first two points by beating Momo Watanabe. The biggest upset of the week once again included Syuri who this time lost to the former Goddess Of Stardom Champion Koguma. With that, Syuri already has three losses in the 5STAR.
Besides the 5STAR Matches, STARDOM also had a couple of interesting angles. After her win over SAKI, the High-Speed Bomb Girl AZM challenged Hazuki & Fukigen Death to a three-way Match for her High-Speed Title. This is a call back to their 2019 Match when back then Hazuki lost her High-Speed Title in the exact same match-up to Death Yama-san (now known as Fukigen Death). The Match will happen on September 24th. Also, one of the biggest freelancers & GCW Ultraviolent Champion, Rina Yamashita appeared after Oedo Tai attacked Giulia. Rina then challenged Oedo Tai to a Hardcore Tag Team Match. It will be Momo Watanabe & Ruaka vs Rina Yamashita & Giulia.
STARDOM released some information for the upcoming IWGP Women's Title Tournament. The Tournament will have a STARDOM side of the bracket and an international side. The STARDOM side will feature one wrestler from four different factions that got decided by a lottery. Oedo Tai, Donna del Mondo, STARS and Queen's Quest will have one representative each. Neither a Cosmic Angels nor God's Eye Member will be in the tournament. The 5STAR results will determine the participants.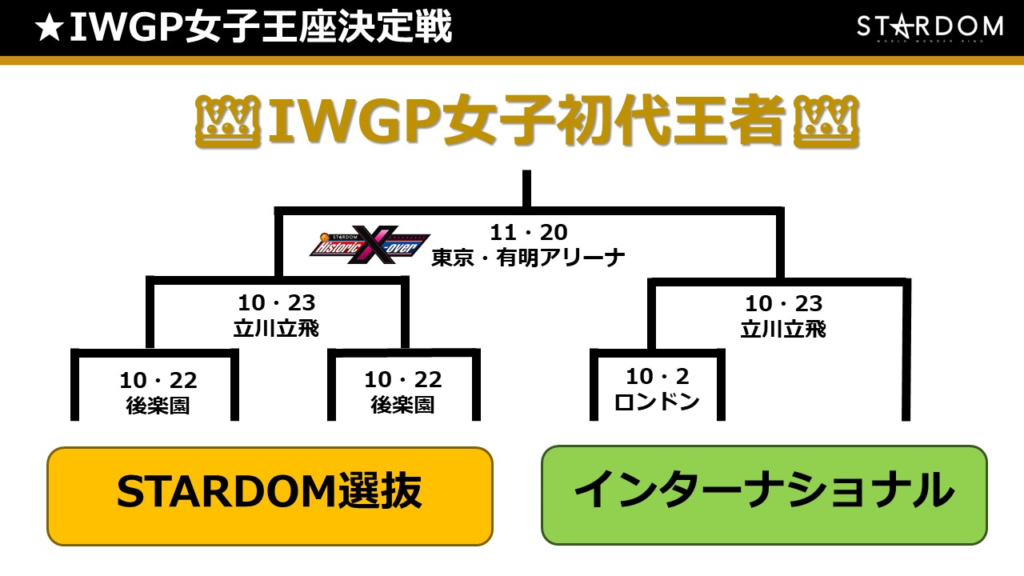 For the international side, STARDOM announced the first two Gaijins that will face each other at NJPWs Royal Quest Show in the UK. It will be the former World Of Stardom Champion Alpha Female against Ava White. The winner will advance to face a yet to be announced Wrestler in Japan.
STARDOM & NJPW also announced the three Mix Tag Team Matches for the Historic X-over joint show between the two Bushiroad Companies. In the first Match, the current Goddess Of Stardom Champion Tam Nakano & Natsupoi will team with Yoshinobu Kanemaru and Taichi against Oedo Tai's Momo Watanabe & Starlight Kid with El Desperado & DOUKI. The 2nd Match will include the two former UFC Fighters Tom Lawlor & Syuri who will face Zack Sabre Jr. & Giulia who are both born in the UK. The last Mix Tag includes Hirooki Goto & Maika against Hiroshi Tanahashi & Utami Hayashishita. Also, Tokyo Sports showed how the IWGP Women's Title will look like. It is based on the 2nd version of the IWGP Heavyweight Title.

Announced Card for Historic X-over on November 21st:
Tam Nakano & Natsupoi & Taichi & Yoshinobu Kanemaru vs Momo Watanabe & Starlight Kid & El Desperado & DOUKI
Syuri & Tom Lawlor vs Giulia & Zack Sabre Jr.
Hiroshi Tanahashi & Utami Hayashishita vs Maika & Hirooki Goto
STARDOM Bracket Winner vs International Bracket Winner – IWGP Women's Title
STARDOM also held the NEW BLOOD 4 Show on Friday for free on YouTube and it was an eventful show. Miyu Amasaki had her 2nd Match of the Supernova Five Match Trial Series Match in the Main Event of the show against Tam Nakano which she lost with one minute remaining on the time limit. Hanan retained her title in a hard-fought and close match against JUST TAP OUT's Aoi to get to V10. After the Match, Ami Sourei appeared and challenged Hanan. This is the biggest threat for Hanan yet, since she already lost against Ami in a singles match in the 5STAR. Earlier in the show, Ami Sourei was involved in a Tag Team Match with her God's Eye Partner MIRAI against Haruka Umesaki from Diana and Starlight Kid. Umesaki got disqualified after she hit MIRAI with a chair on the head. After the Match, Umesaki walked out and seems to be fully turned into the dark side. Tomoka Inaba made the save after Oedo Tai continued to attack MIRAI & Sourei and asked to join God's Eye to which Syuri agreed to. After the Ram Kaicho & Rina victory, AZM came out and challenged Ram Kaicho to a Falls Count Anywhere Match. At the same time, Hanazono Momoka challenged AZM to a High-Speed Title Match at the next Osaka Show.

Full Results:
Tomoka Inaba defeats Hina
Ruaka defeats Chie Koishikawa & Lady C
Ram Kaicho & Rina defeat Momoka Hanazono & Waka Tsukiyama
LINDA & Mai Sakurai defeat Momo Kohgo & Saya Iida
Ami Sourei & MIRAI defeat Haruka Umesaki & Starlight Kid by DQ
Hanan (c) defeats Aoi to retain her Future Of Stardom Title
Tam Nakano defeats Miyu Amasaki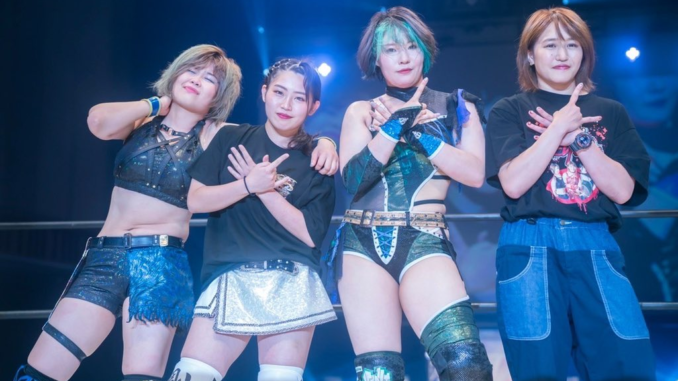 Next Week's 5STAR Grand Prix Matches:
Day 11 on September 3rd in Takamatsu
Syuri vs Maika
Tam Nakano vs Saki Kashima
Himeka vs Mai Sakurai
Mayu Iwatani vs Saya Kamitani
Giulia vs Mina Shirakawa
Starlight Kid vs Ami Sourei

Day 12 on September 4th in Hiroshima
Syuri vs Himeka
Maika vs Tam Nakano
Momo Kohgo vs Saki Kashima
Mayu Iwatani vs Natsupoi
Saya Kamitani vs Saya Iida
Ami Sourei vs Hazuki
MIRAI vs Momo Watanabe

Official 5STAR Grand Prix Standings following Day 10:

RED STARS BLOCK –
10 – AZM (5-2-0)
10 – Himeka (5-2-0)
8 – Utami Hayashishita (4-2-0)
8 – Maika (4-2-0)
8 – Koguma (4-4-0)
6 – Syuri (3-3-0)
6 – Tam Nakano (3-1-0)
6 – Risa Sera (3-2-0)
6 – Mai Sakurai (3-4-0)
4 – Saki Kashima (2-4-0)
4 – SAKI (2-3-0)
2 – Unagi Sayaka (1-4-0)
0 – Momo Kohgo (0-6-0)

BLUE STARS BLOCK –
14 – Hazuki (7-1-0)
8 – Giulia (4-2-0)
8 – Ami Sourei (4-2-0)
8 – Mayu Iwatani (4-1-0)
8 – Saya Kamitani (4-1-0)
8 – MIRAI (4-3-0)
6 – Momo Watanabe (3-4-0)
6 – Natsupoi (3-4-0)
4 – Mina Shirakawa (2-2-0)
4 – Starlight Kid (2-3-0)
2 – Saya Iida (1-4-0)
0 – Suzu Suzuki (0-3-0)
0 – Hanan (0-8-0)

Match Recommendation:
Maika vs Utami Hayashishita (26/08/2022)
Giulia vs Starlight Kid (26/08/2022)
---
TJPW:
The road to Wrestle Princess 3 started with the 3rd edition of the Go Girl series, which is an event where only females are allowed in the crowd. The point behind this concept is that maybe a fan decides to join TJPW as a Wrestler after. On the same show, TJPW announced their new logo after having the first one since the promotion started. In the Main Event, the best of TJPW were facing each other. The POP Champ Shoko Nakajima teamed up with Rika Tatsumi & Miu Watanabe against the TPC Winner Yuka Sakazaki, Miya Yamashita and Mizuki. After the Senton Bomb pinned Shoko the Popping Sugar RabbitMizuki to win the match. This Match showed why those six are rightfully called "The Best" of TJPW.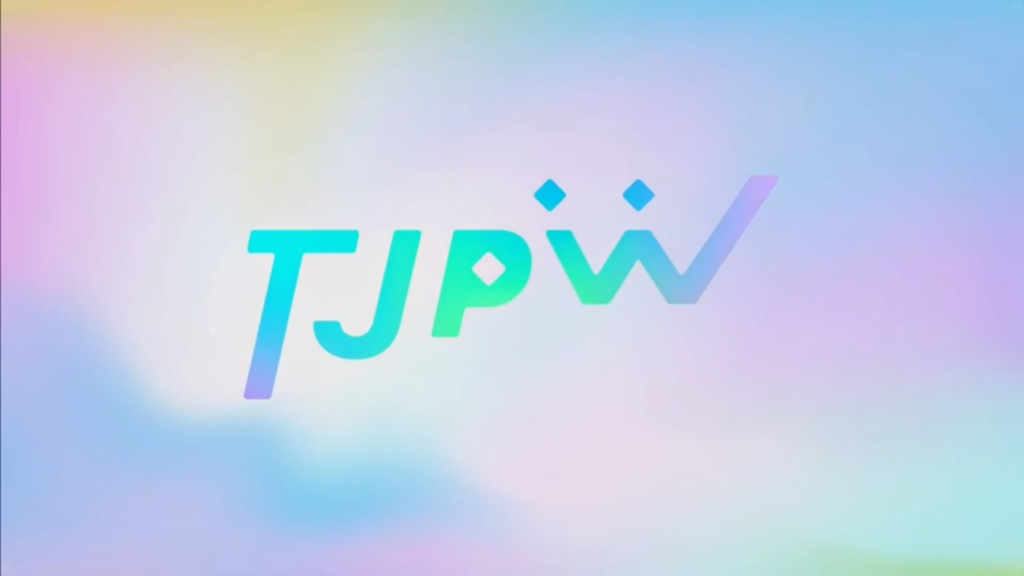 Match Recommendation:
Miu Watanabe & Rika Tatsumi & Shoko Nakajima vs Mizuki & Yuka Sakazaki & Miyu Yamashita (28/08/2022)
---
Performer Of The Week
With an amazing performance against Starlight Kid and two straight wins in the 5STAR this weekend, the Leader of Donna del Mondo Giulia is the Performer Of The Week. Giulia is one of the best bullies in the game and she showed in once again. What she did with SLK in their match was outstanding and on a level, only a handful of wrestlers can work. This Summer might be the Summer of Giulia and she will try everything that it will happen.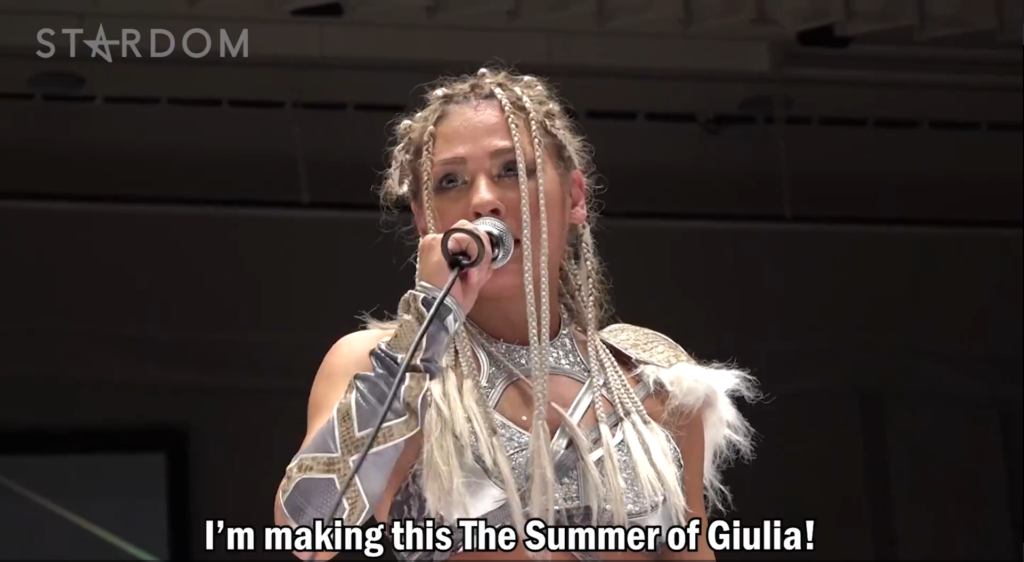 Match Of The Week
I don't think any better match that happened this week than Giulia vs Starlight Kid from the Korakuen Hall Show on the 26th. Kitto & Giulia have a heated history going back to SLKs STARS days and they did callbacks to their past matches from the very beginning. It started with Giulia ripping Kid's mask off, which already happened at their White Belt Match in 2020. When they got into the ring and the match officially started, Giulia instantly started a rapid fire of headbutts and one of the loudest shoot headbutts I've ever heard. It started with such intensity and pace and it never slowed down. They continued to beat the shit out of each other with Slaps, Headbutts and Suplexes. The crowd was into the match from the very beginning. In the end, Giulia was able to secure the win with the Gannosuke Clutch in one of the best STARDOM Matches of the year

**** 1/2