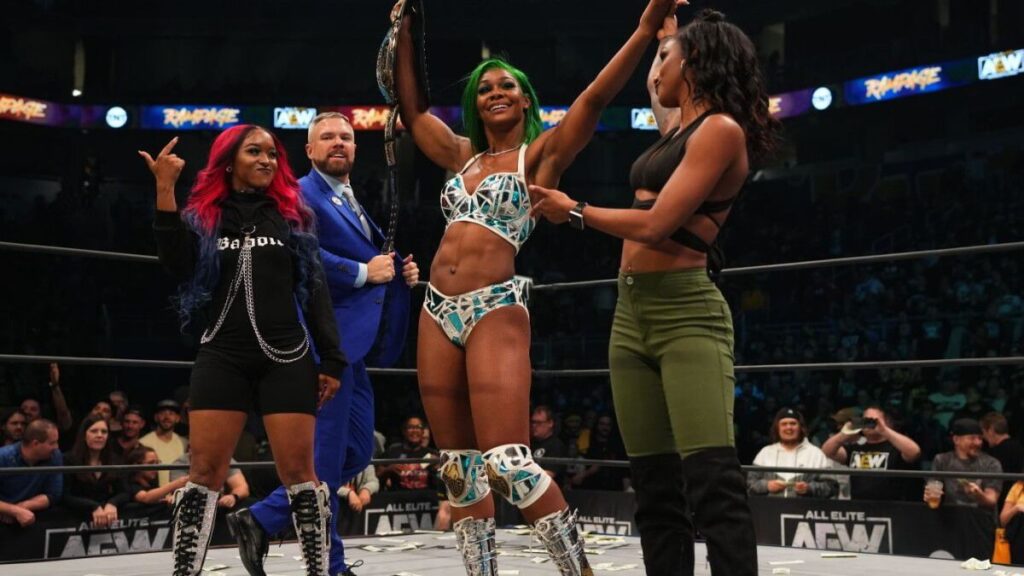 AEW's Jade Cargill is a shining example of the company's ability to produce their own home-grown talents, with the inaugural TBS Champion displaying all the tools to be a star so early into her career.
Cargill is currently flanked by Keira Hogan and Red Velvet, labelling themselves as The Baddies, with the pair only adding to Cargill's presentation as a top AEW star.
Jade recently spoke to The Root about the inspiration behind The Baddies Section, highlighting a desire to see more women's wrestling fans in the crowd at AEW shows moving forward.
"I was tired of seeing a bunch of men in the audience, and I just wanted women. I was like, 'Where were all the women? Where are the beautiful, intelligent women? We need that in the audience.' So that's where The Baddies section came about, I was looking into the crowd and just seeing a sea of men. And we're asking, 'Where are the women wrestling fans?' I wanted more of that. It's a battle with just having our voices heard in the sea of wrestling in general. So I wanted to pinpoint the women audience and have more and more at our shows."

-Jade Cargill
Cargill is set to defend her TBS Championship at tomorrow night's Double or Nothing PPV against Anna Jay of the Dark Order.
Jade questioned why Anna Jay would want to come for her again following their previous outing, although she gladly accepted, labelling herself a fighting champion who's still "hungry" to win.
"I beat her prior, so the fact that she wants to step up again, she chased me with a crutch, and I don't know what she was thinking at all. That just makes me hungry to beat her even more and just get it over with. Being on a pay per view is just an exhilarating feeling. You got to watch my entrance, you got to see The Baddies and how we're gonna kill it at Double or Nothing. We're just kicking ass and taking names and we're praying to turn into a household name so that everybody knows who we are. And that little Black girls can watch us and be inspired and be creative. I mean, we're like the Powerpuff Girls out there."

-Jade Cargill
Cargill, alongside Kiera Hogan & Red Velvet, will be looking to continue their Las Vegas takeover tomorrow night at the T-Mobile Arena, as she continues her reign as the first ever TBS Champion.