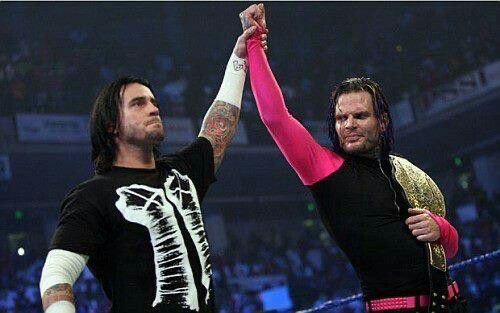 Jeff Hardy's rivalry with CM Punk in WWE in 2009 was pivotal moment in both men's careers.
For Punk it signified a movement up the card into the World Championship picture, setting him on the pathway to becoming one of WWE's top stars in the early 2010s. It also led to Hardy's departure from WWE, with the former WWE Champion being absent from the company for almost a decade.
Both men now share a locker room once again for the first time in over a decade as members of the AEW roster. Appearing on Freddie Prinze Jr's podcast, Wrestling With Freddie, Hardy said that face-off between the pair is destined to happen in AEW, and he believes that the angle would be a guaranteed success.
"[Winning the World Championship] was like a little boy's dream come true, man. God, and then to do it over and over again. One of my favorite things, as far as being the World Champion, was working with CM Punk. It's so crazy that we're in the same company now and there's a huge moment between me and Punk. It's going to come, I'm sure. I think there's a huge moment, just in the hallway, like me and Matt beat The Young Bucks or whatever at whatever pay-per-view is coming up, or whatever happens, but then we run into him, and me and punk just have a face-off."

-Jeff Hardy
Freddie Prinze Jr appeared to love the idea, even joking that he was going to write up the storyline and send it to AEW President Tony Khan himself.
Any confrontation between the pair will have to wait however, as Hardy will be preoccupied with his Owen Hart Foundation Tournament semi-final bout against Adam Cole on the May 18th episode of Dynamite.
H/T to Fightful for the transcription.