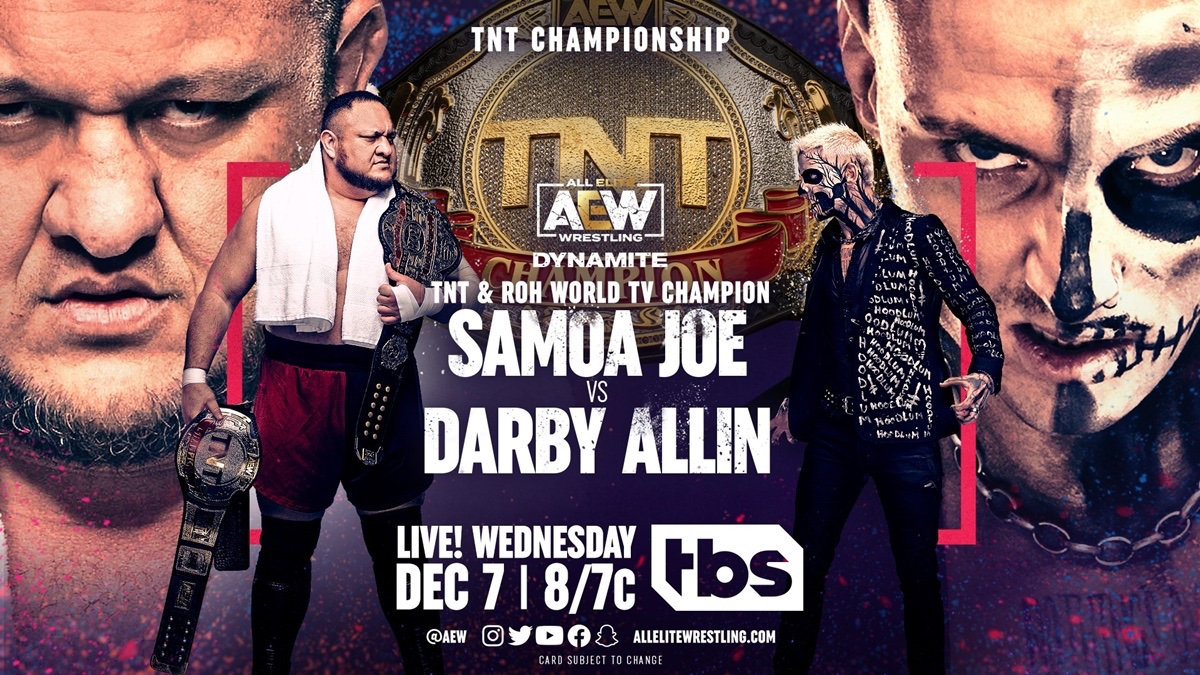 The year is 1992. I was not born yet, but there was a war going on in the squared circle confines of World Championship Wrestling, featuring Sting and Big Van Vader.
These two men fought and bled through various means in bouts that are unforgettable. Sting, the resilient babyface that refuses to give in; a scorpion that would rather die by its stinger than to flee. Vader, flanked by the legendary Harley Race, breathed steam and rage and death. He had terrorized the east, dismantling the likes of Antonio Inoki and Mitsuharu Misawa.
This is a rivalry etched in time.
On December 7, 2022, AEW saw a spiritual successor to this, even if it was unintended. Even if, at this point, the comparisons were miles apart.
Sting's protege and former AEW TNT Champion Darby Allin barreled down to the ring on his green skateboard, knowing ruination awaited him. Samoa Joe, a man who dominated the likes of AJ Styles, Jeff Hardy, and Christopher Daniels, while also standing against Brock Lesnar, Kenta Kobashi, and even too, had once faced Mitsuharu Misawa, holds that title that Darby Allin's fate is forever linked to, wherever he goes. Allin wants it back, and he's willing to endure Joe to get it.
Darby Allin's history saw him face off against other legends and beasts in their own rights – Cody Rhodes, Chris Jericho, Miro, Brody King, and CM Punk. This was not new territory for him. He's small and looks easily breakable – but that's where his magic lies. He's willing to go through the layers of hell to find his Persephone.
Samoa Joe, as mentioned earlier, holds the belt Darby needs. The self-proclaimed "King of Television" wears the TNT belt proudly, as he does the Ring of Honor World Television Championship. He entered the company, stoic, yet unwilling to take anyone's shit. Such was the folly of Wardlow, who, in his arrogance and show of bravado against Powerhouse Hobbs, ignored his friend in Samoa Joe when he mentioned he would take every belt in the company.
One thing about Joe is, he's not about to go out like that. He's nobody's bitch. No, he's the Samoan Submission Machine, designed to put anyone's ass to sleep. That sneer he wears, that aura he exudes, he is power. Joe is a star, not just because he's an indomitable and fearsome wrestler, but because he is literature on the mic. Every single word he says keeps viewers hooked on his every word, be it spoken calmly or laced with vitriol.
Tonight could easily be the night for a plucky underdog hero, but it could also sway to the might of the experienced, intelligent, and destructive force that not even Darby could hope to endure.
On this winter night, the bell rings, and we are reminded of who these men are.
It rings and Joe's taunts are interrupted by the speedy and feisty Darby. Joe repeatedly swats him away like a bothersome fly. He plays it cool and evasive. Knowing when to duck and bow out, because he knows Darby's ilk. Dispense all the energy, even at the expense of your young body, and let it wear out.
Darby dives through the ropes, to which Joe casually shrugs and walks away from – the former champion crashes into the barricade outside. A bullet that missed its mark.
Like a large child with a small cat, Joe swings the skull-faced ragdoll anywhere he could find and he exposes the concrete. Softening and tenderizing his meal, even using Darby's body to break the ten-count, Joe slams his prey onto that hard, damning surface. Not for lack of trying, Darby tries to escape but fails.
Continuously playing with his meal as the crowd lets Darby Allin know "Joe's gonna kill you!", the behemoth sits hungrily for the treat of victory as Darby lies through the greater part of another ten-count. The commentators plead with him to stay back, but this is Darby Allin.
It is then that the babyface mounts a comeback, despite a big boot from Samoa Joe. Darby uses his body, his greatest weapon, to wear down the beast – this is the part Samoa Joe isn't ready for. The thing about Darby Allin is, he's made out of tenacity. Pain and agony are what summons him to keep fighting, and it's what has brought him to the dance.
Joe, bewildered, gathers wind, while Darby summons any energy left. Darby isn't going to stop until the bones are crushed to dust, and Joe, staggered and stunned as he is, is willing to give it to him. This is the season for giving, after all. It's only a battle of wills at this point.
As the challenger bites and gnaws at the face of his oppressor, Joe catches the overzealous Allin, reversing a Coffin Drop into a Kokina Clutch. In this hold, the life fades from a determined and hardy Darby Allin. In this hold, the lion licks his lips as he sinks his teeth into the gazelle's neck.
The Reckless One succumbs into a peaceless slumber, and The King of Television reigns supreme once more.
Long may he reign, long may he prosper. All hail the Samoan Submission Machine.