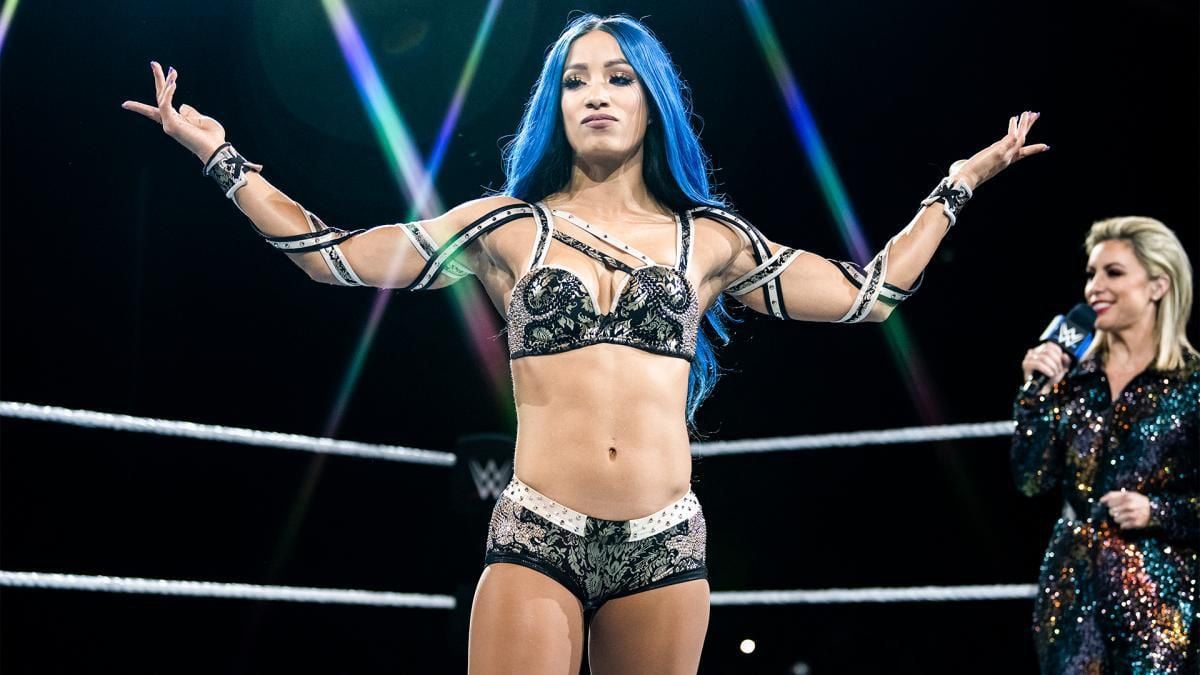 This past Thursday, PWInsider reported that Mercedes Varnado (AKA Sasha Banks in WWE) is expected to be at NJPW's Wrestle Kingdom 17 event on January 4th, which would be her first pro-wrestling appearance since her WWE suspension in May earlier this year. Varnado, alongside her tag-team partner Naomi, allegedly walked out ahead of the May 16th episode of Raw, leading to both being stripped of their WWE Women's Tag Team Championships and receiving indefinite suspensions without pay.
Dave Meltzer, during Wrestling Observer Radio has now provided an update on the prospect of Varnado appearing at NJPW's biggest show of the year, seemingly confirming the news, as well as noting that she's agreed to multiple dates with the company. As such, her time with WWE appears to be done as of now, with Meltzer also revealing that AEW may be able to reach an agreement on payment that WWE have been unable to thus far.
"She is going to the show, she will be appearing on the show, she will not wrestle on the show. She has dates with NJPW in her deal, I do not believe it is signed. She still could sign with WWE and this could all fall apart, but she has pretty much agreed to their terms so as far as they are concerned, they have a deal. She will not be Sasha Banks, she will be Mercedes Mone or whatever name she's gonna go by — she will be there its part of a deal to work with New Japan. I do not know how AEW fits in, obviously everyone is going to jump to the speculation that she is the mystery partner for Saraya against Jamie Hayter & Britt Baker on the Forum show January 11th and now if its not her then its going to be a terrible disappointment. Perhaps it is. NJPW cannot afford to pay the numbers WWE wasn't willing to pay her, I can say that. AEW could obviously afford that, so is it a deal where she does both? Perhaps. That I cannot confirm at all. I know that when I asked AEW about it I got a non-answer."

-Dave Meltzer
Varnado has previously teased a match between herself and KAIRI for the IWGP World Championship across her social media platforms. At the event on January 4th, KAIRI is set to defend said title for the first time against Tam Nakano, and thus Varnado may make an appearance following the match to challenge the eventual winner.
Meltzer continued, furthering clarifying that, as of writing, Varnado is believed to be done with WWE, however the lack of official confirmation may mean that WWE could still agree to terms and thus throw the afformentioned NJPW plans up into the air.
"I do not know what the situation is with AEW, I only know the situation with NJPW and she has agreed to go to that show, I think everyone can probably figure out the most likely scenario which would be challenging the winner of the Womens IWGP Championship match and that she is going to make appearances for NJPW in 2023 and she is barring a last minute change and the fact she made this deal already, at least verbally, because they have dates booked for her now. Barring a last minute change and her backing out on what she has agreed to, she's not going back to WWE, but you cannot always rule that out and this may also be one of those situations where WWE goes "we don't want her going AEW, maybe we'll jump the number up" or maybe they'll just say "she more trouble than shes worth, shes asking for so much money" which of course was the attitude a month ago — so thats kinda where it all stands. January 4th Tokyo Dome and other dates, and Mercedes Mone, Mercedes Varnado or whatever name she is going to go with, but as of tight now, shes done with WWE. But like I said it could change, at any moment."

-Dave Meltzer
Varnado recently shared a number of photos of her training across Mexico and the United States, and thus regardless of the promotion, a return to the ring certainly appears closer than ever.
Time will tell as to whether Varnado appears at Wrestle Kingdom 17, debuts in AEW as Saraya's tag-team partner on January 11th, or even returns to WWE. Regardless, next month is likely to be a huge one for the former multi-time WWE Women's Champion, and as always, we'll aim to provide any updates on her in-ring future as soon as we hear more.
If you use any of the quotes above, please credit the original source with a h/t and link back to WrestlePurists.com for the transcription.