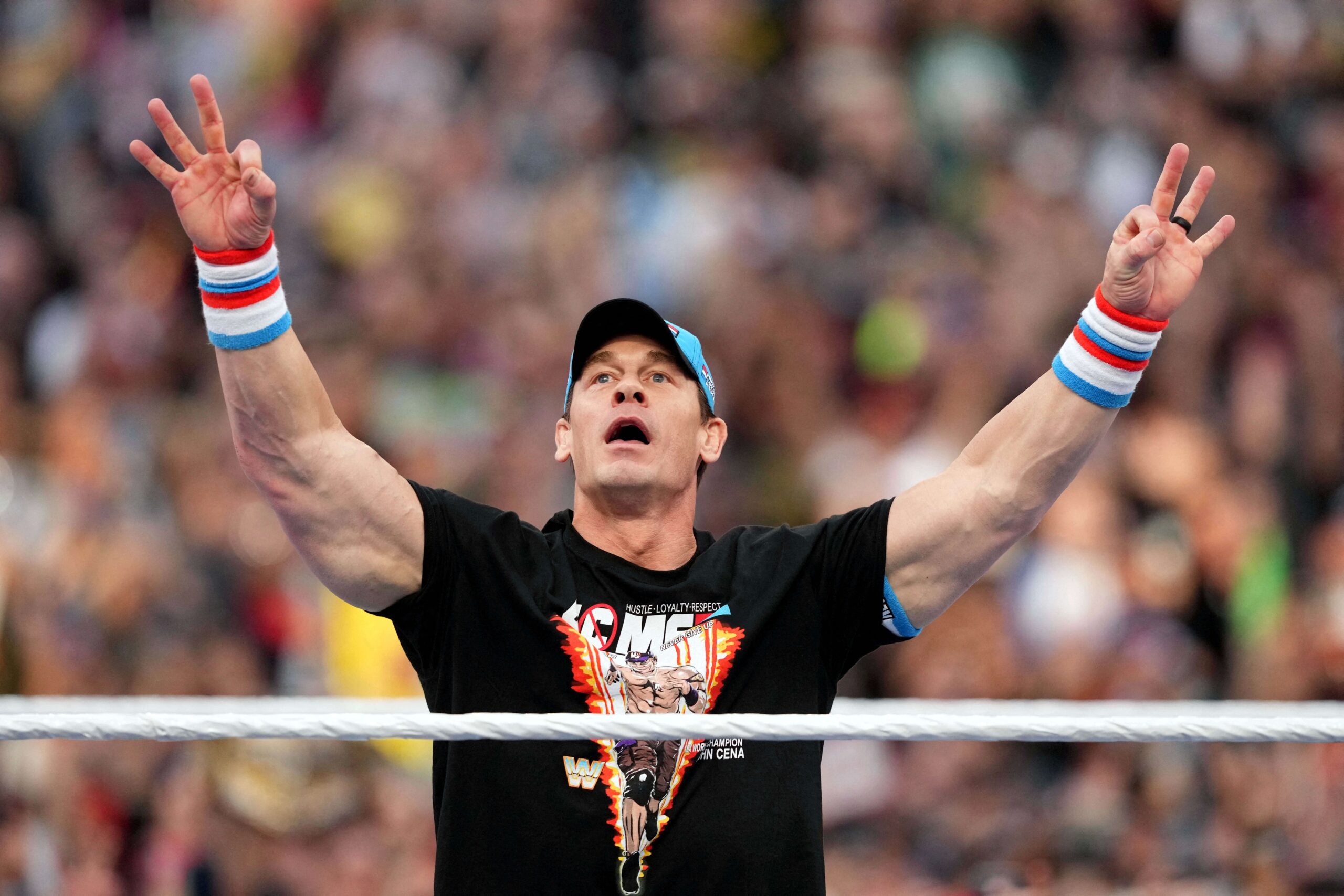 John Cena feels as though he's no longer able to deliver in-ring performances on a consistent basis.
At Night 1 of WrestleMania 39, multi-time WWE Champion and Hollywood superstar John Cena made his return to the ring, unsuccessfully challenging Austin Theory for the United States Championship in the shows opening bout.
Cena recently appeared on Busted Open Radio with Dave LaGreca and Bully Ray, where he first addressed his "passing of the torch moment" with Cody Rhodes on Raw before detailing parts of his journey to WWE, with the Hollywood star still wishing he could be a consistent part of the product.
Cena then dived further into that desire, stating that whilst he no longer feels physically capable of delivering consistent performances the WWE Universe used to expect of him, he believes he can still come back "here and there" and peform to the level of his recent WrestleMania appearance.
"Well, I get excited with potential. I really do get excited with potential and it's because I think in my origin story, I wasn't exactly someone that people were betting on. I kind of got hired defensively so I wouldn't go to WCW for peanuts. I had some people who saw me perform who were advocating to people who didn't care about my performance, which granted me some opportunities and then I was lucky to have some people who supported me. I remember the first time I kind of experienced, I would say, the 'WWE life' was in Japan with you (Bully Ray) by my side and that was my — in my perspective, that was your way of saying, hey, welcome in. This is kind of what we're about and this is where the secrets are shared and this is where the wisdom is passed and although it may not be your thing, this is our thing and if you wanna be in our family, we'd love to have you but this is kind of the way our family does it and I never got to thank you for that so thank you very much for dragging me out in the streets of Tokyo to have the beginning of what would be a wonderful ride on a lighting bolt and you know, you don't do it by yourself which is why I don't think anyone — you don't pass it to anybody. You just hope to put energy out there and anyone with potential can get it. It was said that I passed the torch to Roman (Reigns) years ago and he absolutely is the face of the franchise. In my mind, he's the greatest of all time. But, I try to do what I could and when I did it, it wasn't the miracle, it didn't happen. He got it on his own terms. I just like seeing people who are passionate about the business, who wanna be there, who wanna show up, who aren't using it as a vehicle to do something else because the thing itself is awesome and it's okay if you get other opportunities outside. That's a testament to your work but man, I wish I was still there every day. My body can't do it anymore. I don't wanna give the consumer a bad product. That's another thing I learned from those veterans at the time. Guys like Eddie (Guerrero) would just risk so much and he's like, 'I'm never gonna give the consumer a bad product. I don't care how I feel, I don't care how I feel physically, I don't care what baggage I have mentally, when I'm on, they paid good money and I'm gonna go out there and give everything I have and sometimes find it when it's not there' and I'm at a point where everything I have in comparison to the bar that's been set, boy, what I have is what you saw at WrestleMania 39. That's what I feel confident that I can deliver and that's really nice for here and there. That's not every day in the WWE, that's not every day in sports entertainment. Sports entertainment has raised the bar and I'm humble enough to say that's awesome because you're supposed to leave it better than you found it. The people are supposed to advance it and that's why you're supposed to go from smokey bingo halls to the Pontiac Silverdome to now, towns offering us financial incentives to be in for WrestleMania."

-John Cena
Cena's entrance at WrestleMania 39 sae him share the stage with several Make-A-Wish children. The leader of the Cenation holds the Guiness World Record for granting the most wishes, and so it's no surprise to hear that he was immediately game for the entrance when it was pitched to him by WWE.
"As long as I'm participating in WWE, the idea to do the Wish Kid WrestleMania entrance, WrestleMania entrances are coveted. They're special, they're unique. I have a few unique ones to myself but when production came to me with the idea of, 'Do you mind sharing the stage? We have this idea.' 'Of course.' You give 20 kids the perspective of the ramp, looking out at a stadium filled with 80-plus-thousand going berserk. That's not being in the seats. I was a fan for The Undertaker match. I saw both sides. That's awesome sitting there, but it's mythical having that WrestleMania entrance being able to do that for a group of people, like take as many as you can, I don't care how thin my slice of the stage is. Let's give that perspective to people who enjoy it and yeah, probably could use a little joy in their life."

-John Cena
As of writing, it's unclear when we're likely to see John Cena step back into the ring. The former 16-time WWE World Champion now finds himself dominating Hollywood, and thus his schedule infrequently opens up to allow for WWE appearances.
As always, we'll aim to provide any further updates on the in-ring future of John Cena as soon as we hear more.
H/T to POST Wrestling for the transcription.