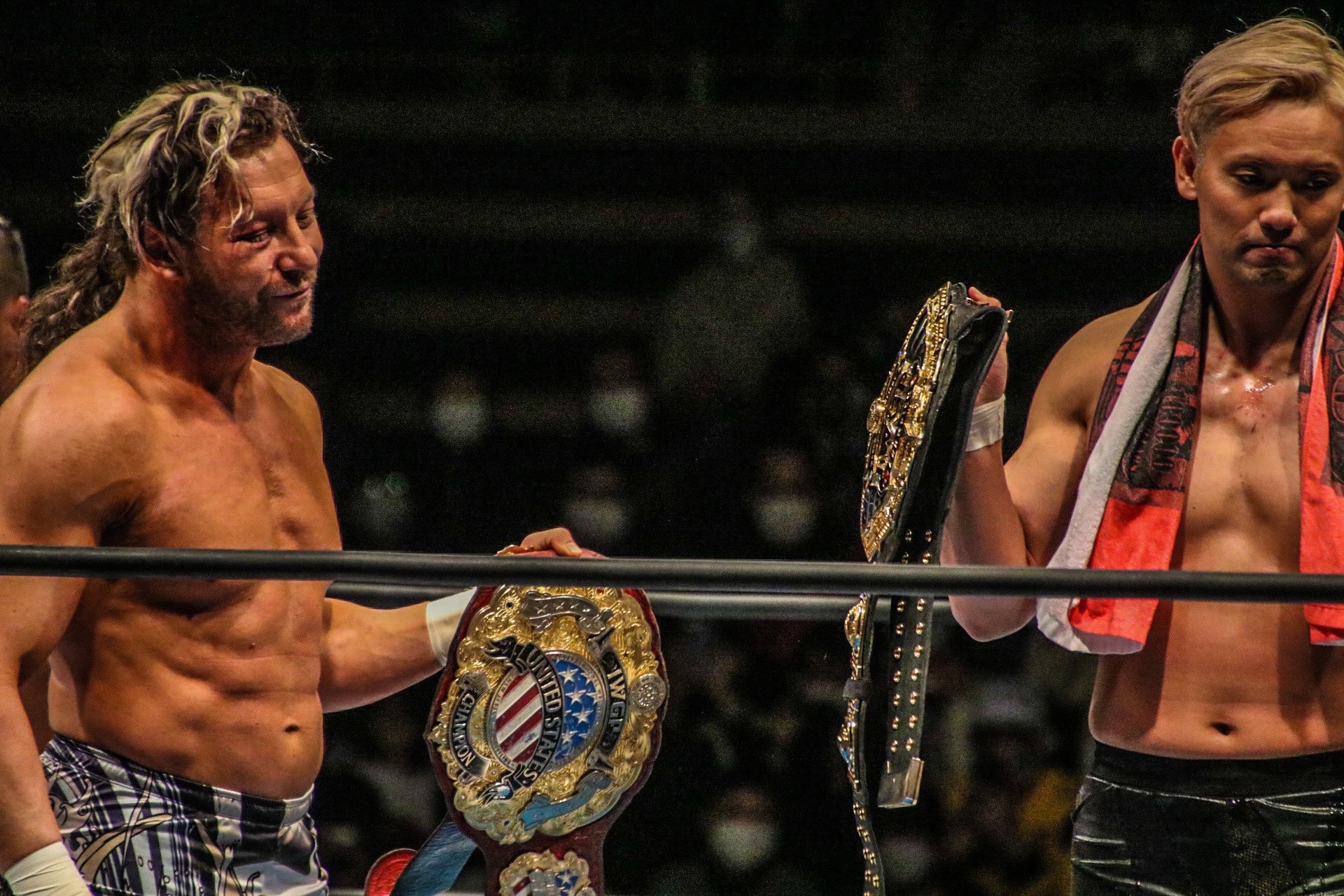 The series of matches that Kenny Omega and Kazuchika Okada had across 2017 and 2018 set the wrestling world alight. Their NJPW rivalry delivered some of the best in-ring performances of all time and many fans are clamouring for the pair to step back in the ring with each other.
Though, since AEW's inception in around four years ago, Omega's appearances in New Japan have been few and far between and, with the next iteration of AEW x NJPW Forbidden Door coming up in June, many are hoping for The Rainmaker and The Cleaner to run back their previous epic battles.
Okada even used Omega's 'goodbye and goodnight' catchphrase recently and, while speaking with Justin Barrasso of Sports Illustrated, the AEW star has noted that The Rainmaker's use of his phrase caught his attention.
"Absolutely it did. I checked my text messages right away to see if there was something I wasn't privy to,"

-Kenny Omega
Kenny Omega's last NJPW stint came last January, where he claimed the IWGP US title at WrestleKingdom 17 and then formed a legendary team with Okada at New Year's Dash. Omega continued his interview with Sports Illustrated by claiming that Kazuchika is someone that he would have the back of going forward.
"I wouldn't be so quick to scratch his name off the list of guys I wouldn't help. Our match together was a wild-card draft. It was a fun time. It felt to me like, 'We had our thing. Our thing is done. I've said it before—Okada is very sharp. He is who he is for a reason. I had a lot of fun teaming with him at New Japan Dash, so I wouldn't strike that off the list of potential people who I wouldn't mind having their back,"

-Kenny Omega
As mentioned previously, Omega is the current IWGP US Champion and, on top of this, Okada is one-third of the NEVER Openweight Six-Man Tag Team Champions. Kenny was quick to state that he and his longtime foe are now in distinct divisions so it's easier for them to put their differences aside and compete together.
"We're in completely separate divisions right now. I'm U.S. champion, and he's competing for the IWGP heavy. It's good to let us exist in our respective worlds and be comrades for a change,"

-Kenny Omega
What lies in store for both Omega and Okada come June 25 and Forbidden Door remains to be seen, though, the two will undoubtedly be featured in high-profile matches.
As always, we'll aim to provide any updates on Kenny Omega and Kazuchika Okada as well as plans for Forbidden Door as we hear more.