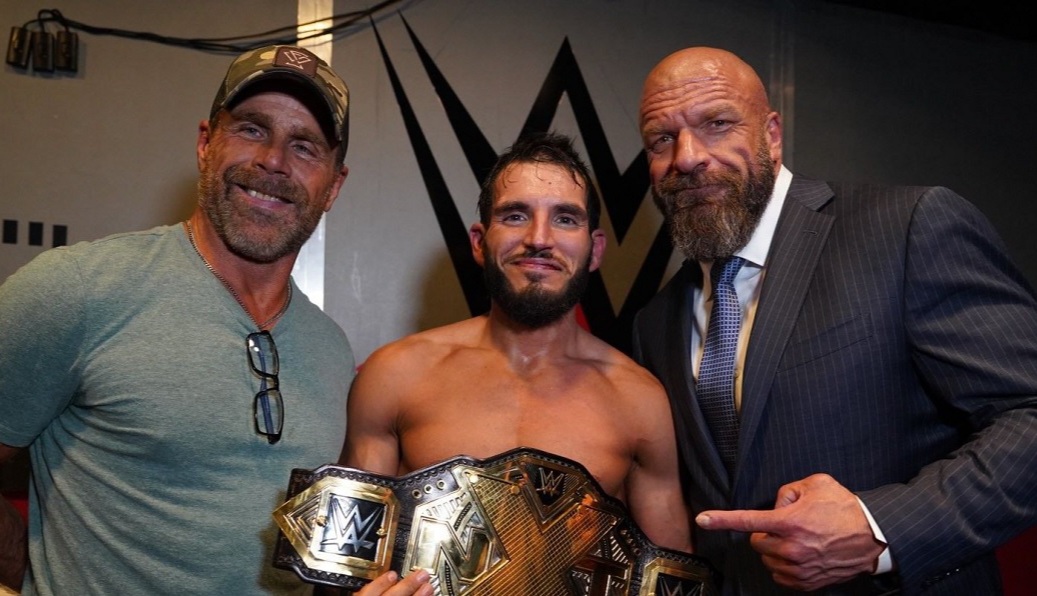 During his six-year spell as a part of WWE, Johnny Gargano became NXT's first Triple Crown Champion under the leadership of Shawn Michaels and Triple H, cementing himself firmly as one of the faces of the Black and Gold era of NXT.
During the "What's NeXt?" stage show at Starrcast V, co-host Kenny McIntosh brought up how Shawn Michaels is often referred to as Gargano's wrestling dad. This prompted the former NXT Champion to bring up how he used to dress up as The Heartbreak Kid for Halloween, joking noting that he likely garnered some dirty looks towards his mother for allowing him to dress up as a "male stripper."
"I bought that man cookies for his birthday. What does that tell you? People clapping for me buying Shawn Michaels cookies for his birthday? There you go. Shawn Michaels was painted on my wall as a child. He was painted on my wall. I used to dress like Shawn Michaels for Halloween, a couple years in a row. Think about that for a minute. I always say, if you're a wrestling fan, you see this little eight-year-old kid walking around dressed like Shawn Michaels, 'That's Shawn Michaels, that's awesome. That eight-year-old kid's dressed like Shawn Michaels. That is awesome.' If you are not a wrestling fan, if you are just a random human and you see a little eight-year-old [dressed like that], you're like, 'Why are these parents letting this little eight-year-old kid dress like a male stripper?' My mom had to get some dirty looks, I'm sure, because she made the costume as well,"

-Johnny Gargano
Years later, Gargano had the opportunity to work with his wrestling hero in NXT, and he even paid tribute to the two-time WWE Hall of Famer at NXT Takeover: In Your House 2021 with an attire reminiscent of Michaels' classic look.
Gargano emphasised how learning from the legend was an "incredible asset" and stated that both Michaels and Triple H share the title of being his wrestling dads.
"To go from that to him being my NXT dad, being my wrestling dad, him and Hunter are my wrestling dads, is literally wild. It remember when he started in NXT and Shawn started coming around more, he was dipping his toes into maybe helping around NXT a bit, helping out with Hunter. I remember me and Tommaso were walking down a hallway in the Performance Center, and we saw Shawn standing there, and we're like, 'We're not ready to say hi to him yet, we're not ready to say hi to him yet.' So we like ran [away] because for my money, he's the greatest to ever do. I know that's an opinion-based thing, but for my money, Shawn Michaels is the greatest to ever do it, and to have the greatest to ever do it in my back pocket whenever I need an opinion on something or whenever I need advice, it's just such an incredible asset to have, him and Hunter both,"

-Johnny Gargano
With Triple H now at the helm of WWE's creative team, many are speculating that Gargano, who currently finds himself on the free-agent market, may be about to return to the company, with a Triple H-led main roster likely to appeal more to Gargano than the previous Vince McMahon regime.
H/T to Fightful for the transcription.