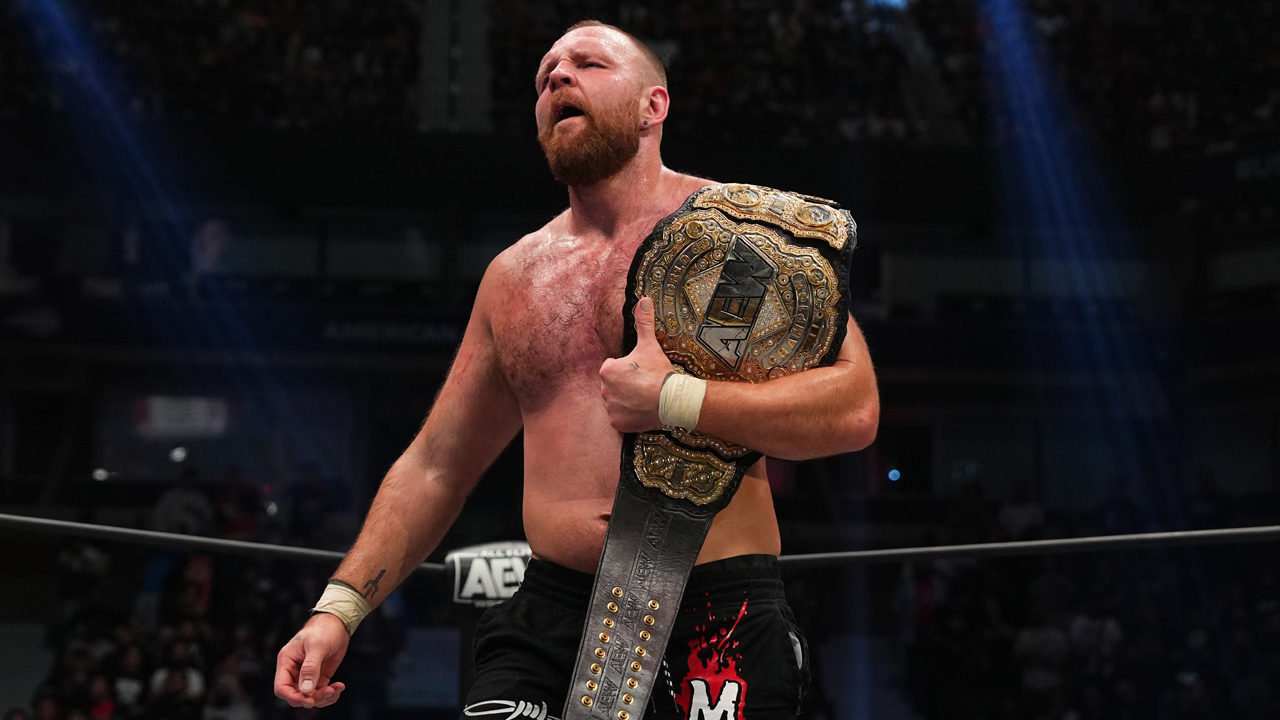 This past Friday saw All Elite Wrestling officially announce that the current AEW World Champion Jon Moxley has signed a five year contract extension, keeping him with the company until 2027 at the very least.
Sports Illustrated recently had the chance to discuss this new deal with Moxley, where the Blackpool Combat Club member made it clear that extending his deal with AEW was never in doubt.
"I don't plan on going anywhere else. It's the best job in the world, and I'm very lucky to have it. In AEW, all I worry about is wrestling. That's my focus, and that's a joy. I love storytelling, I love promos, I love wrestling. I love coming up with ideas for other people, I love learning. For me, it's a perfect fit."

-Jon Moxley
Alongside his additional years, Moxley's new deal with the company also provides him with a greater responsibility backstage, as he'll now take on an expanded role with mentorship and coaching. Numerous reports lately have stated that the AEW locker room have a high level of respect for Moxley, and praised him for his involvement in recent talent meetings, and thus its no surprise that he's been given a greater role backstage as a part of his new deal.
Having been in the pro-wrestling industry for almost 20 years, Moxley is more than knowledgeable enough for his new role, and feels as though his various experiences across both the independent scene and his time in WWE as Dean Ambrose will provide him with all the skills he needs to succeed in company that he admits he wishes was around at the beginning of his career.
"I'm a good gap between the old generation and the new generation. I come from the Les Thatcher system, so I understand paying your dues and respecting veterans. I'm also old enough to know what it was like to go to the post office and send stacks of my videotapes—ones I had to make—to promoters. I was also there for the advent of YouTube, and I was one of the first indie wrestlers to gain a buzz doing that. My friend had a video camera and a laptop, so I would cut promos every week on my indie shows and used YouTube to my advantage. When I started in 2004, there was WWE and some other indies, but there wasn't much money in them. There was a big gap in between when you first started and actually having any success in the business. Now there are so many tools and so many promotions, and such a great fan base, and wrestling has evolved so much. It's a great thing for the fans and the wrestlers. No one is shoving a script in your face telling you what you have to say. I wish I had this opportunity in AEW when I was 25. I hope the young people at AEW understand how cool this place is."

-Jon Moxley
Moxley now finds himself in his third reign as the AEW World Champion, although this wasn't always planned to be the case, as Moxley has gone on the record himself to state that he intended to take a month-plus vacation following the All Out PPV in early September. Despite this, Moxley stepped up in the wake of the CM Punk/Elite suspensions, firmly cementing himself as the Ace of the promotion.
Discussing this planned absence, Moxley revealed that it was more to do with a storyline they were intending to explore, although it wasn't long after the All Out show that he decided it was no longer going to be the case.
"I was going to be gone and off TV for six weeks. It wasn't that I needed a vacation. I was feeling good and feeling hot, but it had to do with what we were going to do for a story. Going into All Out, I was thinking, 'After I get through this match, that's it for a while.' I wrestled the match, and we kicked each other's ass. I was happy, Chicago was happy, everybody was happy. I went outside to smoke a cigarette with Eddie [Kingston] in celebration. That vacation lasted about 30 minutes. By the time I went to bed that night, I was pretty sure we were going to pretend that vacation was never going to happen. But it's all good; you just roll with the punches."

-Jon Moxley
Moxley was absent from AEW TV between November of last year and January, as he spent time in rehab in order to work on his alcohol issues. Since returning at the start of the year, Moxley has arguably been on the run of his career, and credits his improved health for allowing him to reach the form he's at now.
"A year ago, I wasn't in the same head space, I was all f—ed up. I hated traveling. I was living in Vegas, felt like I was always in an airport, flying coast to coast, and I was sick of leaving my family. I thought about freelancing when my deal was up. Not that I would leave AEW, but I didn't want to be there every week. I was in a bad place. Then I went to rehab and all that, and now I'm in a totally different headspace. We're living in Cincinnati, too, which is great. I look forward to going to TV every week. I get to see my friends in the Blackpool Combat Club. I'm not f—ed up. I have a clean headspace. My life is completely different than it was a year ago, and all for the better."

-Jon Moxley
Another interesting detail of Moxley's contract extension announcement was that it appears as though he'll be solely working for AEW and their international partners, including NJPW, and thus it appears as though his endeavours on the independent scene have now come to an end. This was further supported by him dropping the GCW World Championship to Nick Gage this past weekend, although Moxley made it clear when speaking to Sports Illustrated that his story on the independents isn't over yet, and it's more about finding what works for him.
"If there's something I want to be part of, I'll find a way to make it happen. That's tougher now—I have my family, AEW and New Japan. But I love supporting independent wrestling. So you never know when or where I might show up."

-Jon Moxley
By his own admission, Moxley's career in pro-wrestling has been one filled with ups and downs, and it is these experiences of overcoming adversity that have made the 36 year-old the unique performer that he is today. Discussing these ups and downs, the former Dean Ambrose claimed that he's happy where he is with his career, and emphasised that there's no one else like him in pro-wrestling today.
"I've been at the highest highs and the lowest lows, I've been destitute, dirt poor sleeping under stairwells, I've flown in private jets, and everything in between. I have a pretty good understanding of what's important in my life. I'm not worried about any arbitrary goal right now. I have an infinite mindset. I have the joy of getting to do what I love to do, and I do it with people I respect and for people who love watching it. That's my focus. Why would I waste my time thinking about the dumb s—? I'm really happy where I am. In this game, your only competition is yourself. I've realized that over time. There's no other me out there. I have a pretty specific ever-evolving, proprietary blend of s— that is me. As long as I keep making that a little better every time I'm out there, I'll be good."
For the majority of this year, Moxley has been aligned with William Regal, Bryan Danielson, Claudio Castagnoli, and Wheeler Yuta under the Blackpool Combat Club banner. The AEW World Champion credited his stablemates for helping to revive his unabashed passion for pro wrestling.
"It's not like you get sober and instantly feel great. This takes time. I felt kind of whacked out when I first came back; my first couple matches felt like out-of-body experiences. Being in the ring with Bryan again at the beginning of the BCC, that's when it all started to click again. And it became fun again. Everything, and I mean everything, became fun again. A few months later, somewhere along the line after the Anarchy in the Arena [match at Double or Nothing], I realized I was having a f—ing great year. Even though I'm working my ass off, I'm not trying too hard. I'm letting the match come to me. I'm letting the promo come to me. It's fun as s—, and I have so many great f—ing people to wrestle. It's so much fun. Regal is in my ear after every match. I know exactly what I want to do, even if it's just perfecting my Europeans in a match. That pumps me up. I practiced this kick for a month, and I nailed Juice [Robinson] with it [two weeks ago on Dynamite]. I felt so f—ing good about that. My goal is to keep getting way better. I want to wrestle into my 50s and become one of those crusty old-man wrestlers. It's going to be f—ing awesome."

-Jon Moxley
Since returning to AEW in January, Moxley has been operating on the highest level, having carried the company through a number of difficult periods of certainty. Closing out the interview, AEW's self proclaimed Ace praised the talent of the roster, and admitted that he's excited to see what the future holds for the promotion.
"I want to be better tomorrow than today, and I want to be better next week. Our roster in AEW has so much talent. Men and women, it's f—ing crazy. I'm jealous of most of them, and I want to work with all of them. Now there's plenty of time to do it. I'm very excited about the future and what could possibly happen. I have no idea what will happen, just like I had no f—ing idea what was going to happen in 2019. So I can't wait for what's next."

-Jon Moxley
Moxley came face to face with Hangman Adam Page on this Wednesday's Dynamite in Toronto, with the pair set to clash for the AEW World Championship on next week's rare Tuesday night edition of the show that will take place in Moxley's hometown of Cincinnati, Ohio. Regardless of whether Moxley emerges with his championship reign in tact at the end of next week's show, there can be no doubt that he's been one of the most in-form wrestlers of the year, and we certainly can't wait to see what the next five years hold for him.