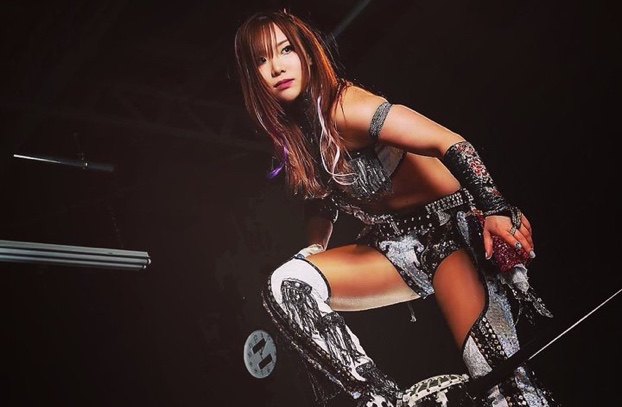 With Stardom's World Climax rapidly approaching, the double-header event is shaping up to be a can't miss show. The card features a number of highly anticipated title matches that are sure to have viewers on the edge of their seats, as well as a host of multi-woman matches that have the possibility to be show-stealers. Perhaps the biggest point of intrigue is the return of one of Stardom's most important figures from their past, "The Pirate Princess", KAIRI.
Initial Stardom Run (2012-17):

Before diving into KAIRI's World Climax matches, it is important to explore her significance to Stardom in her previous spell there. Passing her pro test in November 2011, the then named Kairi Hojo would make her Stardom debut on January 7th in a losing effort to Yuzuki Aikawa. This early loss would not be a sign of things to come however, as in the ensuing years Kairi Hojo would go on to become one of the most decorated women in Stardom history, capturing an array of titles whilst delivering some of the most exciting matches across the wrestling world. Her first taste of Stardom gold would come in April 2013 as she aligned with Natsumi Showzuki as "Ho-Show Tennyo" to capture the Goddess of Stardom Championships. Whilst an unfortunate spinal injury to Showzuki would cut their reign short, it wouldn't be long until Hojo had a title around her waist once again, as she would commence her first reign as one third of the Artist of Stardom Champions, alongside Yuhi and Kaori Yoneyama (whom recent Stardom viewers will be more familiar with as Fukigen Death). 2015 would prove to be a crucial period in the Stardom career of Hojo, as in the aftermath of the infamous Yoshiko vs Act Yasukawa match (which for those unfamiliar is a story for another time), Kairi became an intermediary between the wrestlers and management in order to bring the two closer. This was a clear show of faith from Stardom's management in Hojo, and her trajectory after this decision was made is only further evidence of how highly regarded Kairi was at the time.

The aforementioned incident left the World of Stardom championship vacant, and thus a four-woman tournament to crown a new champion was announced. On March 29th, Hojo first defeated Kyoko Kimura, and then Io Shirai to capture her first and only World of Stardom Championship. A relatively short reign was to follow, with Hojo defending the title three times across 4 months before falling to "The Final Boss" Meiko Satomura. Kairi would immediately bounce back from this defeat, coming out victorious in Stardom's major singles tournament, the 5 Star Grand Prix in September of the same year. Her title reign along with this tournament win led to Hojo being named Stardom's MVP of 2015, a highly deserved award that acknowledged her as one of the best wrestlers worldwide. Perhaps Hojo's most memorable period in Stardom begun in January of 2016, as she formed the super-stable "Threedom" alongside former rivals Io Shirai and Mayu Iwatani. The trio reigned as Artist of Stardom Champions for 217 days, capturing the title just over a month after their formation, and their breath-taking performances led to Dave Meltzer of the Wrestling Observer Newsletter declaring the trio as "three of the best wrestlers in the world". The trio would not limit their exploits to the ring of Stardom, as they made their presence known in Lucha Underground under the guise of "The Black Lotus Triad", being led by Angela Fong. Hojo, at this time wrestling as "Doku", would come up short as part of a trio of brutal matches with AEW's Pentagon Jr during this brief run, although despite the result, the match was further evidence of the trio's brilliance inside the squared circle.

In addition to their exploits as a unit, Hojo would capture Stardom's secondary title, the Wonder of Stardom Championship, during the team's lifespan, defeating Santana Garrett on May 15th of 2016. This is almost certainly the title most synonymous with Kairi during her first Stardom run, as she would go onto hold the title for just a day shy of a year, with a total of 8 defences across her reign, making her the 4th longest reigning champion in the title's history. At the time of her unsuccessful defence to Mayu Iwatani in May of 2017, Threedom had already disbanded due to Io Shirai turning on Iwatani. It also came two months after it was first reported that Hojo had informed Stardom management that she was departing the promotion for WWE. She would officially announce her intention to leave Stardom for an unspecified reason in May, and her final month with the company would see a one night only Threedom reunion, a final Artist of Stardom reign alongside Konami and Hiromi Miura, and an unannounced series of one-minute matches against 10 members of the Stardom roster, finishing with three wins, six draws and one loss for Hojo.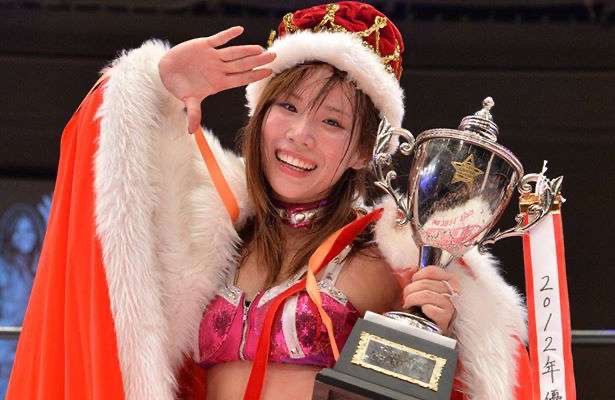 WWE/NXT (2017-21):

On June 30th, 2017, at a WWE house show in Tokyo, Hojo was introduced to WWE's developmental brand NXT as well as being announced for the initial Mae Young Women's Classic tournament, under the new ring name 'Kairi Sane'. She would prove to be the standout amongst a wave of top talent, as Sane defeated Shayna Baszler on September 12th in the tournament finals, and thus earn herself an opportunity at the NXT Women's Championship. Whilst she was unsuccessful in challenging Ember Moon for the gold, Kairi would get another shot following a triple threat match against Candice LeRae and Nikki Cross to determine a new number one contender in June of 2018. This time, in a rematch of their Mae Young Classic match Sane was able to best Shayna Baszler at NXT TakeOver: Brooklyn IV on August 18th to become the new NXT Women's Champion. Unfortunately for Sane, much like her Wonder of Stardom Championship reign, this reign would also be a short one, as Baszler reclaimed her title at WWE Evolution on October 28th, making her the champion with the shortest reign in the title's history at 71 days. An unsuccessful rematch would follow, and Sane would see out her final months aligned with former Threedom teammate Io Shirai as "The Sky Pirates", before being called up the main roster in April of 2019.

On April 16th, 2019 Paige announced the Smackdown arrival of the newly formed "Kabuki Warriors" consisting of the recently drafted Kairi Sane, as well as Asuka. The duo would be unsuccessful in their first two challenges for the Women's Tag Team Championships but would eventually pick up the gold at the October 6th Hell In A Cell event from Alexa Bliss and Nikki Cross following Asuka's use of the green mist. The next night on Raw, the Kabuki Warriors would cement their heel turn, with the newly crowned champions attacking their manager, Paige. The tandem would then embark on what is still to this day the longest single reign in the history of the titles, with WWE officially declaring the reign to be 181 days long. In the months following their championship loss at Wrestlemania 36 to Bliss and Cross, Sane would begin to take a backseat to Asuka who had recently captured the Raw Women's Championship. Sane would often come up short in matches to Asuka's eventual challengers, with WWE utilising her as a stepping-stone to get to her partner. Kairi's WWE main roster run was not only marred by poor booking however, as Sane also suffered through a string of injuries during her time on Raw, with the most significant of these being the head cut she received at the hands of Nia Jax, which was edited out of the broadcast. Whilst Sane's final match in WWE would be a major victory over then Smackdown Women's Champion Bayley, she would be attacked the following week on Raw by the champion as a way to write Sane off TV, as she was departing America in order to return to her homeland of Japan to be with her husband. Sane began working as an ambassador for WWE in Japan in October 2020, with her deal eventually expiring in December of the following year, making her a free agent. It is fair to say that Kairi's main roster WWE run was an underwhelming one given what fans of her work in Stardom may have expected, although thankfully for those fans, and the numerous new followers she gained during her time in the States, this wasn't the end of the journey.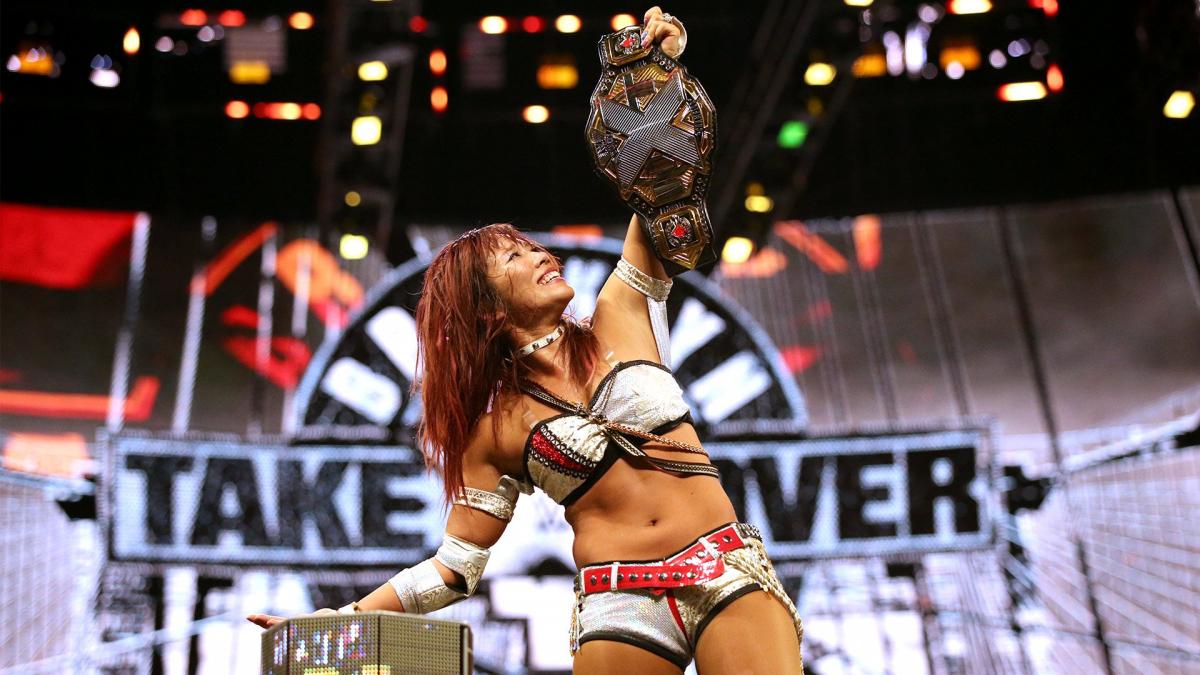 Stardom Return (2022-):

Beginning in January 2022, Stardom's twitter account (@wwr_stardom) began posting a series of backstage vignettes showing current Wonder of Stardom Champion, Saya Kamitani, requesting a one-on-one showdown with NJPW's Kota Ibushi from Rossy Ogawa. During these backstage segments, Saya noticed that Ogawa was meeting with a mysterious woman, who on closer inspection, Saya appeared to recognise. Despite Kamitani's history of leaking information, she was able to prevent Stardom fans from discovering the identity of Ogawa's surprise competitor, although the secret appeared to spread its way through the active roster, as further vignettes showed stars such as Momo Kohgo and Mayu Iwatani learn of the news. Stardom would eventually announce a press conference to be held on February 18th, with Ogawa teasing that whoever the reveal may be, their contract elsewhere had expired, and they were expected to appear at Stardom World Climax. Expectedly, Stardom fans on social media began to speculate on the identity of this mysterious figure, with hopeful viewers wishing for the return of the former Kairi Hojo, given the limited clues left by Ogawa and the Stardom roster. Thankfully, Stardom were able to deliver on this wish, with Hojo/Sane announcing her return under the mononymous name of just KAIRI. The former World and Wonder of Stardom Champion stated that the name change was symbolic of her entering her "final form", hinting that this is to be her final run as an active performer.

This brings us back to the World Climax pay per view event, as KAIRI has been announced for both the 26th and 27th of March shows. Her first outing back in her home-promotion will be a reunion of two thirds of Threedom, as KAIRI requested Mayu Iwatani to be her partner against the Cosmic Angels duo of Tam Nakano and Unagi Sayaka. This match came about when Sayaka, who deems herself Stardom's resident "Assessor" decided she would be the first to test KAIRI's ability. Sayaka was seemingly unaware of both KAIRI's past endeavours in Stardom, as well as her WWE career, as Tam was quick to ensure Unagi that it would be KAIRI doing the "assessing". This match is sure to excite fans, with many fans likely never expecting to see a Threedom reunion following KAIRI's 2017 departure, and the Cosmic Angel's pairing both having standout years in 2021. Many will be eager to see how the pair match up against two of Stardom's greatest and if KAIRI and Iwatani still have the chemistry to deliver.

KAIRI'S second outing came about as a result of the moments of her return press conference, as the OEDo Tai trio of Natsuko Tora, Starlight Kid and Momo Watanabe ambushed KAIRI declaring that they ruled over the promotion now. Following on from this, KAIRI appeared at a house show to save her former "Poirates" teammate Natsupoi from an OEDo Tai beatdown. This led to a stare down between the "Pirate Princess" and Starlight Kid, who demanded KAIRI face her on Night 2 of World Climax. KAIRI's first singles match back in Stardom will have the wrestling world watching, and I could think of no better opponent than the despicable Starlight Kid to have the honour of facing her. The "Sky Tiger" has arguably been Stardom's MVP over the last few months delivering in high profile matches with the likes of AZM and Koguma, as well as developing at an alarming rate into one of the best heels across all of pro-wrestling. Whilst KAIRI and Iwatani are undoubtably the favourites in their tag team match the previous night, this appears to be much tougher to call, with a big win for KAIRI pushing her back into the upper echelons of Stardom's main event scene, although Stardom may be tempted to reward Kid with what would be the biggest win of her career, and thus this match is sure to be a can't-miss contest.

Beyond Stardom World Climax, the future of KAIRI remains relatively unknown, with her absence from Stardom's Cinderella Tournament in April. One match Stardom viewers can expect in the future for KAIRI is a Wonder of Stardom Championship challenge, as she announced her intention to vie for her former title on the day of her return. Whether or not her opponent will be Saya Kamitani is a question for after the two-day event, but whoever the champion may be will face their hardest challenge yet when KAIRI steps up to the plate. Another question on the mind of many is KAIRI's status as factionless. She is currently the only member of Stardom's active roster without a faction alignment, and it is hard to see her playing second fiddle to anyone as it stands. Her teaming up with Mayu Iwatani may be an indicator of her potentially aligning with STARS, although Iwatani's faction has only grown stronger in recent months and adding KAIRI may make them too strong in the power-balance of Stardom. As previously stated, KAIRI has connections within Donna Del Mondo in the form of Natsupoi, although DDM is currently on the verge of a breakup, and so the group may not even remain in the aftermath of World Climax. Queen's Quest is the only other faction that makes a degree of sense for KAIRI, as her former partner Io Shirai's former stable currently finds themselves without a distinguished leader, leaving the door open for KAIRI to take the reins. The issue with this, however, is that Queen's Quest, similarly to STARS, already has top talent that could claim to be leader-material, and so KAIRI would likely take the shine off of those deserving of the opportunity. In my opinion, the most likely outcome for KAIRI as of writing is her starting her own faction, potentially including a departing Natsupoi in the wake of a DDM split, along with potential newcomers to Stardom if Ogawa feels like expanding the roster further.

Regardless of what the future may hold, Stardom fans across the world, myself included, can't wait for the return of KAIRI this weekend. The moment 'Last Voyage' rings throughout Ryogoku Kokugikan for the first time is sure to be an unforgettable moment, as will be her first death-defying elbow drop to whoever her first victim may be. Both nights can be purchased via Stardom's PIA livestream service, with links to purchase available on their English Twitter account (@we_are_stardom). For all fans of the "Pirate Princess", old or new, it is absolutely one to mark on your calendars.