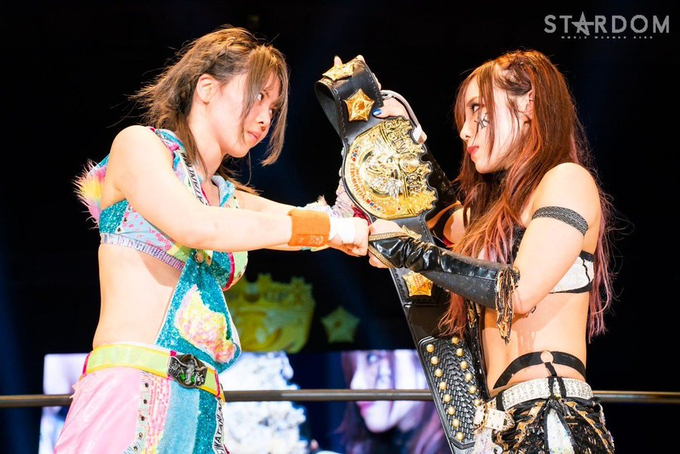 Inevitably, wrestling strikes us in our core beyond laughter, fear, and excitement. Sometimes wrestling just touches you.
I remember as a pre-teen, bawling my eyes out as WWE aired the tribute show for Eddie Guerrero on SmackDown, and again recently when Scott Hall passed away. There's been wrestling moments that have made me cry, such as Shawn Michaels retiring or, fittingly enough, Mayu Iwatani finally overcoming Io Shirai.
I'm afraid Mayu has done it again and touched a part of me that helps keep me believing in overcoming the hardships and pain life leaves us with. Only this time, on a rare occasion, she's done it to me during a match – her main event bout with KAIRI at NJPW x Stardom: Historic X-Over.
Many may know her for her time as Kairi Sane in WWE, where she was NXT Women's Champion and Women's Tag Team Champion with Asuka as a part of the Kabuki Warriors, but overseas, she was a beast of a different nature, putting on performances that would leave your undergarments soiled. The Pirate Princess had to inevitably set sail for home, however. The seas had shown her all she needed to see, and she had to gaze upon the scene she left behind.
Mayu Iwatani in the meantime, had held down the fort; unlike KAIRI and Io Shirai (IYO SKY as she's known as in WWE), Iwatani didn't have that itch to leave for America. Mayu lived and breathed Stardom. Io, KAIRI, and Mayu were the sisters of World Wonder Ring Stardom, after all. Now that the tides have changed, Mayu looks down on this part-timer, albeit with a bit of respect and love still there.
A bountiful treasure would drive them together, but not in the friendly way one would think. As NJPW and Stardom announced the IWGP Women's Championship, the stakes were high. KAIRI needed this belt to prove she had what it takes to become champion in the promotion that made her. Mayu, the stalwart soldier, vowed to be the inaugural champion, and frighteningly enough, she would relinquish her SWA World Championship to focus solely on the brand new bounty that lay before her colorful visage.
With this ultimate goal firmly in mind, the two women enter with their own fire. KAIRI marches, helm on her hand and tricorne hat atop her head. Her music dictating a cinematic, adventurous aura about her. Mayu Iwatani approaches to the tune of music that reminds me heavily of Sonic Adventure 2, a punk rock zombie that has, and always will, bite and claw and fight her way to where she belongs.
The history between the two women hangs in the air, as pungent as the smell of gold that wafted in the air. The bell rings, and the sport commences.
Mayu Iwatani unleashes offense that expends so much energy, but as she sends her gales to stun the sails of KAIRI, the pirate keeps herself anchored and tethered; the returnee is grounded and sea-hardened by the aerial assault of Iwatani. KAIRI has walked this room several times over, she can take every missile dropkick and agonizing targeting of her elbow. Despite the wear and tear of the night before, lasting thirty minutes with Saya Kamitani, she picks up the momentum, bringing a viciousness that fans of WWE would not have expected of her. Swashfuckle around and find out.
Perhaps one of my favorite spots in puro and joshi involves the entrance ramp, and this match is no exception as Mayu walks the plank, felled by a drop toe-hold before KAIRI stomps and delivers a gut-destroying hard knee. From then on, however, the drama and emotion ramped up to maddening degrees.
Throughout the match, KAIRI wears such a grin of insanity, unhinged and knowing she has to match Mayu. This isn't the Mae Young Classic. She knows it by the paralysis after her spinning backfist that drops Iwatani and herself, as her knees give out. Around this time in the match, I always find goosebumps on my skin, my breath shorter, and the welling of tears in my eyes. Mayu keeps getting up, living up to her zombie mentality. There's no stopping Mayu, until every resource of both parties is exhausted, and this treasure will elude KAIRI as long as there is a soul that beats in every pore of Mayu Iwatani. Even in the Tree of Woe, she refuses to go down easily. This is her promotion, her story, her life. She'll fight until it destroys her and breaks her strong-beating heart, as evidenced to her swollen and bleeding elbow.
The magic in this is that both women deliver the stiffness befitting of Stardom classics, while knowing how to be out of the way and playing to each other's histories and who their characters are at their core.
The waves are crashing along the shore as the emotional storm rages on, to the sound of the claps of the Tokyo crowd. To win, one wrestler or the other has to cross the grand line and see this match to their own victory.
A Cutlass Strike all but staggers Iwatani, who seems to savor it, driven by an undead hunger, and the tears that make a glassy eye stream down my cheek. Iwatani almost has this won. This is so much of what her career has been heading towards. To be an inaugural champion of an historic belt would make her sacrifice of another all the more worth it.
KAIRI is ready, ready to destroy her whole godforsaken arm to win this. Even if it means destroying her sister, another petal of a black lotus triad. The frustration is immense in the pirate princess, wondering just how Iwatani can keep going. Simple – Iwatani has to go from base to base until she reaches home plate.
Their faces read, their bodies bruised, there has to be an endgame. The superhuman Iwatani and the cunning of KAIRI seem to outlast their bodies. Their souls burn so damn hard for this. The stakes are high, and their journeys have to mean something. This is what makes professional wrestling so magical.
The waters of a spinning backfist drown Iwatani, leaving her carcass to be dragged just neatly into position, closer to the center. That wild grin of KAIRI is now replaced with tearful determination – almost as though she doesn't want to deliver this final blow, but she knows Iwatani wouldn't have it any other way.
The home trophy has eluded Mayu Iwatani and I am fully sobbing. The release is over, and the women cry their hearts out as well. They reach for another, as waves crash and seagulls chirp alongside KAIRI's music. There doesn't seem to be as much bitterness, as though the fight was about the very essence of what makes Stardom one of the world's most special wrestling promotions. With a playful flick to KAIRI's nose, Iwatani departs, helped to the back.
KAIRI is now free to open the chest and retrieve her newly won treasure, having crossed the grand line.
When this match first happened, I saw many distraught for Iwatani or happy for KAIRI. I love both women and I love them even more for this story. Iwatani has that connection where she could pull those tears, and KAIRI holds more familiarity with me during her WWE days, and that's why, to me, this match is one of my top ten of 2022.
Who could've known that Davy Jones's locker could be so heartbreaking and emotional?