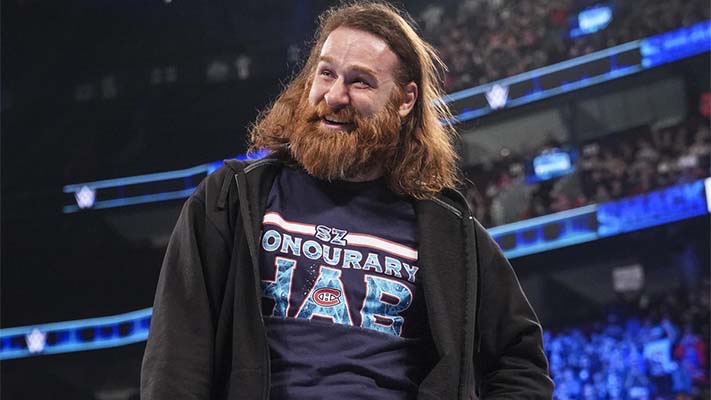 WWE is set to present their Elimination Chamber PLE from Montreal, Quebec, Canada in just a few hours from now, with the show set to be headlined by Roman Reigns defending the Undisputed WWE Universal Championship against hometown hero and former 'Honorary Uce', Sami Zayn.
Many WWE fans are pulling for the Canadian to overcome Roman Reigns tonight, though it still appears improbable that Zayn will walk out on top. Tonight's event will go a long way in shaping the lineup for WrestleMania 39, with Cody Rhodes waiting in the wings to face the winner of Zayn and Roman at The Show Of Shows.
Main Event Radio recently had the chance to catch up with the former 'Honorary Uce' before his big match against Reigns. Zayn started by talking about how he's feeling heading into tonight's show, stating that it's hard not to feel great about a match this special to him and his city.
"It's hard not to feel great. This easily could have been the Wrestlemania match, in my opinion. The fact that this is happening in Montreal is almost more special. This is my Wrestlemania for sure. And then there is Wrestlemania for real right after that. It's been a great time for me. It took a lot of variables to converge for us to find ourselves in this position but here we are. Every metric that we have to measure success – crowd reactions, merchandise, ratings, social media engagement – every indication has been that this is a very special story that we haven't seen in a long time."

-Sami Zayn.
Zayn then discussed what led him to this point: The Bloodline story. Sami acknowledged the length of the feud while pointing out that tonight's meeting with Reigns comes at the story's hottest point.
"It is amazing to be a part of a story that is that hot, and we are almost 10 months in and it is the hottest that it's ever been. We are going into this match Saturday night at the Bell Center at a point where it's hotter than it's been at any point in the story. And I don't really know if there is another story in existence that peaks 10 months in. A testament to the story, the performers, the behind the scenes people who contributed for us to reach this point. And the fact that Montreal has become part of the story, and not just a place where the event is taking place. The fact that it is taking place in Montreal is crucial to the story, Montreal is now a character in the story."

-Sami Zayn.
To close, Zayn was asked about the chance of him actually walking out of Montreal victorious, with him taking quite the optimistic approach.
"I think it's a very realistic possibility. And it's amazing to say that because I don't think we could have said that a year ago or two years ago. But now, anything can happen."

-Sami Zayn.
Whether or not the Canadian can win WWE's top prize remains to be seen, but tonight's match will be historic, to say the least. Many fans will be on the edge of their seat to see how the main event tonight unfolds.
Elsewhere on the card, the chance to challenge Bianca Belair for the Raw Women's Championship will be up for grabs as Asuka, Carmella, Liv Morgan, Raquel Rodriguez, Nikki Cross, and Natalya step into the Elimination Chamber, whilst Austin Theory is also set to put his United States Championship on the line against Johnny Gargano, Bronson Reed, Montez Ford, Damian Priest, and Seth Rollins inside the structure.
H/T to PWInsider for the transcription.