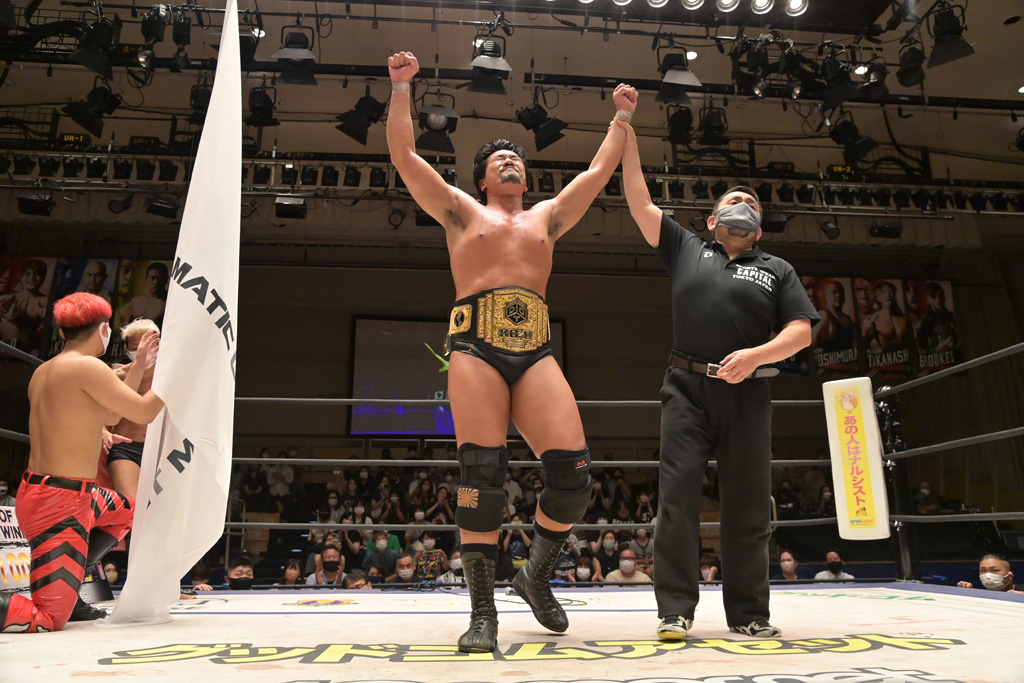 The annual King of DDT tournament culminated today at Korakuen Hall. The tournament was for the KO-D Openweight championship, since the previous champion Tetsuya Endo had to vacate the title due to a concussion that he suffered at the Cyberfight Festival. Heading into the show we had two semi finals laid out. Yuki Ueno vs Naomi Yoshimura and Kazusada Higuchi vs Jun Akiyama. After what turned out to be two very good matches, Yoshimura and Higuchi won their respective bouts, meaning that our King of DDT Final and the KO-D Openweight Championship match was set: Kazusada Higuchi vs Naomi Yoshimura.
Before that though, a little bit of history: Higuchi has always been a fan favourite, with the audience willing him on to win the top title for years at this point but until now, he had failed to do so at every turn. Considering that, while this is Yoshimura's first match for the title and so obviously the biggest of his career so far, it's an equally big one for Higuchi. Could he finally fulfill the dream?
The match begins and given the style that both men are known for, it's no surprise that we start with a test of strength and a couple of nice strike exchanges before Yoshimura gains the upper hand. This is where their journeys so far come into play so well. Yoshimura is coming into the match after having perhaps the greatest year of his career, winning the tag titles with the ace HARASHIMA and defeating his tag partner and Yuki Ueno, two of DDT's golden boys, to get here so he's oozing with confidence while as I already mentioned, Higuchi is nervous after his history of failed challenges. Naomi takes great advantage of this with his heavy offense in his control segments. The part that pleasantly surprises me is how good Higuchi is at fighting from behind as the underdog despite his size and then unsurprisingly phenomenal at turning the tide with his own massive offense.
The thing is that Yoshimura is relentless as this is his first title match so he doesn't want to leave anything on the table. We even get a nod to our hero Akira Taue with the Nodowa Otoshi. They trade bombs and fight for control before we get one of the best examples of no selling that I have seen in recent memory. Higuchi, after a top rope brainbuster just gets up and proceeds to deliver a German suplex which turns into a fantastic no selling/bomb throwing sequence.
The finishing stretch is as incredible as you will find anywhere in wrestling all year, with strikes and even more bombs. The pop that they got for the judo throw, Naomi's go-to move against other opponents, being blocked was phenomenal, Higuchi ready for absolutely everything. He refuses to go down. This is his moment. We get a couple of fantastic near falls including one on the brain claw slam before finishing it off with a second one after Naomi tries his best to fight it off to no avail.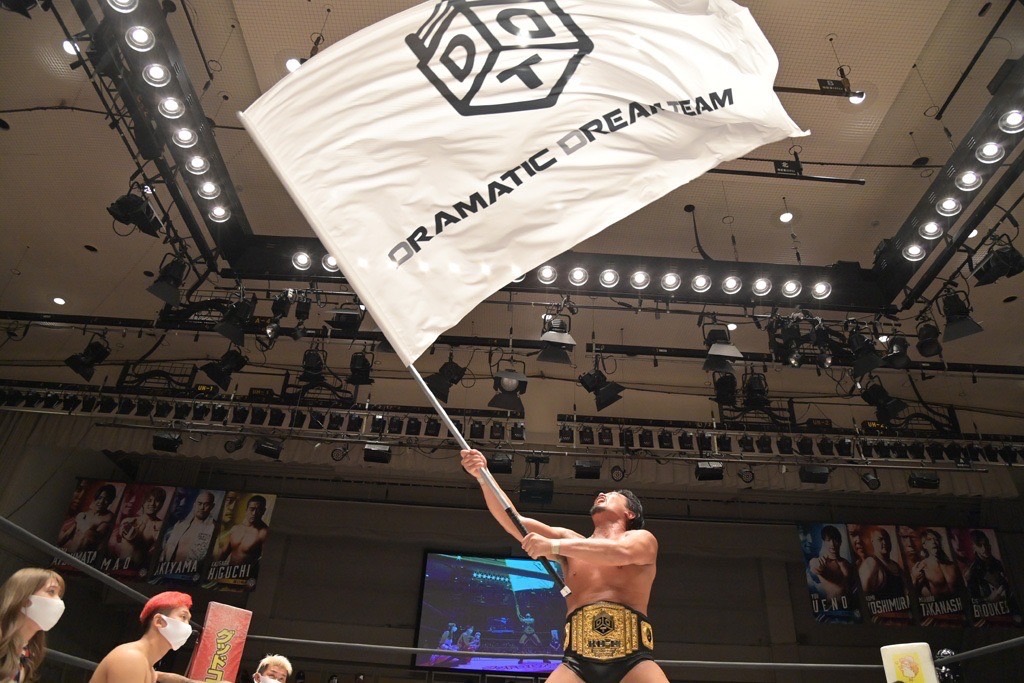 This was one of the absolute best matches of the year and by far the best match that DDT has put out in 2022. The good ol' formula of the beefy men doing beefy thing works wonders to produce an instant classic here for the final of the tournament.
The match is as good as wrestling gets but what's especially great is the entire presentation of Higuchi for this final. His Eruption teammates gave him their robes and jackets during his entrance, showing that he had them all with him in spirit. When the crowning moment came, it was the legendary Jun Akiyama, who had lost to Higuchi in the semi-final, volunteering to do the honours for the new champion. Over a year ago, Akiyama ordered Higuchi to do the same for him, an encapsulation of the hurdle he'd now finally overcome.
The president, Sanshiro Takagi then came out, handing over the promotion's flag and letting Higuchi know that he trusts him to carry DDT into the future. I can't think of a better crowning moment for anyone in recent memory and all for a man who truly deserves it: The Big GOOCH Kazusada Higuchi. Simply put, there is nothing better in wrestling than an organic, emotional title win.