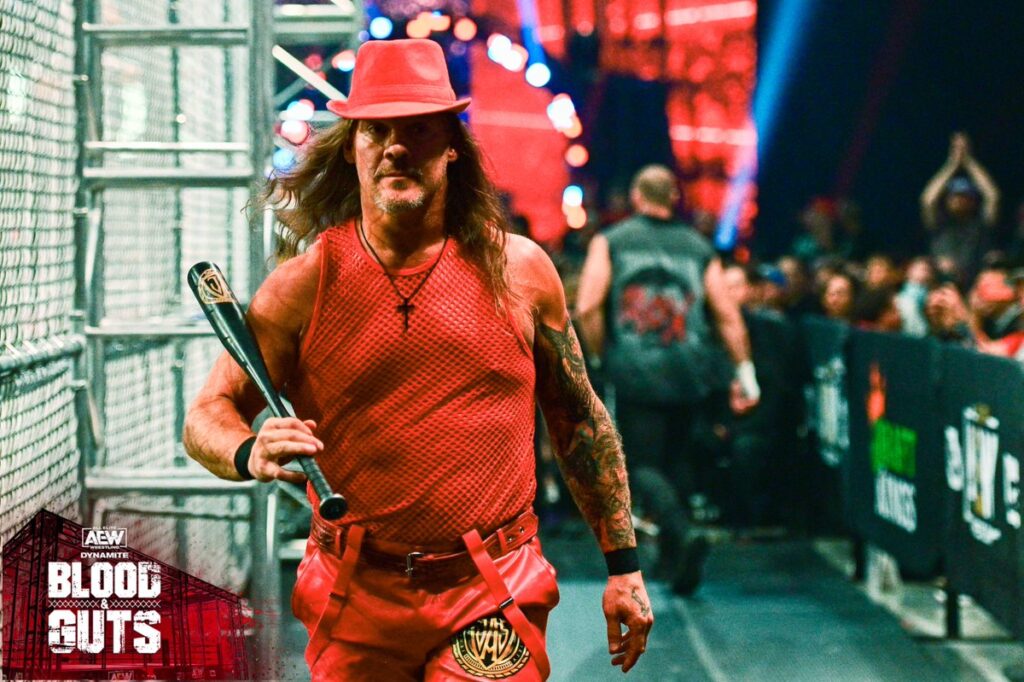 Have you ever eaten something that you initially thought would be terrible, only for it to surprise you? That delectable sensation that travels across your taste buds, and you wonder why you were so against it in the first place?
That's the Jericho Appreciation Society.
The formation of this group is fairly recent, seeing the marriage of Chris Jericho and Jake Hager with the tag team 2point0 (Matt Menard and Angelo Parker) and Daniel Garcia. They would declare that they were now sports entertainers, that they were the Jericho Appreciation Society, and that this is sports entertainment. A bit pompous, if you ask me.
While all five men together were technically sports entertainers, having served time in WWE during one way or another, that was the point. It is meant to be that which stands in the face of AEW fans, and hardcore wrestling fans in general. It almost fits Jericho, Hager, Menard, and Parker, but for the technical wrestler in Daniel Garcia, this didn't feel right. It felt like washing dishes and finding a piece of food still stuck on a plate because somebody didn't rinse it off properly and now you're cringing and uncomfortable.
You don't want to see someone like Garcia be something he's like, but under the lights and glamor of an industry veteran like Jericho, he wanted to be the same as his hero. It just doesn't feel right, and it's by design.
There are more allusions to what WWE does within the JAS, such as toying with the names of Matt Menard and Angelo Parker, who'd become "Daddy Magic" and "Cool Hand", respectively. Further exacerbating the goofy, unbelievable nature of sports entertainment, Jericho would throw a fireball in Eddie Kingston's face, an act that would see him constantly harkening back to that moment, saying he's a wizard and he will throw a fireball in your face. I hate it, and I want to stop, but that also plays on a criticism of WWE, in the way they shove catchphrases and taglines in your face until you grow absolutely weary of it.
At some point, however, things began to shift in the presentation of the JAS, most clearly in the Anarchy in the Arena match at Double or Nothing, 2022 against Eddie Kingston, Santana, Ortiz, and the Blackpool Combat Club. Shit hit the fan in that match, as butchery and carnage reigned supreme. The match was all over the place, and it was violent, filled with blood, mustard, and gasoline. Anarchy in the Arena wasn't wrestling or sports entertainment. It was a brawling war. And it shed a new light on the JAS, one that would prove that the bloodthirst had not yet been satiated.
Before that, a reunion, in which Sammy Guevara and Tay Conti turned toward the man who helped mold him into a wrestling star on national television, as they aided Jericho in winning a hair vs hair match against former Inner Circle member, Ortiz. Before that, a war, in which Jericho and Guevara joined forces by demonic Japanese grandfather Minoru Suzuki, trounced Eddie Kingston (again), Wheeler Yuta, and Shota Umino at AEW x NJPW: Forbidden Door.
This new adventure into crimson rivers and bruised skin took them to the Blood and Guts special on AEW: Dynamite on June 29, 2022, and it became clear that the team of sports entertainers were made of more than name changes and marketable catchphrases.
The Little Caesar's arena in Detroit, Michigan saw the Jericho Appreciation Society emerge wearing red attire, looking like a Y2K-era boy band. A Y2K boy band, if you will. In true sports entertainment fashion, the program went to commercial break immediately after, before the Blackpool Combat Club could make their entrance.
I know I may be biased in my well-documented love for the Blackpool Combat Club, but I feel this Blood and Guts match was superior to the first one – and certainly to the NXT Wargames matches. These men all fought to earn their due, and though they didn't win, the Jericho Appreciation Society handled their second rodeo amazingly well.
They may call themselves "sports entertainers", but they know that deep down they are professional wrestlers. And wrestling is better than the things you like…
…Because that's entertainment.