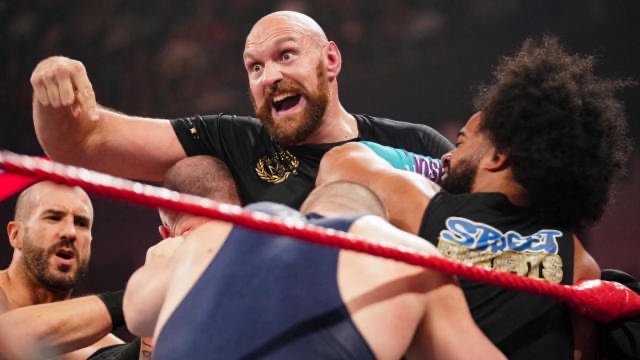 At WWE's Crown Jewel event in Saudi Arabia in October 2019, two-time world heavyweight boxing champion Tyson Fury made his WWE debut, defeating Braun Strowman via countout.
Following his victory over Deontay Wilder in October of last year, Fury told GiveMeSport that he would likely be making a return to WWE this summer.
GiveMeSport have now provided an update on the rumours that Fury could feature on this year's SummerSlam and Clash at the Castle premium live events, noting that the "Gypsy King" is indeed in talks with WWE over a potential return this summer.
The report then clarifies that whilst no concrete plans have been set for a potential Fury return thus far, talks have certainly taken place, although any plans would ultimately need to work around the 33-year-old's various other commitments at that time.
Additionally, the report notes that GiveMeSport are unaware as to whether a potential Fury appearance would eventually lead to another wrestling outing for the boxing star, or simply just an in-ring confrontation.
September 3rd' Clash at the Castle premium live event in Cardiff, Wales is set to be WWE's first UK stadium show since SummerSlam 1992, and thus its no surprise that higher ups may be looking at bringing in a major name such as Fury for the event.
As far as potential opponents go for Fury, he and Drew McIntyre have been engaged in an online feud for the past few years, although all signs currently point towards the Scottish Warrior taking on Roman Reigns in the show's main event.
We certainly hope that WWE and Tyson Fury are able to come to an agreement, and look forward to seeing him back within the WWE fold in the near future, however the return materialises.