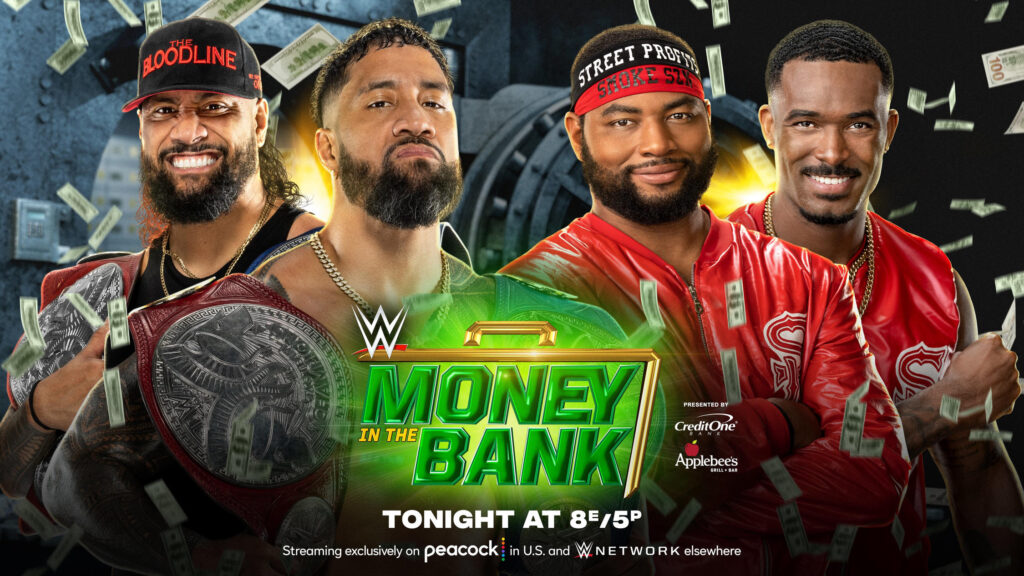 The latest entry in their admittedly excessive series, The Usos and The Street Profits stole the show at Money in the Bank. That was a feat too, as this was fighting uphill in some ways, far from a fresh matchup and also operating under the looming shadow of a potential Profits split. In that sense, the result seemed inevitable in some ways, as hints of dissension between Angelo Dawkins and Montez Ford subtracted drama from a matchup that's already been very much explored.
Even still, those limitations couldn't have been less apparent as this match kicked into overdrive. Down the stretch, these two teams had the wrestling world rocking, catapulting their bout to almost undeniable levels. In my view, this match's peak was objectively great, perhaps the most enthralling finishing stretch of either team's career. Before that though, it was slightly more divisive, opening with a strikingly slow start, seemingly struggling to engage the audience before having them absolutely rocking mere minutes later.
It was a match of two halves in that regard, but I'm intrigued by how those two pieces work together. After all, that extended heat segment leads directly into the electric hot tag but I don't think that's necessarily a compliment to the former. I'd argue that the second half of this match works in spite of what comes before, rather than because of it. I actually felt similarly about the trios main event at WrestleMania Backlash, which closed in grand fashion but for me at least, opened with all the urgency of a house show headliner.
I actually thought that this was slightly better on that front, but the issue remained prevalent. At 23 minutes, this was one of the longer WWE Tag Title matches in recent memory. That was noticeable too, for both good and bad reasons. We'll start with the former, and continue to explore this first act and change as after a brief Profits shine, The Usos took control. It must be said though, the development of Angelo Dawkins was one of this match's most striking stories, as well as the continued progression of Ford.
There is a natural intensity to Ford, a palpable passion for competition that absolutely shines through the screen. It gives him an authenticity, an ability to be real even when doing the most outlandish of things. Dawkins doesn't necessarily have that but physically, his value too often goes understated. Granted, he's currently in the perfect role but Dawkins has become a legitimately good tag team wrestler, a genuine physical force and an underrated candidate for the prize of WWE's best right hand.
To begin with, he was mostly tasked with selling here, as The Usos cut the ring off in building to a presumed Ford hot tag. This portion started promisingly, as The Usos quite creatively used the ring-post to target Dawkins' back. Unfortunately, that element doesn't really stick. Instead, this heat segment feels more like an exercise in stalling, which is a shame as it robs the match of what could've been an interesting plotline. This particular portion isn't too long though and there are certainly flashes of brilliance also, including some eye-catching strike exchanges along the way.
This is where the match makes a pretty bold choice however, as Ford's hot tag is immediately cut off, leaping face first into a superkick. This isn't a traditional double heat in which a sizeable hot tag comes in-between. Instead, this is just an extension of the same heat segment, regardless of the opponent in question. The Usos used this same idea brilliantly eight years ago against Harper & Rowan but it's paired with a pinfall there, far more at home in the 2-out-of-3 falls setting.
Here, it's hard to be anything but exhausted, no matter how beautifully executed that aforementioned superkick was. Unfortunately, The Usos' heat on Ford doesn't really improve on the flaws of its predecessor. It's just flat, without real focus and low on truly interesting content. Part of my frustration with this part of the match is that I know how good it gets and perhaps more importantly, I've previously seen The Usos produce a compelling version of this exact playbook.
The lack of hope spots are an unforced error also, with Ford's single failed flurry really giving the match some much-needed life. Nonetheless, Ford eventually makes the tag and Dawkins is more than up the challenge. I don't want to understate how good the match gets from here, as it's genuinely spectacular, compelling enough to make the overall package great in my view, warts and wall. The Usos are much more at home in this setting, impressively matching the dynamic Profits in their own uniquely explosive way.
The sheer timing is truly remarkable late, things really clicking and almost everything looking perfect. The crowd's response is startling, biting on every near-fall in a fashion that gives me no choice but to revisit the first half. It again reminded me of the WrestleMania Backlash main event in that sense, the audience's investment ascending so rapidly that I couldn't help but wonder if I'd missed a trick within the heat. Upon rewatch, I don't believe so and maintain my critiques but I have to reiterate: this thing becomes borderline breath-taking late.
It's knowingly dramatic and epic without ever totally losing itself in that pursuit, action at every turn which again, is incredible considering where this started. Personally, I enjoy this match's highs too much to lose myself in its lows. While its first act may prevent me from revisiting this excessively, I did ultimately love the match, eventually delivering to a degree that actively distances you from the admitted slog that gets it underway. That speaks to the execution on display as well as the understatement of placement, each near-fall feeling like it builds on the last.
The Usos have been masters of that for some time now in my view, with much of their best work hosting these kinds of frenetic, almost dizzying final acts. I've always enjoyed their ability to give a finish that one extension that in theory at least, feels like a step too far. The kind of near-fall that makes even the most cynical fan sit forward a little, suddenly expecting a title change. Their strongest sequences aren't neccessarily league leaders in creativity or innovation, but their sheer execution ensures that they usually pack a powerful punch.
With a controversial finish, which was sold beautifully by Ford I might add, this match set the stage for yet another entry, presumably at SummerSlam. If so, this match is a few structural adjustments or perhaps more simply, a shorter runtime away from perfection.