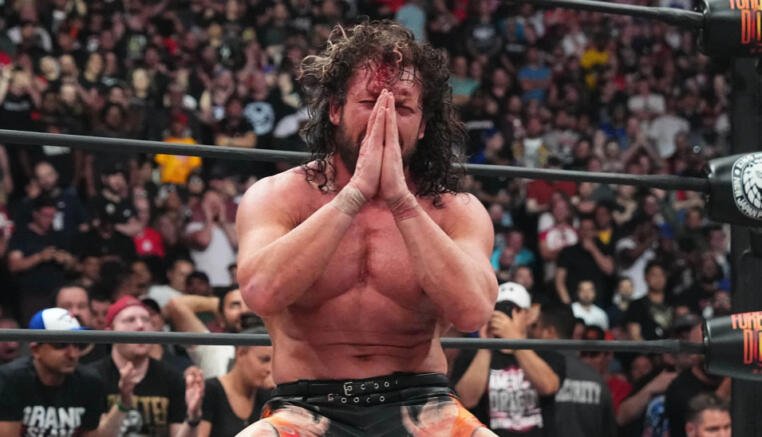 Following his highly praised bout with Will Ospreay at Forbidden Door, Kenny Omega has spoken on a number of subjects, including AEW's upcoming UK debut.
Just one day over a week ago at AEW x NJPW Forbidden Door, Kenny Omega lost the IWGP US Heavyweight Championship to Will Ospreay in a rematch of their Wrestle Kingdom 17 classic, with many claiming the bout to be better that the first installment.
Speaking recently to Uproxx, Omega had the chance to reflect on the match in Toronto. The now former IWGP US Heavyweight Champion praised Ospreay as an opponent that's able to bring the best out of him, and whilst many fans are hoping for a third round in Wembley Stadium, Omega stated that he's ready to let go of his feud with the United Empire leader with Ospreay walking away as the victor.
"I feel that magic when I'm in there with Will. I feel that pressure to perform, to deliver, to give the type of performance that I guess I'm known for. So I'm thankful for people on the planet like Will who can awaken that part in me, that as time goes by, it is harder to summon. Will had his moment in the sun. But I'm proud of the performance. I'm proud of everything that I was able to do in preparation for the match, the sacrifices to keep my mind in a good place for that match. So I was firing on all cylinders. Before the match, during the match, and I'd say after it was all done, I lost this belt. You are that guy now, Will, I'm just going to kind of let it go."

-Kenny Omega
Staying on the topic of his bout with Ospreay at Forbidden Door, Omega touched on the controversial Tiger Driver 91 spot that garnered a divisive response from fans.
"That's what I do. There were a number of things that were designed to elicit a response from people, whether it be positive or negative. But I wanted to take people on an emotional rollercoaster."

-Kenny Omega
Omega then elaborated further, discussing how that spot in particular played into his injury history, furthering the drama as many fans were full of concern for The Elite member as the match entered into its closing stretch.
"Hopefully it leaves fans questioning is he okay? It's all about the match. We're battling in that ring and I want you to go along for the ride with us. If they thought everything else in that match was just the worst shit they've ever seen in their life, but that one moment, got them for a second, 'He's not going to kick out, he's not going to get up, they better get the gurney, call in the fucking airlift,' that's perfect. And if I had a whole match of those types of reactions, even better. It's all part of my job, it's all part of my profession. These are things that I take a lot of pride in and I think that's why when I went into this match, there's a lot of physical and mental preparation that goes into it because I was really preparing myself to wow the crowd to this kind of level."

-Kenny Omega
Whilst Omega was certainly playing up to his injury history in order to heighten the drama of the match with that spot in particular, he also admits that he was expecting the type of reaction he and Ospreay received online, adding that some viewers were ready to be overly critical regardless.
Omega also specified that he absolutely wouldn't have gone ahead with the spot if he thought it'd be a major health risk, with the former AEW World Champion conscious of his injury history and his desire to preserve what he has left of his career.
"People that wanted to shit on something or people that want to frown upon something, or for people that want to say, 'Well, if it were me, I wouldn't have done that.' I didn't get to where I was by being able to do things that everyone else could do. I realized, and I recognized that I do have special talents that maybe not everyone else can do. Without revealing too much, I think a lot about my health. I think a lot about life after wrestling. I think a lot about my current life. I think about next week's Dynamite and the week after that. I would never do something I didn't trust myself in performing 100 percent."

-Kenny Omega
Moving away from Forbidden Door, AEW also recently released their first ever console video game, AEW: Fight Forever. Omega played a major part in the games development in terms of both ideation and execution, as well as spending countless hours on business calls despite operating in Japan's timezone.
Omega touched on his desire for the game to feel different to alternatives on the market, much like the promotion itself, however he also stressed the difficulties that came with building a game from the ground up.
"I think that if [the game] can stand apart as something different, but something special and something that people enjoy and that is fun, then it's kind of mission successful. We had to build something new from the ground up and it was very hard to get everything that we wanted. You can only get what's possible and what time and budget allow for."

-Kenny Omega
The game was officially released on June 29th, and whilst it's already been playable for a week, Omega was keen to mention that there's still plenty more to come as far as game modes, customisation, and roster packs are concerned.
"There is always going to be additions to this game. You haven't seen anything yet. You've seen a little bit, but you haven't seen a lot of things that I'm very excited for. There's something in particular coming up that, it's sort of been leaked a little bit, so the Stadium Stampede mode I'm very excited for and I think people are going to have a lot of fun. It's something so incredibly unique and I think it's going to be great. The roster, we're going to add bodies to the roster as well. Custom parts for create a wrestler, all that stuff. I can't wait to share more announcements with people and to see more of the roster, more match types and see the videos turn up online for how people are enjoying it."

-Kenny Omega
Interestingly, Omega also added that due to AEW's relationships with various other promotions, including NJPW and ROH, there are "a lot more possibilities for what we can include and what we can design for the game.", potentially hinting towards additional DLC packs containing wrestlers from a number of different companies.
With both Forbidden Door and the release of AEW: Fight Forever now in the rear view mirror, Omega's attention now turns towards both AEW's UK debut at the historic Wembley Stadium for All In on August 27th, as well as the All Out PPV in Chicago the following weekend.
Touching on the type of atmosphere that can be expected in London, Omega reflected on the major shows he's worked in his career, emphasising the drastic increase in crowd size and the subsequent effect that should have on the noise inside the building.
"When you go into the building, it doesn't hit you until you actually arrive and you see the ring, and you see the empty chairs, and you see the setup and the ramp and the screens. I've been in front of 10, 20, 40,000 people, and I've been to arenas and stadiums all over the world. So, how is it going to be when we're in front of 70, 80,000, possibly more people (at All In)? I don't know. But I know that it's going to feel really special when I walk into that stadium before all the fans are in the building. I feel like the atmosphere and those situations allow you to go to a place on the inside. And I think that Wembley is probably going to be very similar in that regard, where I will be prepared to a certain degree, and then being in that environment is going to allow me to ascend to an even higher place."

-Kenny Omega
As previously mentioned, AEW All Out is set to take place just a week after All In and will eminate from the United Center in Chicago, Illinois.
How the company differentiates the two shows in terms of build and the overall cards remains to be seen, although Omega is confident that both shows will have a "heavy focal point."
"Not to say that it should be a split roster and you see completely different people on both shows, but I do think that there needs to be matches that are featured and very special for one evening. And I think you need matches that are featured and are very special at the other one. I want every show to kind of have its place in history as a special moment. I do think that it helps to sort of spread the opportunities out. We have such a large roster of so many individuals that are very special in this business. If you're just using the same 20, 30 guys over and over and over again you're going to have a lot of these special athletes just sitting on the sidelines waiting for their chance to perform. But I think for sure you're going to see some people on one show that aren't on another. And I look at that in a positive way because I do want the AEW fans or just fans of wrestling to be able to see more faces."

-Kenny Omega
As of writing, little is known about what matches we can expect to see on both AEW All In and All Out, however AEW President Tony Khan recently stated that the direction heading into both events will soon become clear now that Forbidden Door has passed.
In terms of what's next for Omega, he's set to go one-on-one with Wheeler Yuta of the Blackpool Combat Club on tomorrow night's episode of AEW Dynamite, with the BCC and The Elite gearing towards Blood and Guts on July 19th in Boston, Massachusetts.