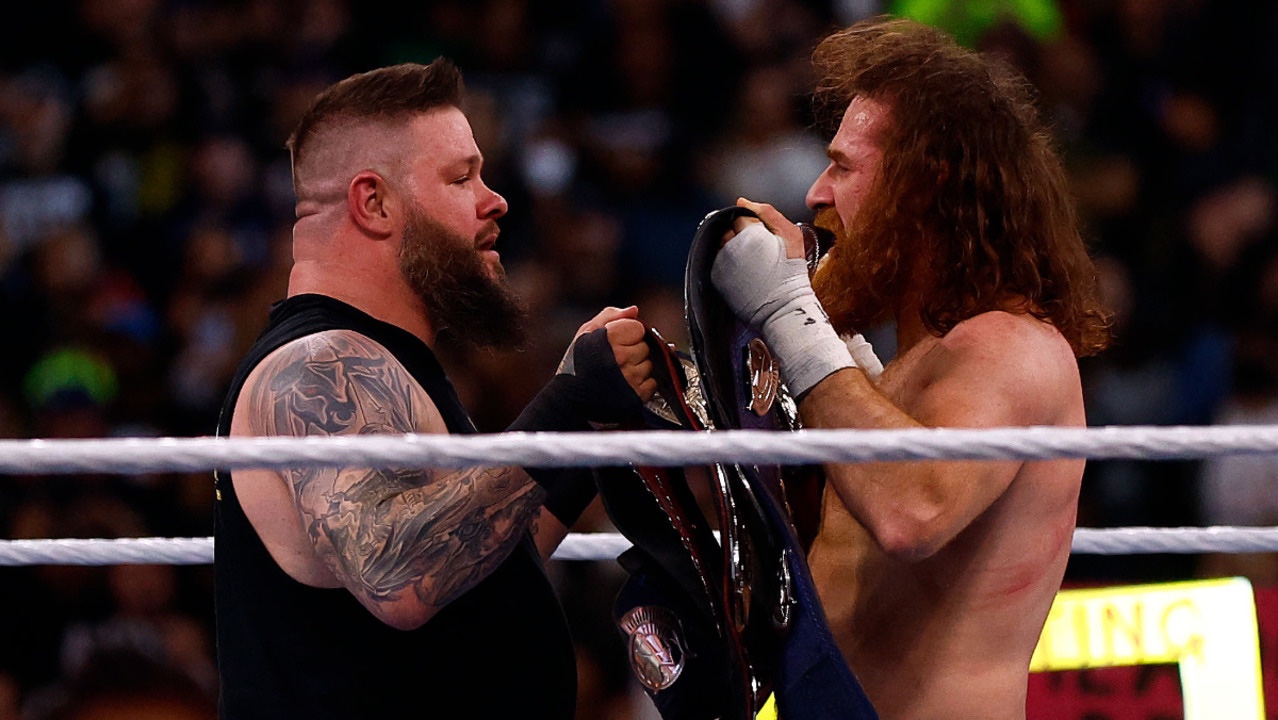 Current Undisputed WWE Tag Team Champions Kevin Owens and Sami Zayn believe one of The Usos should defeat Roman Reigns.
As of writing, Roman Reigns has racked up 1,037 days as the Undisputed WWE Universal Champion, with discussion among fans raging on over who should eventually displace The Tribal Chief as the top champion in the company. Names such as Cody Rhodes, Drew McIntyre and John Cena are among those who have unsuccessfully challenged Roman Reigns over the last few months.
The Bloodline's ongoing storylines, featuring the developing dynamic of Reigns, Solo and The Usos, have captivated audiences for over three years and the part played by both Kevin Owens and Sami Zayn can't be understated. Of course, the once 'Honorary Uce' was directly part of The Bloodline and his turn will live long in fans' memories, while he and Owens dethroned The Usos for their championships at WrestleMania.
To give their thoughts on who they should eventually beat Roman Reigns, Owens and Zayn spoke to Alex McCarthy for MailSport prior to Money in the Bank, where they each individually took time to state why one of The Usos should beat The Tribal Chief.
"Either Jey or Jimmy. I think both of those guys deserve the world and both those guys would be fantastic universal world champions or whatever you want to call them – I forget what they say. I think they'd be a shoe-in for that spot, they'd be great at it and, honestly, with the way everything has progressed and the heights they've reached, it certainly wouldn't look out of place. So I think that would be a great idea, for sure,"

-Kevin Owens
When it was Sami's turn to give his thoughts, he acknowledged those Roman has previously faced and who could've come away with the gold, before ultimately agreeing that Jimmy or Jey would be the right move.
"I think from a character and story perspective, it does make sense to see Jimmy or Jey do it at this point. I think a lot of characters have come along throughout the last three years who could have been a very fitting ending. I think I was one, Cody Rhodes was one, Drew McIntyre was maybe one – maybe not totally because of the broader story – but there's been a couple of moments and people – even Kevin – points where it could put a bow on the story, the culmination of this whole thing. But, it does seem at this point after everything else, that Jimmy or Jey would be the most fitting for the story,"

-Sami Zayn
Of course, the current tag champions gave their opinions before the Money in the Bank Premium Live Event, where The Usos came out on top against Reigns and Solo Sikoa in the civil war tag match.
To the surprise of many, Jey Uso became the first man in three and a half years to pin Roman Reigns, prompting many to believe that he is next in line to challenge for the title. While this is unconfirmed as of now, the storyline is far from over with The Usos holding a 'Tribal Court' for the trial of Roman Reigns this Friday on SmackDown.
As always, we'll aim to provide any further updates on who may be in line to dethrone Roman Reigns as we hear more.