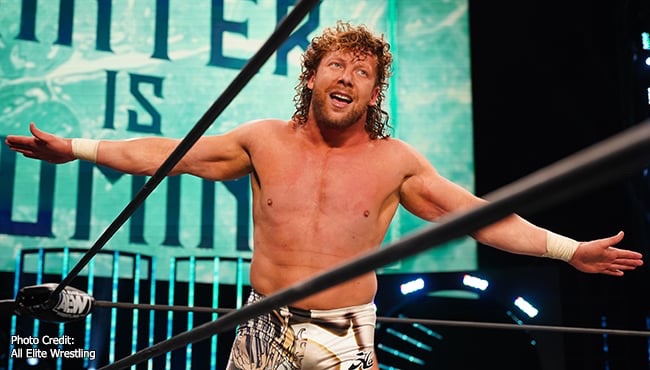 Cody Rhodes returned to WWE in April of last year, leaving AEW where he had an Executive Vice President role. He, alongside Kenny Omega and The Young Bucks, took up executive positions and were pivotal to the early success of Tony Khan's company. As well as being on-screen talent, the four EVPs stepped in to assist with tasks relating to creative and deciding who else to hire.
The American Nightmare has taken the WWE by storm since re-debuting at WrestleMania 38, but his absence is still felt when it comes to AEW. It's no secret that Tony Khan's company has experienced some turbulence in recent times and it's interesting to reflect on Cody's time in AEW.
Now, speaking on the Swerve City podcast, Kenny Omega has spoken about Cody's time in AEW as an EVP, claiming that he was a perfect fit for the role which really helped the company develop.
"The fourth EVP, we can't mention his name. Just kidding, it's Cody. He really…I will assume this is just from knowledge of being in the business all his life because he was born into the business and he understood a lot from his father. He knew what we needed. He knew what we needed to line up and the things that I couldn't get. I've got good contacts for any unsigned Japanese talent that you guys need, I can be that guy. The Bucks would be like, 'we know great guys from So Cal or Indie guys.' Cody is like, 'Okay, cool, how about this guy and this guy.' We'd have a list of talent and put them together. Then, Cody is like, 'What are we going to do about medical staffing?' Oh, right, we need that too. We should have doctors. 'I have a contact for Doc Sampson.' That's probably not going to be enough, so I had a dude named Bryce (Ready). I thought, 'Hey man, I know you've taken care of some of our guys and you really love wrestling, would you be able to take a full-time opportunity to do that?' We got trainers through that. 'What else do we need?' We needed producers for TV, guys that actually have experience doing wrestling production. That was a Cody thing. 'I can get in touch with this guy.' The Bucks maybe knew a guy. At the beginning, just to build that small infrastructure, which we didn't have, when you start checking names off the box, you think you're there but you're not because we were so understaffed at the beginning. Even to this day, I can confidently say, we can use an extra trainer or two. The tables are always busy. We could have a couple of gophers in case we're running low on certain things and materials. As things go, you naturally require more people to keep things running,"

-Kenny Omega.
Kenny did not shy away from heaping praise on Rhodes, stating his importance in making connections during the early days of AEW. The American Nightmare is currently scheduled to compete for the Undisputed WWE Universal Championships at WrestleMania 39, while Omega is still one-third of the AEW Trios Champions.
H/T to Fightful for the transcription