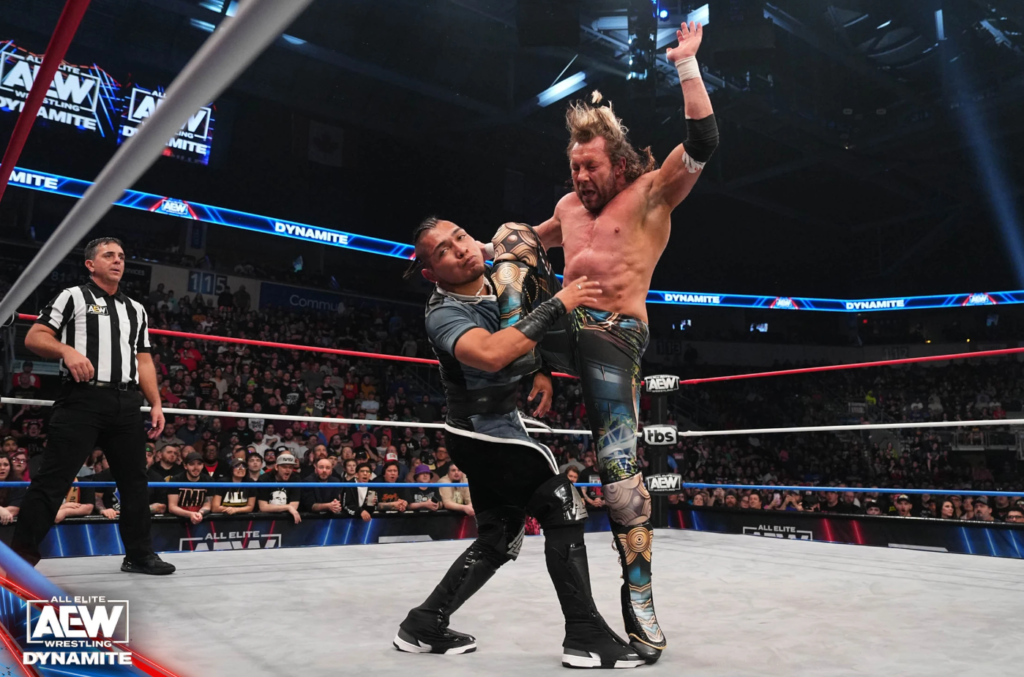 Pro wrestling, in its simplest form, is when two people get in the ring and wrestle. And I think most people can agree that is the easiest way for pro wrestling to be great. But as we've seen over many, many years in pro wrestling, stories can make things a lot better. An added importance is usually the answer because many of wrestling's greatest matches have the obvious story attached to them. This is all to say that a story does make pro wrestling better but it's not necessary to have it for a match, again pro wrestling's simplest form, to create new fans and keep people interested. That brings us to this past Wednesday night as the main event of AEW Dynamite was Kenny Omega, in his first AEW TV singles match since 2021, taking on the AAA Mega Champion, El Hijo del Vikingo, for the very first time.
Titled a "Dream Match" and rightfully so, it showed the greatness of pro wrestling doesn't need a long-term, in-depth story for the match to be great or a true dream. It doesn't even need a full week of promotion to be great. What a concept. Instead, the story was easy to understand. This match was supposed to happen and, well, it didn't and we should be happy it didn't when it did. Originally set for AAA's TripleMania Regia 2021, Kenny Omega was going to defend the championship against the young El Hijo del Vikingo in a massive match. But at the time, was it really a dream? Or just pretty cool to see? I'll go with the latter at the time.
Anyway, it didn't happen because, as we all know by now, Omega's body was broken down from this Belt Collector reign and really all the time he spent in NJPW prior to joining AEW. It was a mess, and he had to essentially be rebuilt. Rather than pushing it off any further, "The Best Bout Machine" relinquished the championship and got fixed. Vikingo went on to win the title in a five-way match and has held the belt ever since as he closes in on 500 days as the champion.
What El Hijo del Vikingo has managed to do in that time was become a much bigger star. Someone many people now know more about whether it's via word of mouth or some unbelievable clip of what he does in the ring that is going around on social media. Or, you know, the old-fashioned way of many people seeing his matches and being amazed by the "Human Highlight Reel" that he's proven to be. This is the man, after all, who did a 450 Hurricanrana that left people asking how it was possible and even Will Ospreay giving the response of it not being possible. That's the type of legend Vikingo created for himself while waiting for the match with Omega.
Personally, it's the postponement of these two finally facing off that made it a "dream match" now because Vikingo is in a place to be considered arguably the best lucha star in the world while Kenny Omega remains undeniably one of the very best in the world today.
The additions of Omega not having had a singles match on AEW TV in so long, and this being the AEW debut for Vikingo only strengthened the match all the more.
So with that basic story of what was supposed to happen but didn't, were they able to deliver on the expectations made by those who know what they were capable of and throw a pie in the face of people questioning the story?
Why yes, yes they did. And in the most entertaining way possible — a phenomenal professional wrestling match. How could you NOT be entertained?
In the middle of Independence, Missouri, Kenny Omega and El Hijo del Vikingo did the damn thing. And they didn't even wait for the opening bell for the match to really get started. As Omega made his entrance with the entire Justin Roberts introduction and all the glory that comes with it, Vikingo was flying out of the ring to wipe out Omega and get the action started. And as the match got underway, the unbelievableness that is El Hijo del Vikingo shined through seemingly every single moment.
His moves were crisp, clean, and thrilling. The strikes were hard, fast, and many times devastating. Everything Vikingo did worked to the highest degree. Listening to Excalibur, Taz, and Tony Schiavone yelp, laugh, and celebrate in awe of the AAA Mega Champion really was the perfect soundtrack for this match because it's what everyone watching the match was doing themselves. I know I was.
My friend texted me after watching this saying El Hijo del Vikingo may be the best based on one match. He never saw this man in his life before this match. That's how wrestling, in its simplest form, perfectly entertains and checks all the boxes of what makes it great. When anyone, no matter the level of interest, can walk away loving what they saw.
It's almost unbelievable what Vikingo accomplished to do in this match. The 450 Hurricanrana discussed earlier was the first spectacular move, but how about a Springboard 630 Splash through a table to the outside of the ring? Not only was that breathtaking but all the more terrifying as Vikingo rotated at ridiculous speed to crash down through the laid-out Omega.
And while Vikingo was all about stunning the eyes of millions watching on TBS and around the world, the match was all the better because of Kenny Omega.
"The Best Bout Machine" is as good as he once was by being a completely different wrestler. In his NJPW days when he was taking high risks and flying through the air against the likes of Tetsuya Naito and Kazuchika Okada, he was undeniably the best in the world. As we saw in his first run in AEW, we learned quickly that he was still Omega through and through but not the same man he was in NJPW. That's just the truth. Those five-star classics weren't happening as much, but instead, he was doing a bit less because he had to. As his AEW World Championship run was coming to an end, it was apparent that he was dealing with a lot. His match with Hangman Page, while great, wasn't to the level it would have been if he was in his NJPW prime. So, as noted earlier, he got himself fixed. After nearly a year out of action, "The Best Bout Machine" returned and looked as good as he did in his NJPW days. Through the trios matches with The Elite, Omega regained that form, but you were never really going to know what this new, rebuilt Omega would look like until he had a singles match.
That singles match would be with one, Will Ospreay — the man many believe to be the new best in the world. At Wrestle Kingdom 17, Omega had an instant classic with "The Commonwealth Kingpin" showing that the newly retooled version of Omega was going to be just as good as the Omega in his prime, just a more grounded hard-hitting version.
And that more grounded version was the perfect base to work against someone like El Hijo del Vikingo. His offence, as compared to the AAA Mega Champion, was far more violent than flashy. Forearms that hurt, V-Triggers that have a little more oomph on them, and brutal Suplexes and Powerbombs to go with it. When needed though, he can still pull out those flashy moves like the Terminator Dive for good measure.
As the match moved into its final act, the Springboard Poisonrana that Vikingo managed to hit was the final "How in the world did he do that?" move that he was able to pull off before the match came to a close. Not only was it spectacular but also equally as terrifying. Vikingo was closing in on the shocking win, and a 630 Splash was going to be the dagger that would earn him the victory he wanted to get a year and a half ago in his home promotion. But as the resilient Omega often does, he was able to avoid the 630, forcing Vikingo to bounce off the mat and suffer the combination of a V-Trigger and a One-Winged Angel for the win.
So, I repeat…
ARE YOU NOT ENTERTAINED?
Kenny Omega vs. El Hijo del Vikingo is among the best of TV pro wrestling. It doesn't need the epic, main-event feeling you have in a world title main event on a PPV. Nor the story outside of these two were supposed to wrestle, they never did, and now they are. It's a match where you pack everything you want to see into just under 20 minutes and leave the crowd wanting more while also leaving them with a true Match of the Year contender. "The Best Bout Machine" is still, in fact, "The Best Bout Machine." And El Hijo del Vikingo is the man to reignite the popularity of lucha libre in the United States. Many people were left saying that this was a Rey Mysterio-like moment in that Vikingo will be the Mysterio for this generation. There's no doubt that Vikingo is very much the first version of himself. He can have the impact Mysterio did as the 25-year-old champion is going to be untouchable for years to come.
Forget the lame back and forth from social media about the story and why the match was happening. It means nothing. What this match will be looked back on as is the one that showed the whole world what El Hijo del Vikingo is all about and the official launching point to his international superstardom. And maybe more than everything else for AEW audiences — the match which reminded everyone who was doubting him who the hell Omega is with his big return singles match. Tremendous professional wrestling. The legendary happened, and it'll be a match that will be remembered for years to come.
To reiterate, pro wrestling can be at its best in the simplest form. Don't complicate it. This was the perfect example.
A TV pro wrestling classic that entertained the masses.