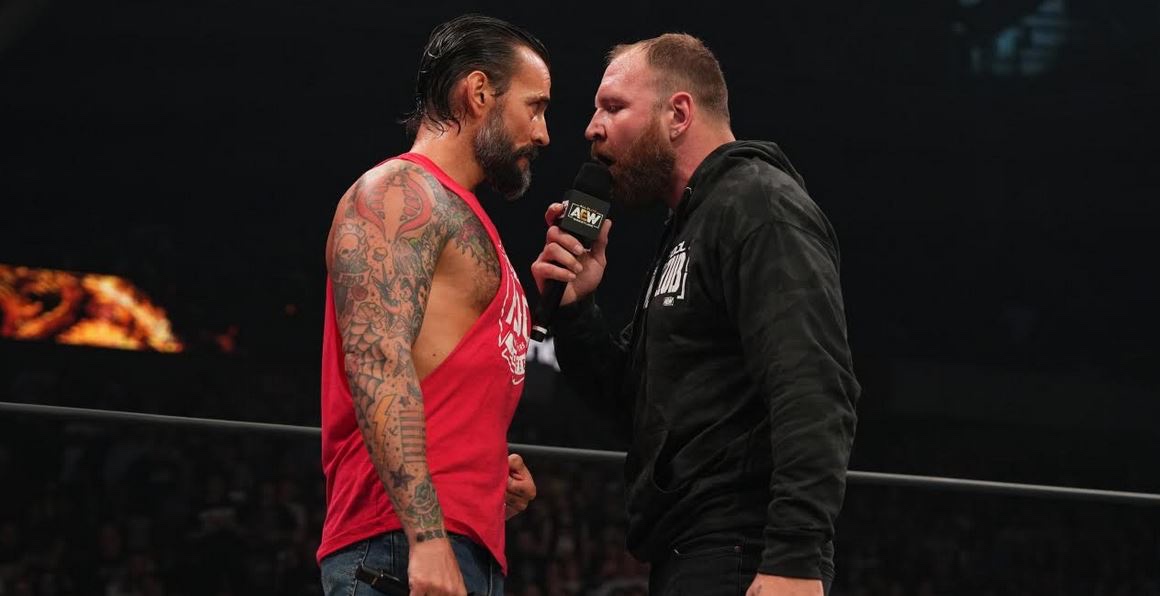 CM Punk is no stranger to being the subject of debate in the wrestling world. The Chicago native has been away from the ring since ripping into AEW and it's structure seven months ago at the All Out post-show scrum which he was subsequently suspended for. Yet, the star still finds himself in the spotlight as many fans discuss when or even if Punk should return to the company.
Most recently, the 44-year-old had people talking when he took to Instagram to upload a story in which he details the discussions that took place last summer when he, Jon Moxley and Tony Khan sat down to lay out the plans for the AEW World Championship heading into All Out.
The story was deleted in under five minutes but fans were still able to screenshot and share what Punk had said. This included points where he called both Dave Meltzer and Chris Jericho liars as well as disagreeing with one of Moxley's Rocky 3 inspired pitches as Punk hadn't seen the film.
Now, appearing on Renee Paquette's The Sessions, Jon Moxley was asked whether he'd like to comment on the content in Punk's story post. However, Moxley stated that he wouldn't sink to that level and that he found the whole thing annoying. (H/T SEScoops)
"No, because nothing has unfolded. It's f***ing annoying. Just because somebody said some stupid sh*t on social media, that's not news. But it is, and it ends up being a thing. I don't want to get dragged into this dumb sh*t. I could f***ing unload on a lot of f***ing people right now. And when I start getting dragged into this sh*t it tempts me to do that but I'm not going to f***ing sink to that level."

-Jon Moxley.
Moxley went on to explain that he actually wasn't under contract with AEW throughout last summer, having been reluctant to commit to anything long term following his return from alcohol-related rehab. (H/T SEScoops)
"I will say this. I will give you a tid bit of information from my point of view. The entire summer, I was not under contract [with AEW.] No contract. Free agent. I was at Summerslam weekend wrestling Desperado and sh*t the day of Summerslam. F***ing suplexed him on a bunch of aluminium cans and sh*t cut in half. It was f***ing dope. I could have walked into Summerslam that night with the AEW f***ing belt, if had I been so inclined. Nobody knew that because I don't put my sh*t out there in the world and let everybody know every f***ing thing about my business."

-Jon Moxley.
The Blackpool Combat Club member concluded by saying that he was open to the idea of working with Punk even when he didn't have to due to not having an official contract. He even went as far as to describe the situation as him 'bending over backwards' to help Tony Khan and AEW. (H/T SEScoops)
"The night in what's-his-dicks [CM Punk] talking about, Minneapolis, is the night he came back, hopping on one foot after me and Jericho wrestled. Badass match by the way. We're talking later about stuff. Bear in mind, and this is my point, I basically don't work there. For all intents and purposes. I don't even work here. Tony [Khan] is not my boss. I don't even have to be in this room. I don't have to do shit. So even me being in this room and offering and agreeing to a storyline that puts you over at the Pay-Per-View [All Out 2022] if anything, I am bending over backwards for Tony and for this dude, and for the company. Because I didn't have to do sh*t. If anything, I was bending over backwards. So that's it. It's not even controversial. I'm just telling you [how it is.]"

-Jon Moxley
Jon Moxley would also go on to say that AEW has the most "bullshit drama" out of any place he's worked for in his career.
"I will say this, & I hate to say… I don't think I've ever said anything remotely negative about AEW, But I will say this. As an observer, it seems like I spent 8 years on the Indies, did a couple years in developmental, did 8 years in WWE. I have never seen so much bullshit drama in one place in my entire fucking life."

– Jon Moxley
The future of CM Punk remains unclear with more coming out about Brawl Out and its consequences still to this day. As for Jon Moxley, the star is routinely on AEW TV and has recently turned heel in his feud with The Dark Order.
As always, we'll aim to update you on both CM Punk and Jon Moxley as well as their respective futures as soon as we hear more.
If you use the last quote above, please credit the original source with a h/t and link back to WrestlePurists.com for the transcription.