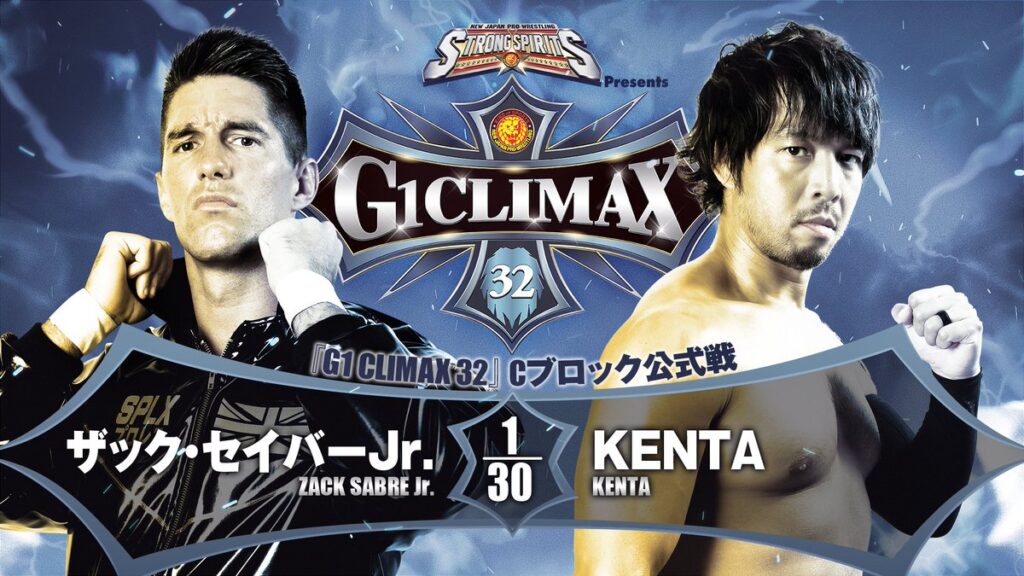 One of the standout matchups of this G1's opening weekend, KENTA and Zack Sabre Jr. very much delivered. Armed with a personal backstory and memorable encounters in previous years of this very tournament, this pairing certainly felt like a safe bet. However, KENTA was only weeks removed from his return to action, appearing in just four multi-man tag matches after six months on the sidelines. KENTA's gruelling Wrestle Kingdom war with Hiroshi Tanahashi certainly felt like a career-altering affair.
Over twenty years into his career, KENTA was already battling the results of visible wear and tear but this was something else, leaving the Tokyo Dome with a laundry list of injuries. With that in mind, it was hard not to once again wonder what was left. Well, KENTA provided an answer almost immediately, stealing the show in the very first bout of his 2022 G1 campaign. This was heated, intense and packed with volatility. There was a nastiness to this, a palpable spite that really steered the ship.
The sheer fire of KENTA captured my imagination throughout, but the brilliance of Zack Sabre Jr.'s performance can't be overstated.  Matching KENTA's famed intensity every step of the way, Sabre Jr. again adjusted his familiar style accordingly, seamlessly adapting to the setting. Sabre Jr. has his own very unique physical presence, laced with that always entertaining flavour of trash talk. That ingredient pairs perfectly with KENTA's unwavering hate, almost encouraging his barely contained rage.
Early on, Sabre Jr. found himself fighting uphill, willingly entering an ill-advised strike exchange. It goes without saying that ZSJ isn't a babyface but in this particular matchup, he's about as close as he'll get. The de facto protagonist, Sabre Jr was launched around at ringside but eventually rallied, returning to an earlier attack on KENTA's knee. The portion prior to this was extended too, with KENTA spitefully bullying his foe until the urge to play with his food backfired, ZSJ snatching a kick and turning the tide.
The brilliance of Zack Sabre Jr. is that for all his grace and elegance when working the mat, he's equally comfortable being truly nasty. Sabre Jr. worked KENTA's knee with absolute disdain, operating with the kind of vengeance that the match's first act deserved. Suddenly, KENTA's cockiness was a distant memory, simply trying to survive, now desperate for any kind of reprieve. On the contrary, Zack's intensity only continued to climb, adding an urgency to this match that totally contrasted with the sustained, blunt brutality of KENTA in control.
However, KENTA isn't the bout's only cocky grappler, as Zack Sabre Jr.'s sudden comfort only encourages him to re-engage the strike exchanges. Sabre Jr.'s smart enough to swiftly bow out of that particular duel though, instead focusing on KENTA's arm. Again, it's wonderfully violent and KENTA's selling is up to the task, committed without losing that incredibly compelling core identity. KENTA isn't sympathetic, or not outwardly so at least, but he can still powerfully project the demeanour of a wounded animal when necessary.
There's a bitter tint to his every move anyway, a constant resentment that screams through each strike. Speaking of such, Zack soon puts himself back in that fight, using the work on KENTA's arm to stay afloat even as he's rocked by some spectacular strikes. That word honestly doesn't even do them justice either, as KENTA absolutely slaughters Sabre Jr. with some of these, including a right hand that honestly feels above and beyond anything even belonging in pro wrestling.
Dare I say, there are those fleeting flashes, reminders of the dynamite that KENTA was once famous for. It's different now, more deliberate, coloured with hate but there was an explosion here, the kind of flashback that only further elevated this match. KENTA will never lose that natural presence, even if it's certainly evolved, but it's especially powerful when paired with this kind of offence. The consistency in that regard may be gone but the capability isn't and within that, these moments of magic remain possible.
KENTA's explosive strikes ultimately positioned him for victory, quite literally so in fact. However, he wasn't content, halting his own pin twice and somehow stealing defeat from the jaws of victory. Exactly as he'd lost control of things in the match's opening act, KENTA's anger and disdain had again got him in trouble. KENTA's almost lost in that world honestly, fighting for a personal satisfaction that never seems to come, only hurting his win-loss record along the way.
It sure seemed as though KENTA was having fun as he dished out the prolonged, unnecessary beating, standing proudly as he unleashed malicious palm strikes. In reality though, he was playing with fire throughout, allowing Sabre Jr. time to capitalise on his comfort zone: the mat. The execution on this finish was immaculate by the way, Sabre Jr. operating with a swiftness that only he can, securing a typically stunning submission. It was all in transition too, the flowing sequel to KENTA's panicked escape to another hold.
Fittingly, KENTA tapped almost instantly to the conclusive manoeuvre, all only to claim otherwise immediately after. There's an emotional weight to KENTA's whole demeanour here, something striking that really adds some depth to the action itself. Again, he's not sympathetic but he certainly feels as though he's wearing the career ups and downs behind him, even if reluctantly so. That paired with Zack Sabre Jr.'s technical excellence was a winning combination, just as it has been for the last three years.
By this time next month, I'm sure that this match will be overtaken as the tournament's 'best.' Honestly, it may have not be your league leader through two days but there was something to this match that really captured my imagination. The work is great of course, but while KENTA's half of that equation is especially uplifting, that's not the hook to me. There's something special to this dynamic, a desperation that it brings out of both men, two fighters still emotionally entrenched in their shared history.
For KENTA, this is about reminding Zack Sabre Jr. of how things were but for the Englishman, it's about cementing that times have very much changed. After everything, the result? Somehow inconclusive, but yet with just enough respective conclusions to keep that very dynamic alive and well for the next one.