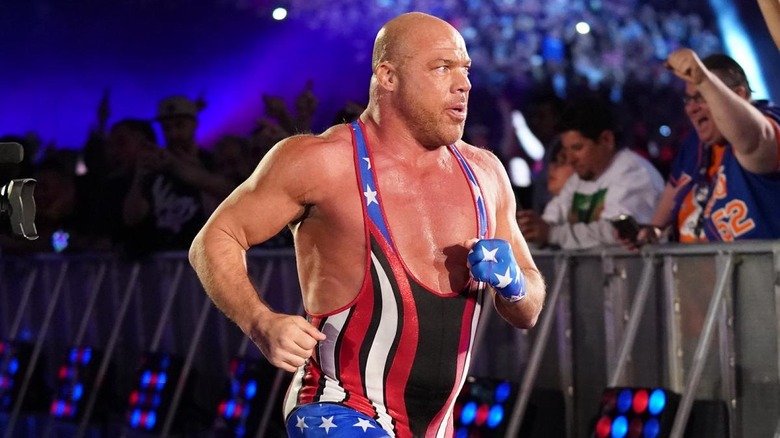 Kurt Angle has named a few WWE stars that he thinks could carry him through a match.
Kurt Angle had worked what was billed as his retirement match at Wrestlemania 35 in a loss to Baron Corbin. Angle has since healed up some of the many injuries he's accumulated in his career, having knee replacement surgery in the time since.
However, in a recent episode of The Kurt Angle Show, the pro wrestling legend floated some ideas for one last match on the grandest stage of them all.
"Oh, man. Well, I'm not that stupid," Said Angle. "So I'm going to make sure it's a young guy because I'm a little bit older. I lost a little bit of a step. I would have to say someone like AJ Styles or ricochet, I really liked that kid. I think I would have an incredible match with him. One of the bigger guys, Braun Strowman. I would love to wrestle Braun. He is so athletic for his size. He reminds me a lot of Brock Lesnar with his athleticism. He's not as athletic as Brock, he's pretty close. But those guys I think would carry me pretty well through that match."

– Kurt Angle
AJ Styles is someone Kurt is very familiar with, spending time together as members of the TNA/IMPACT! rosters. In addition, Angle recently shared an on-screen segment with Ricochet on Smackdown a few weeks ago, in which the two shared some mutual respect. Kurt had also worked a tag team PPV match with Braun Strowman at Survivor Series 2017. Angle spoke on Braun and how he felt he had the ability to work a 5 star match, depending on who was in the ring with him, in an interview with Sportskeeda
Previously, Kurt had said that if he was ever to be cleared, it would have to be a tag team match.
Early access to the podcast is available by subscription to AdFreeShows.
H/T to Fightful Wrestling for the transcription