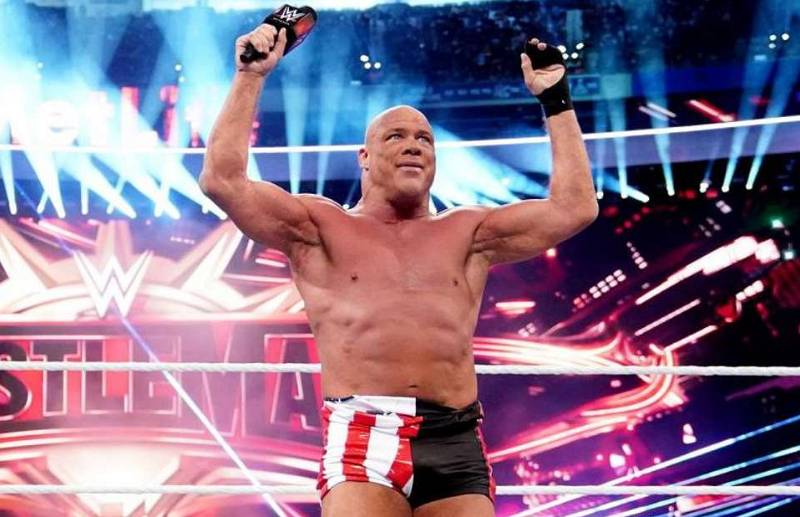 In the aftermath of AEW's All Out post-show press conference and subsequent backstage brawl involving Ace Steel, CM Punk, and The Elite, multiple wrestling stars have weighed in on the multitude of issues the company are currently, with TNA and WWE Hall of Famer Kurt Angle being the latest wrestling legend to share their thoughts on the issues at hand.
Appearing on The Wrassingh Show, Angle shared his thoughts on the creative freedom that AEW talents benefit from, although he also acknowledged that at times the off-the-cuff promos that a number of stars have been doing are at the detriment of the company, with the Olympic gold medalist believing that further organisation would be beneficial.
"I just think the company might be a little too loose … it's more like the Wild West … not as organized as it should be. The wrestlers are making up their own promos, saying their own thing, doing their own thing, and I think there needs to be organization within the company where you have the writers telling the wrestlers what to say and enhancing their characters."

-Kurt Angle
Angle continued, noting that additional input from backstage producers is necessary in order for AEW to be able to produce a show on par with WWE television.
"I don't know … putting the wrestlers in charge of their own promos and pre-tapes … and even their matches, I don't know if they have agents for the matches, producers for their matches. So, I think they need to be overlooked, the talent. That's what makes WWE so good, why they're so organized, and why the show is always so tight."

-Kurt Angle
One recent example of AEW's looser promo scripting coming back to bite the company has been the backstage heat between CM Punk and Hangman Adam Page, and thus it can be argued that Angle has a point in regards to greater organisation of segments being needed. On the other hand, AEW have provided countless phenomenal promos in their relatively short lifespan, and thus it can also be argued that the company and talents benefit from greater creative freedom.
Ultimately as a WWE Hall of Famer, Angle may simply have a slight bias towards his former employer, however there can be no doubt that his countless experiences working for top promotions across the wrestling world more than qualify him as a reputable source of advice in the industry.
H/T to Wrestling Inc. for the transcription.