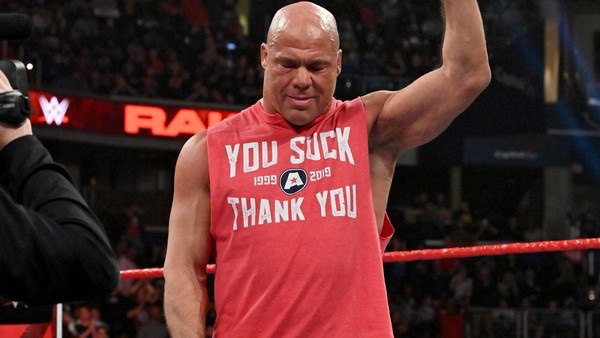 Kurt Angle is one of the greatest all-round performers in WWE history. He was undoubtedly an excellent in-ring wrestler and could do hilarious comedy segments too. He took to professional wrestling faster than almost anyone so imagine what might've happened if Kurt ever wrestled some of AEW's best.
Well, that was nearly the case. Before Angle wrestled his last match at Wrestlemania 35 against Baron Corbin, he had the chance to work with AEW. Angle spoke to NBC Sports Boston and discussed the attempts Tony Khan made to try and bring Kurt into his company.
They actually wanted me to wrestle, in particular. Tony Khan gave me a call, wanted me to wrestle, they offered me a pretty good deal, but I just can't do it anymore. I wish I could, but it's just not possible. They did offer me two different times. They did want me to do on-camera personality as well, a non-wrestling role, I actually turned that down as well. I wanted to start up my supplement company and put more time into that and didn't want to leave the company at this particular time, so I decided not to do it,"

-Kurt Angle.
We've seen successful returns to the ring for people like Sting who has mainly featured in multi-man tag matches. This format has worked well for The Icon so Angle was then asked what the plan might've been should he choose to be All Elite.
"They wanted me to have big special matches. They gave me a contract for ten matches, they didn't say how long it would be. It might not have been for a year, it might have been for three years and I would have wrestled three matches a year. I decided not to do it because of my supplement company, and the fact that, I'm not the same that I used to be. If I'm gonna go in there and wrestle, I want to be the old Kurt Angle and I know I can't be that anymore,"

-Kurt Angle.
It would've been awesome to see Kurt Angle in his prime tear it up with the likes of Kenny Omega and Hangman Page, though, without being able to reach his best level, Angle decided his time was best spent elsewhere away from the ring and has now confirmed his retirement.
H/t to fightful for the transcription