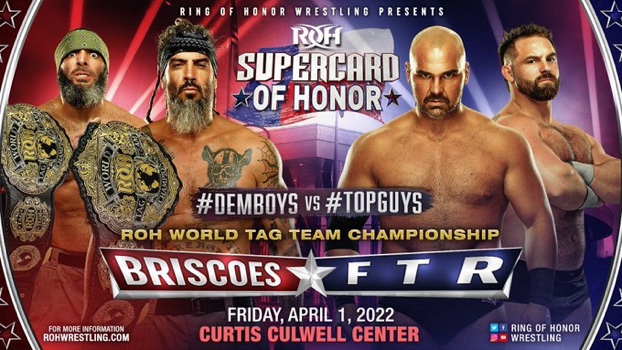 The long-awaited battle between FTR and The Briscoes is finally happening, and it'll be occurring under the Ring of Honor banner at Supercard of Honor
The Briscoes will defend their ROH World Tag Team Championships against FTR, the current AAA World Tag Team champions, at ROH Supercard of Honor on April 1.
According to a new Fightful Select report, the match had longtime been a plan and hope for booker, Delirious, but that the talks for the match had not picked up until as recently as January.
There was also reportedly a lot of ups and downs before confirming FTR vs Briscoes at Supercard of Honor, also WarnerMedia had made it clear that they didn't want the Briscoes in AEW at the time. The status of that currently or if it will affect their ROH future is still yet to be confirmed. However, when Tony Khan acquired ROH earlier this month, it was "quite the process" but the match was put together and set for the show.
Additionally, Killer Kross and Scarlett at one point were planned for ROH Supercard of Honor. According to Fightful Select, the two had spoken with Delirious, ROH booker, about the appearance. However, since Tony Khan purchased ROH at the beginning of March, Kross and Scarlett had not heard back from ROH.
We are sure there is going to be a lot of changes and interesting things happening moving forwards with Ring Of Honor, it will be exciting to see it all play out.