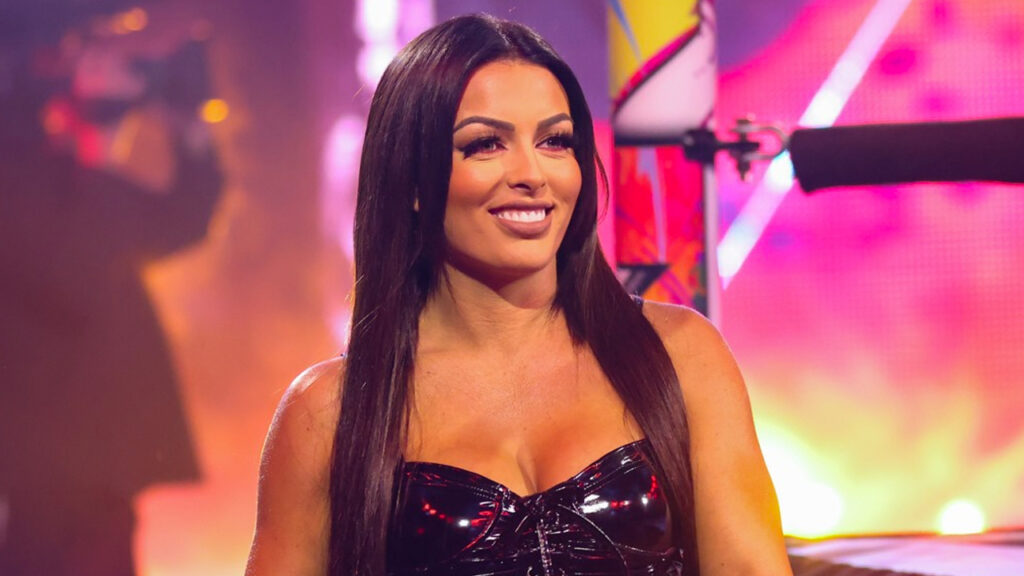 On December 14th last year, just one day after she dropped the NXT Women's Championship to Roxanne Perez, Mandy Rose was released by WWE in a move that was reported to be down to Rose's FanTime content.
Rose recently appeared on the Tamron Hall Show, where she opened up on her surprising release. When asked if she was forced to drop her title due to her FanTime content, Rose stated that "I was never told that" and that there is "some confidentiality" when it comes to her WWE exit.
Regarding whether she was warned about the material she was posting before the company took action, Rose once again highlighted that there is confidentiality, however she did confirm that she complied with the companies initial warning.
"Unfortunately, there is a confidentiality and I can't really discuss that. There was the one warning to take it down, and I complied."

-Mandy Rose
In terms of the content itself, Rose clarified that she never posted any nude photos on the site, saying, "There was no full nudity. I would never post anything that would harm my brand."
Earlier in the interview, Rose stated that the photos she posted, said by Tamron to have been "sexy, racy, and provocative,", were simply a part of Rose trying to show her fans the behind the scenes of her life.
"Everything that I do, in the privacy of my own home, showing my fans behind the scenes action, whether it's photo shoots, my every day personal life, nothing is wrong with that. That's what I was doing. You can't believe everything you see on the internet, not everything is accurate. When I show photos me, sexy, like how I've been showing on my Instagram, which everyone can see, there is nothing wrong with that,"

-Mandy Rose
Many fans initially claimed that Mandy's release coming as a result of her FanTime account was hypocritical from the company due to the way Toxic Attraction were presented on NXT, with women's wrestling legend Madusa publicly calling out the company.
When asked if she agreed with these criticisms, Rose stated that ultimately it was WWE's decision, emphasising that her thoughts on the matter have no bearing on how they choose to operate.
"I don't have any control on how they run their business and what they think is right or wrong, that's their opinion."

-Mandy Rose
Additionally, some fans pointed out that WWE had previously shared some of Rose's more provocative images, once again insinuating a double standard in terms of her firing. When asked if she thinks she was purposely targeted by the company, Rose noted that she doesn't think so, and once again reaffirmed that it ultimately cane down to WWE's decision and nothing else.
"I don't really know, I don't think I was targeted, I think it was just more, everyone has their own opinion. I don't see anything wrong with that photo [Rose wearing the NXT Women's and NXT UK Women's Titles and nothing else], as they didn't either. Everyone has their own opinion on what they think is appropriate and what's not."

-Mandy Rose
Whilst many fans believe that Rose was wronged by the company in regard to her firing, the former NXT Womens Champion doesn't see it that way. Instead, Rose took the opportunity to thank WWE for the opportunities they gave her over the years.
"Because of everything that has happened since then, everything happens for a reason, and I can't even say I was wronged because I'm so forever grateful for everything that the WWE has presented me with. I can't say I was wronged or not. I'm hurt. I'm very hurt. No one wants to get that call that you're being fired from any job. I was very hurt and very disappointed. I was disappointed more because of everything I put into the business, but just the last year and a half; I was champion for 413 days, I unified the two titles, I was the third longest-reigning NXT Women's Champion. I also created this must-see faction with two other women that I brought up. I got to see so many women develop their characters and they are younger than me and at the beginning of their careers. To me, that was so important because it was so rewarding for me. Losing the title was obviously a gut punch. I was so disappointed. At the end of the day, my purpose was gone. That's where I felt lost and confused because of all the hard work. Driving home from that, a lot of things were going through my mind. You always think there are unanswered questions. At the end of the day, I love what I've done in WWE and I love the platform they presented me with. I am forever grateful for them."

-Mandy Rose
Towards the end of the interview, Rose was asked if she'd ever return to the company, refusing to rule it out by stating, "Never say never,", although she also admitted that there'd need to be a conversation regarding the necessity for her to end her FanTime account.
Tamron revealed that they reached out to WWE ahead of this interview for a comment, however they have yet to respond.
Rose was recently congratulated by FanTime on their social media for making a whopping $1 million in the month of December, a figure likely boosted by her prominence in the headlines. At the time of writing, it appears unlikely that Rose will continue wrestling elsewhere, however, we'll aim to provide any updates on this if we hear more.
H/T to Fightful for the transcription.