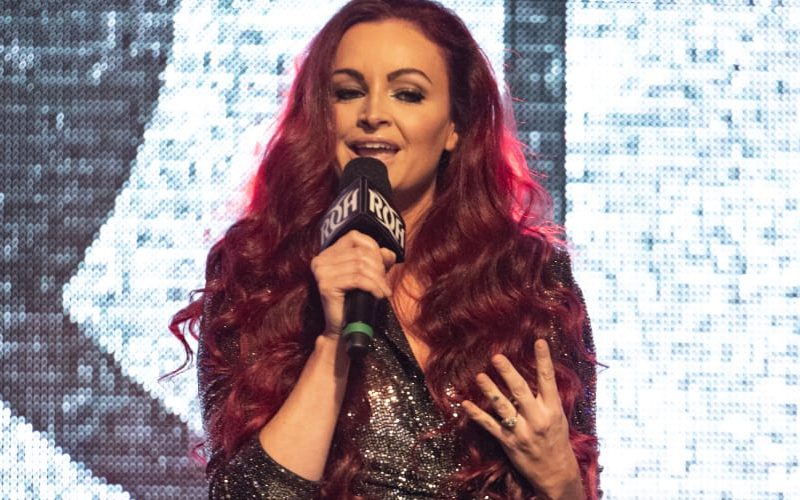 Maria Kanellis became the leader of ROH's Women's Division in December of 2020, shining a spotlight on a division that had long gone underutilised throughout the promotions history.
Kanellis was instrumental in organising the tournament to crown a new ROH Women's Champion, as well as the creation of Women's Division Wednesday, an all-women's show airing on YouTube
Many questioned whether Kanellis would still remain involved with Ring of Honor following AEW President Tony Khan's acquisition of the company in March of this year. The point was raised during the Supercard of Honor XV media scrum, with Khan noting that he would be open to speaking with Kanellis regarding a role in ROH.
Speaking to James Lascuola of PW Ponderings, Maria confirmed that the two had been in touch regarding this potential position.
"There has been some communication of trying to figure out a way….he has reached out to me and now we're just trying to find a time to get on the phone and discuss things further. I'm hopeful that happens soon. I'm thankful and appreciative that he even reached out to me because I love Ring of Honor. A piece of my soul might have died a little bit when I was released from the company last year because last year was so fulfilling and I loved working with that division. I'm hopeful that we do find a time to communicate and a lot of our friends are trying to make sure we get in touch. I will keep everybody posted as things come into play,"

-Maria Kanellis
Maria continued, revealing that she is open to any position that Khan may have in mind for her, and that she is willing to take the time to learn how things operate under his management.
"One of the things I said with people who have been in touch with Tony is that I'm not looking to come in and run things or anything like that. I would love the opportunity to come in, grow, learn as Ring of Honor grows into what it becomes in the future. I had a special position last year and I'm so glad that all the women in wrestling were able to see me in that position because now they know that there is another way to be involved in wrestling, maybe when you're too banged up or you want to transition from being in front of the camera to behind the camera. For that, I'm forever thankful to Joe Koff and Delirious and everyone at Ring of Honor. As things move over, I understand that there is training involved and getting up to speed for how other people like to run things. Not just Tony Khan, but production in general. Every company runs differently. Whether that is producing backstage or writing or being in HR or talent relations, I'm open to any of those things. I did all of them last year. We'll see what comes of it. I'm hopeful and excited,"

-Maria Kanellis
Kanellis is currently part of the Honor No More stable on IMPACT television, although she recently confirmed that he deal with the company is set to expire following the Rebellion tapings. She also recently founded Women's Wrestling Army, with the new promotion set to launch its first show in May.
H/T to Fightful for the transcription.