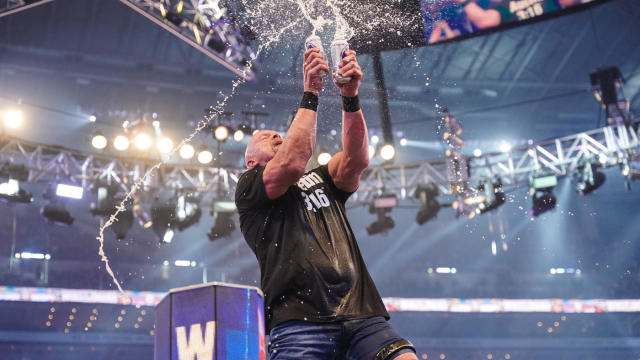 'Stone Cold' Steve Austin's return to the ring at Wrestlemania 38 Night 1 made headlines across the wrestling world, with the Hall of Famer having his first match in 19 years, defeating Kevin Owens.
Austin also appeared on Night 2 of the "Stupendous" event, coming out as a surprise to deliver stunners to Pat McAfee, Austin Theory, and his arch nemesis Vince McMahon.
Speaking with the Brewbound Podcast, Austin discussed how excited he was to be back in the ring, as well as to be able to promote his 'Broken Skull American Lager' on such a high-profile stage.
"Oh, I'm 100 percent. I picked up a little bit of a cold the other day but I'm back home in Nevada. Shoot, [Saturday], I was 100 percent and of course went back in action on Sunday, did a little extra physicality as a part of the show but, you know, it's just an exciting time for me to back to a business that I really, really love and you know, I never thought I'd be back in a ring but, there we were headlining, main event for the — headlining WrestleMania for night one and it was just truly an honor to be out there and really excited to be out there to — just like the last few times I've been able to drink our beer, Broken Skull IPA out in the ring. Couple of years ago, we got a lot of exposure from that and just a real proud moment because when El Segundo and I decided to come out with a Lager which is what everybody was wanting, which is really satisfying because I've drank everybody's beer in the past. I've been drinking beer my whole life and I don't speak technical beer language but we've given all those other brands a little bit of a rub by using their beers. So, to go out there and drink our own beer was very satisfying."

-Steve Austin
Austin continued to discuss his 'Stone Cold Amrican Lager Brand', noting that during his time as an active performer in WWE/F the company themselves pitched for Austin to create his own beer line, with the idea being brought to a well known beer company.
Whilst the company was never mentioned by name, Austin believes that the partnership never came to fruition due to his on-screen presentation at the time, with the 'Texas Rattlesnake' revealing that his mother would tell him that she wouldn't have let a young Austin watch the Stone Cold character on TV.
"Well it was an option. We [WWF/E] actually pitched a beer company and I won't name their name but we've all heard of them and they are very popular and I just think it was due to the fact that I was very aggressive, maybe a little controversial. My mother used to tell me, 'Steven, if you were on TV when you were a kid, I wouldn't let you watch you.' So I just think what I was doing was very cutting edge, it was very edgy and that was tip of the spear [as] far as the Attitude Era is concerned so, I just don't think I was [Austin laughed]… someone's idea of what a role model for their beer would look like at that time."

-Steve Austin
Later in the interview, Austin was asked to comment on whether he'd be present at next year's Wrestlemania 39 in Inglewood, California. Austin played down the idea of another in-ring appearance, but raised the point that he never imagined himself headlining this years show.
He also reveals that plans on being present at the show in some capacity, although any decision for him to be involved as an on-screen presence will be made by Vince McMahon only.
"Well [Austin laughed when asked if he'll be at WrestleMania 39], for me to participate in WrestleMania 38, if you would've told me, 'Hey man, you're gonna be a part of WrestleMania 38. Not only that, you're gonna main event night one,' I would've said you're full of sh*t and you're crazy and there I was in Dallas, Texas, headlining main event on day one so, never say 'never' but I would really imagine that within the scope of that show, that's gonna be a big show in a big time city and it'll be a two-night event again so, I'm not — I'm sure I'm done wrestling per se, but as a part of WWE, I can't imagine I would not be there in some capacity and I'm not booking myself on the show because I didn't book myself on 38. That's a Vince [McMahon] thing and I have a great relationship with him and if I get the call, I'll be there."

-Steve Austin
Whilst we don't anticipate ever seeing Austin step back into the ring for another official match, we have no doubts that we'll continue see the former WWE Champion deliver the occasional stunner to the elation of the crowd for years to come.
H/T to POST Wrestling for the transcription.