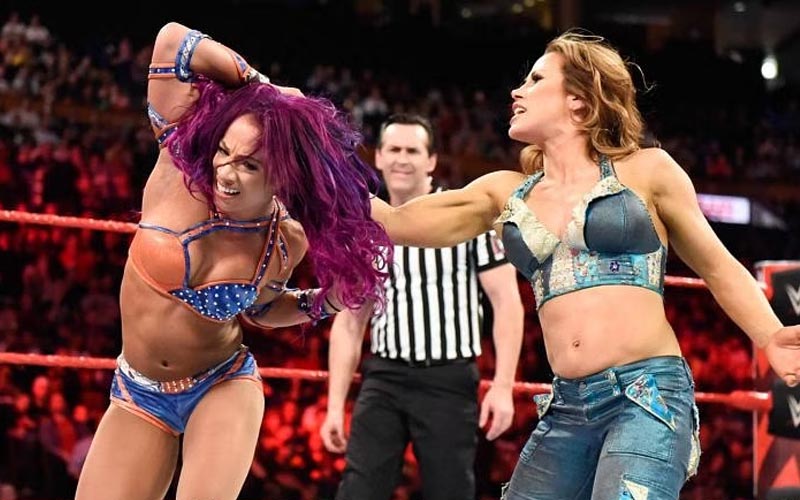 In May of last year, the then-WWE Women's Tag Team Champions Sasha Banks and Naomi reportedly walked out ahead of an episode of Raw, prompting the company to suspend the pair indefinitely and strip them of their titles. Whilst Trinity 'Naomi' Fatu is yet to make her next move, Banks, now known as Mercedes Moné, is now plying her trade across both NJPW and Stardom, where she currently reigns as the IWGP Women's Champion.
It appears as though Moné also has eyes on plenty of other companies outside of NJPW and Stardom, with one name she's been keen to get in the ring with being the current IMPACT Knockouts Champion Mickie James.
Speaking recently at Planet Comicon 2023, Moné was asked about a potential match between the pair, with the IWGP Women's Champion responding by labelling James one of her idols and claiming she'd love for the match to happen, although it won't become a reality until she gets paid.
"Is it going to happen? Like I said, I'm waiting for the bag. I'm waiting for Mickie James. But absolutely do I want to wrestle Mickie James. Mickie James is legit one of my idols and someone who I grew up and I was just like, 'Wow. That was such a standard to me.' Her and Trish Stratus, that storyline inspired me so much that I wanted to be in the WWE even more. I'd never seen a women's storyline like that. It transcended through a whole year of buildup, and Mickie James' character was just so amazing. When they finally had their WrestleMania match, I was just like a kid. I was like, 'Oh my… I have to do this, I want to do this'"

-Mercedes Moné
Mercedes then went on to describe how she wanted to face Mickie James when she returned to WWE, however aside from some interactions during tag team bouts at house shows, the match never ended up happening. Moné then stated that she's confident that the match can be made this year and also went on to claim that she'll retire the IMPACT star and send her back to the rodeo.
"When Mickie James came back to WWE, I was praying and hoping that we would actually get to wrestle. We never got to. We had maybe a tag matches on house shows, but we never had a one-on-one, which is my dream. I definitely believe in 2023 that I can definitely make that dream come true. So I definitely would love to face Mickie James and retire her ass. Send her back to that rodeo and go ride that horse. Bye, Mickie,"

-Mercedes Monè
Mickie James has since responded to Moné's claims as seen below, tagging IMPACT President Scott D'Amore, NJPW, and IMPACT Wrestling in the post, and thus it may not be long before this dream match is finally made.
Elsewhere during the appearance at Comicon, Moné was asked about her WWE departure and if she considered returning under the new regime. Mercedes responded to stating that nobody knows the true story behind her WWE exit, and whilst many former stars have decided to return to the company under Triple H, she made the decision to chase her dreams in Japan.
"First of all, nobody knows the story. You don't know the story. You're reading whatever you want to read and believing whatever you want to believe. Nobody knows the story because I haven't said anything, and I'm not going to say anything because that's just the classy boss that I am, and CEO. One thing, it's up to them. It's up to Dakota (Kai) and everyone else that wants to come back. That's great for them and awesome. That's their dream, but I went after mine, which is going to Japan. You have to follow your heart and follow your soul and follow your dreams. This was always, always, always a dream of mine that I never got to accomplish. As I am growing in my career, I had been in WWE for almost ten years, I had to have a change and I had to feel something different in my heart and my soul. I had to go after a whole new dream, a whole new chapter, and a whole new destiny for me. This is where I want to be and what I want to make happen for me. That's it. This is what I'm going for and this is my dream,"

-Mercedes Moné
Despite now being away from WWE, many also believe that the former multi-time Women's Champion could eventually find herself back with the company down the line. Should Moné eventually decide to return to WWE, it appears as though she has her eyes on one name in particular from NXT, as well as a potential Iron Woman match with Natalya.
"I really like Zoey Stark in NXT. She is super talented and amazing. She is ready to blast off and shine and given the opportunity, I would love to see her on Raw or SmackDown. Of course, my girl Bayley. I'm not done with her yet. I love her, I think she's amazing. Natalya. She's one of my favorites and I feel like I never really got the opportunity to have a long match with her. I'd like to have an Iron Woman match with her. I used to train with her and we used to train for an hour, non-stop, just calling. I know me and her would have an incredible Iron Woman match,"

-Mercedes Moné
For now however, Moné is solely focused on remaining the IWGP Women's Champion, with her first title defence reportedly set for NJPW's Sakura Genesis on April 8th, in what is likely to be a triple threat match between herself and Stardom's AZM & Hazuki.
Should Moné's reign remain in tact following said show, Mayu Iwatani has staked her claim for the title, with a possible dream match between Stardom's Icon and The CEO of NJPW's women's division potentially taking place at Stardom's All Star Grand Queendom show on April 23rd at the Yokohama Arena.
H/T to Fightful for the transcription.