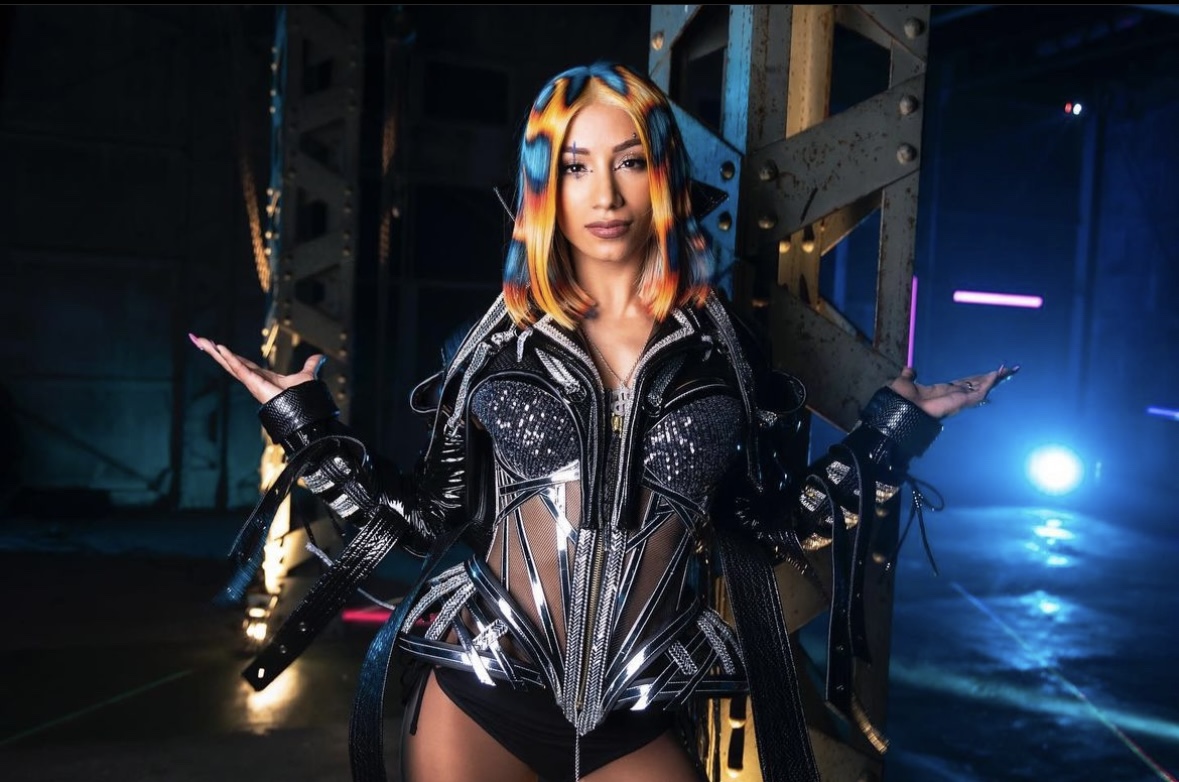 Mercedes Monè formerly known as Sasha Banks in WWE is reportedly not on her way to AEW, despite that being what many fans were expecting to happen.
Mercedes made her return to Wrestling this week at NJPW's Tokyo Dome show, Wrestle Kingdom 17. Mercedes made an appearance at the show where she confronted current IWGP Womens Champion, KAIRI. She then attacked KAIRI, picked up a mic and made it clear that she intends to win the title from her, also claiming that she is the CEO of the New Japan & STARDOM Womens Divisions.
Not too long after the show, the match was made official. Mercedes Monè vs KAIRI for the IWGP Womens Championship at NJPW Battle in the Valley on Feb 18 in San Jose, California.
Ever since Mercedes walked out of WWE last year, there has been plenty of speculation that she may be heading to AEW. That speculation ramped up last month when AEW booked a tag team match of Britt Baker/Jamie Hayter vs Saraya & a mystery partner at the Los Angeles Jan 11th Episode of Dynamite. Many fans of course assuming Mercedes will be the mystery partner. It had also been reported recently by DAZN's Steven Muehlhausen that Mercedes will be Saraya's partner and that AEW couldn't announce or make a major hint due to her being still under contract to WWE until the beginning of 2023.
However, last night during AEW Dynamite, Saraya announced that actually, former AEW Womens Champion, Toni Storm will be her partner. There was some doubt from fans about this and many thinking that this is just a swerve that will lead to Mercedes' debut.
On the most recent episode of Wrestling Observer Radio, Dave Meltzer discussed the situation, saying that she actually isn't the partner. Noting that he thinks she doesn't want to make the long term commitment.
"I was told a bunch of stuff so, and It was very clear on the show Tonight, she (Mercedes Monè) is not in Los Angeles, she is not coming to AEW. I don't think she wants to make that commitment because if she goes to AEW its a long term commitment"

– Dave Meltzer
According to previous other reports, people in AEW have been very quiet when asked about if Mercedes Monè is coming in, but according to Meltzer, people within AEW have actually made denials, including people in the match itself.
"I've heard denials from AEW people in the match"

"They knew it was really screwed, because thats why they had to announce someone this Week because they knew it was really screwed because everybody was thinking it was her, but it wasn't her"

– Dave Meltzer
Meltzer would also go on to add that people in WWE are under the belief that she will not wrestle for AEW, and that she will come back to WWE at some point
"Anything's possible. I also know from WWE that they are very strongly under the impression that she will not wrestle for AEW. They think that shes coming back at some point, she'll get this out of her system, she'll do her New Japan matches, because you know she's only contracted for a couple matches, and then come back. But if shes going to AEW she's got to sign for 3 years minimum because why even bother if shes gonna go right back. For AEW it would really stupid to put her on TV if shes gonna go back in 6 months and I don't know if she wants to make that commitment that she cant go back, which again with New Japan for a short term deal for just a couple of dates, yeah she can go back at the end of that deal but when it comes to an AEW deal for a couple years, she cant go back for a couple years. Again thats the impression, you know, but again what will happen? I just know that everyone over in Japan and everything, everybody was just saying this was a New Japan deal and not an AEW deal"

– Dave Meltzer
Of course we will have to wait and see if she shows up next Wednesday on Dynamite, the Toni Storm announcement could just be a big swerve, and its also entirely possible that she could come in at a later date. A return to WWE at this point would be slightly surprising but definitely not out of the question it seems.
If you use any of the quotes above, please credit the original source with a h/t and link back to WrestlePurists.com for the transcription.